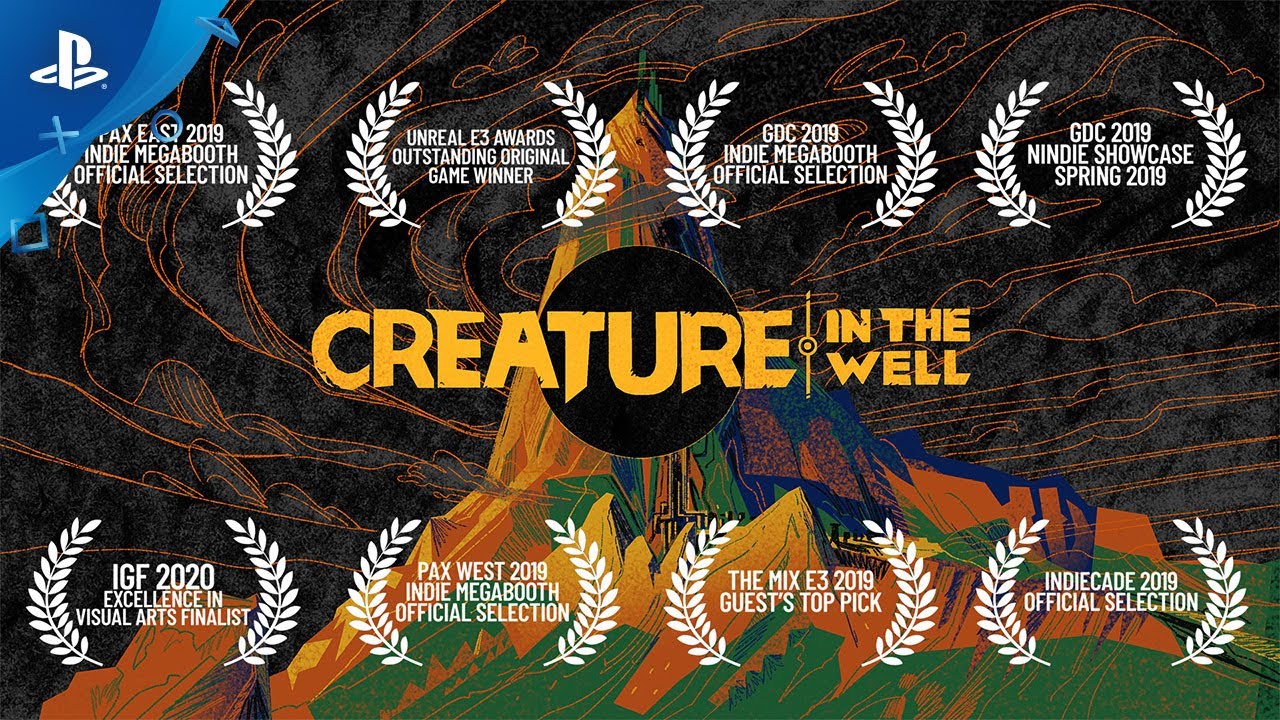 Face the ominous Creature in intricate pinball-inspired battles.
Hello, PlayStation fans! My name is Adam Volker from Flight School Studio. Through our publishing partnership with MWM Interactive, we are bringing our small-yet-mighty indie title, Creature in the Well, to PS4 on March 31. To celebrate, we've got an all-new trailer celebrating some of the insanely nice things people have said about the game. Scope it out!
In Creature in the Well, you play as Bot-C, the last remaining robot engineer tasked with maintaining an ancient weather machine. The machine deep within the mountain was built to protect the city of Mirage. But, it's been dormant for centuries, thanks to a sinister Creature. Spread across eight dungeons, the game is a hack-and-slash dungeon crawler with a twist. We think of it as pinball with swords. You charge up energy orbs, then bounce and ricochet them to unlock rooms in each dungeon.
Artfully Inspired
Because the pinball-inspired gameplay of Creature in the Well gets frenetic and hectic, we needed a visual style that was not only striking but also simple enough that the player could easily follow the gameplay. So, we looked toward comic books for inspiration, like Mike Mignola's Hellboy, for the world of Creature. He is one of my all-time favorites and has such a masterful grasp on mood and atmosphere.
We've heard a lot of nice things about the art style from players and as an artist, it really is touching to hear that people are responding to the art. Recently, we were humbled to learn that we are nominated for an IGF Award for excellence in visual art. Insane!
Tools for the Job
The Creature may have dozens of arms, but you, as Bot-C, have a lot of heart, courage, and over 20 unique items to help along the way including strike tools, charge tools, and really cool capes. We designed the tools to encourage you to find your own playstyle, trying to make sure each one felt different from each other. For example, my personal favorite is the folded edge axe, which essentially creates a multi-ball scenario, splitting the ball into additional orbs of energy. It rules.
What's next?
We have some very cool things in store for Creature in the Well, like a digital "art of" book with 70 some pages of art made by yours truly and a soundtrack release featuring the beautiful work of our composer, Jim Fowler. We're even working on a beautiful collector's edition physical version of the game with iam8bit.
In gearing up for this upcoming release, my co-creator, Bohdon Sayre, and I have played a lot of Creature in the Well using the DualShock 4 controller and I genuinely love the way the game plays with it. This is a bit specific, but, the flat-topped face buttons and the soft clicks on the shoulder buttons really fit my playstyle. And, I'm not just saying that. It's a big reason why we are SO HYPE to release for PlayStation 4 on March 31.