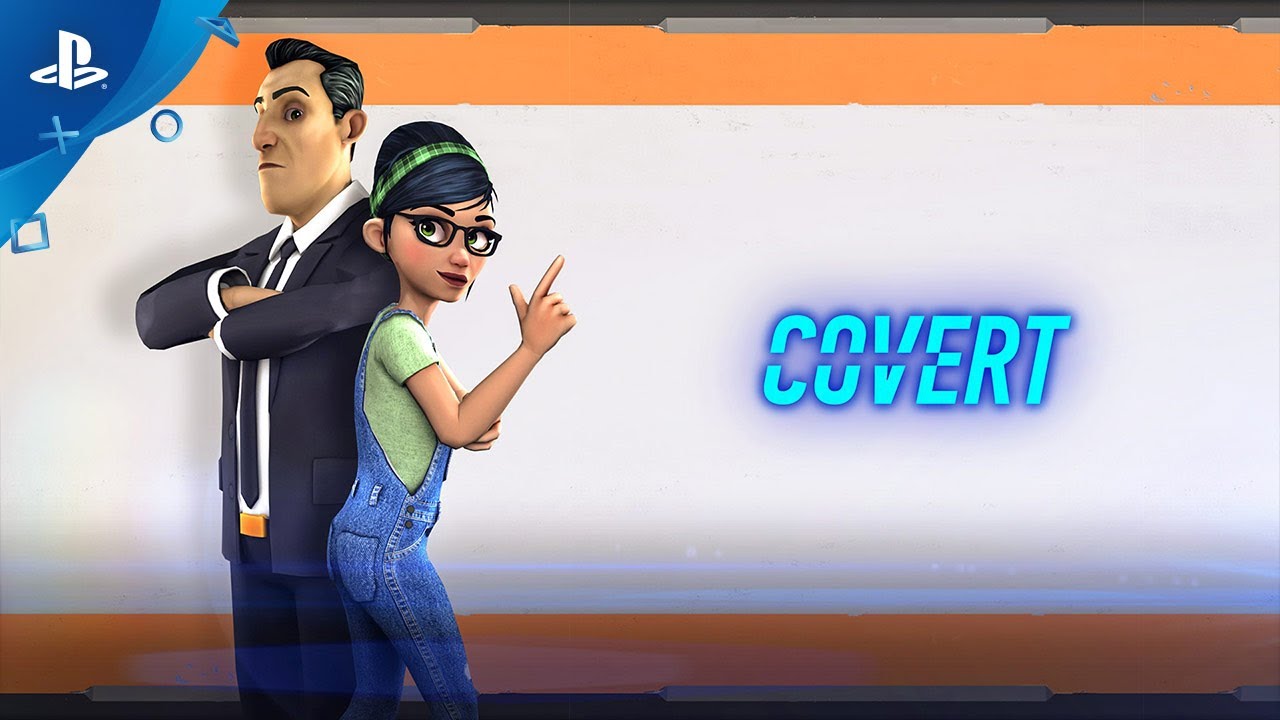 The thief wears the immersive PS VR headset, while their hacker ally guides their mission.
Hi everybody! My name is Jonathan Hawkins, and I'm the founder and creative director at White Elk. This week we launched Covert for PS VR, and we are excited to not only share a new VR game with you but also help you share VR with your friends and family!
Covert is a unique co-op game that pairs the PS VR with a smartphone or tablet. The player in VR is a thief; their job is to sneak through enemy bases to complete different mission objectives. The mobile player is a hacker; they guide the VR player through these secure locations by using their birds-eye view perspective; they can see where guards are located, and they can crack safes, and hack into computers! They connect to the VR player through our free companion app (available for all the most recent iOS and Android mobile devices.)
The game features eight unique missions, six hours of gameplay, and an engaging story filled with a cast of colorful characters. Your guide on this journey is Stacy, a gadget genius. She is the last known member of the infamous League of Thieves, a world-famous thieves guild, that steals from the rich and gives to the poor. They have been double-crossed by their old hacker, who put the League's former leader and master thief, James Bourdain, in jail. Stacy recruits you and your friend to join the League of Thieves, to get revenge and pull off the heist of the century!
After working on Eclipse: Edge of Light, which is a game about being alone in an alien world, I wanted to create something social. I noticed that when I shared VR with my family and friends, everybody wanted to try it out, but there weren't a lot of games that allowed you to have a shared experience with the person in VR. I wanted to create a VR game that I could play together with my wife. So, I challenged myself and the team at White Elk to create something unique and explore a brand-new gaming genre.
This proved to be quite the challenge as there wasn't anything like this ever created before. A lot of the different ideas, mechanics, and scenarios that we tried out didn't work, but we learned from those failures. Ultimately, we had to focus on creating simple communication tools between the VR and mobile players so they could smoothly play the game in the same room or across the country.
For example, the hacker can guide the thief through the level by double-tapping on the map to create markers that the thief can see in the world. They can tap on hackable doors and devices to draw the thief's attention. A fun "blind gadget " also provides them a way to give the VR player a "Get Out of Jail Free " card, so they can escape tricky situations when facing multiple enemy guards.
Once we had created these tools, it was a lot easier for us to design many different fun scenarios. I can't count how many times I heard, "No, the other left. " Communication is hard!
Ultimately, I feel we were able to overcome these challenges and accomplish our goal of creating a social VR game. We have received many emails and messages from people who had a fantastic time sharing Covert with their kids, parents and significant others.
It's a fun couch co-op game, where you can take turns passing the PSVR back and forth, or reconnect with an old friend in a different city. My wife and I had a great time playing, and I hope you all do too! :)
Thanks!
-Jonathan Hawkins
PS: We have a patch for Eclipse: Edge of Light with Move support coming soon!