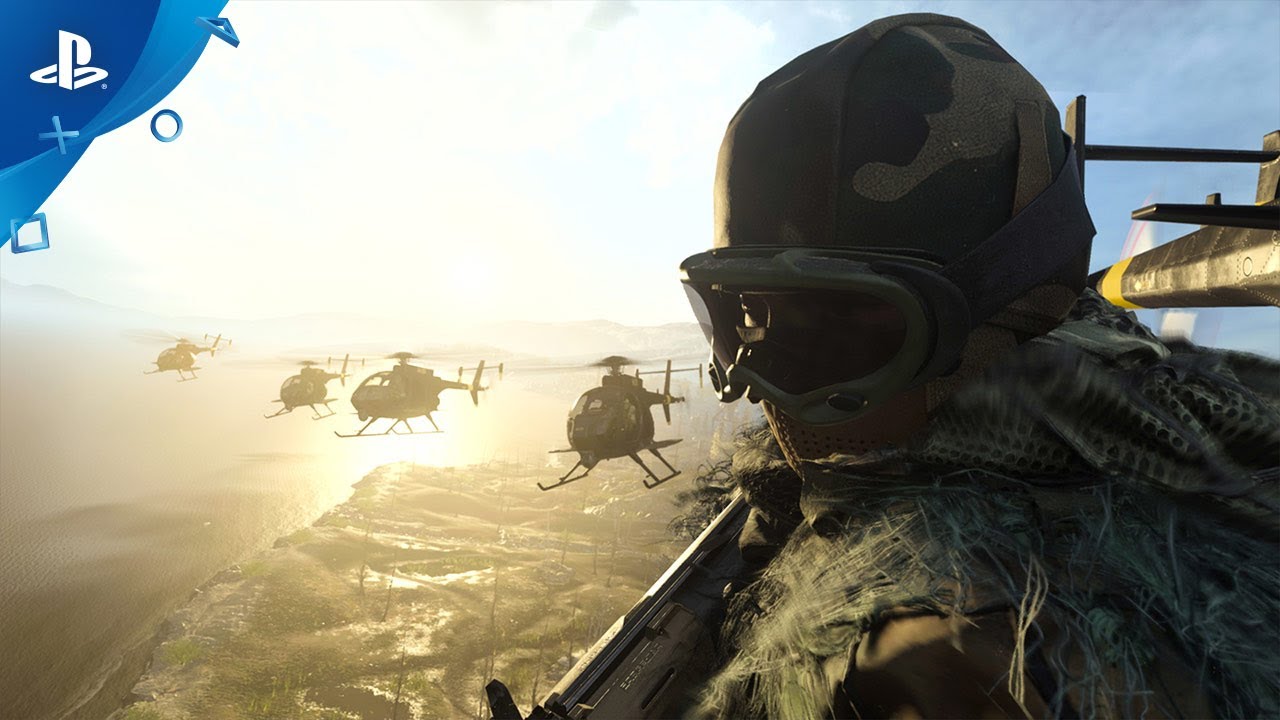 Over 100 players fight for victory in Plunder and Battle Royale modes.
Warzone will be live on March 10 and free for all players. An epic new Call of Duty: Modern Warfare experience, Warzone takes place across the expansive and dense city of Verdansk. Drop into this sprawling city as over 100 players entangle themselves in an intense battle with a tactical path to victory.
Call of Duty: Warzone launches today, so prepare for the action with PlayStation PS rewards and tips for survival in Plunder and Battle Royale mode:
Get Free Warzone, Multiplayer, and Specials Ops (Modern Warfare) items for Playstation Plus
Available just in time for the launch of Warzone, Playstation Plus users can get the Call of Duty: Warzone Combat Pack for free. The pack features six unique items:
Yegor Operator Skin 'Trackstar' (unlocks Operator Yegor as a playable character)
'Showstopper' Shotgun Blueprint
'Skilltrack 56' Watch
'Covert Operation' Calling Card
'Shredded' Weapon Charm
60 Minute Double XP Token
Playstation Plus users can download the items now directly at Playstation Store from the Plus tab. Once downloaded, they will be added to your inventory, and you can equip them before you head into your first Warzone match. These items will be available to be used in Warzone, Multiplayer, and Special Ops.
The Modes of War
Get ready to experience two game modes in Warzone both available at launch: Battle Royale and Plunder.
Battle Royale
Battle Royale will feature trios in a match of more than 100 players fighting to be the last team standing. At the start of the match, parachute into Verdansk at the location of your choice. Loot to find weapons, armor, equipment, and more.
In addition to standard armaments, players can find Cash throughout the map or earn Cash by completing Contracts. Cash enables you to purchase items at Buy Stations, marked on the Tac Map, like Killstreaks, Self-Revive Kits, or purchase a Redeployment Token to bring back eliminated squadmates.
Upon your first death, you will be captured as a "Prisoner of Warzone" and fight in the Gulag. In the Gulag, you'll face off with another opponent in a 1v1 Gunfight match. The winner redeploys back into the match, and the loser will be eliminated. But, even after a Gulag elimination, there is still a chance of redeployment as long as one member of your fireteam is still alive.
Drive vehicles, find Legendary blueprint weapons, and equip useful items like Gas Masks to survive the closing circle and the ongoing firefight with other squads. The battle for survival is on in Call of Duty: Warzone, so get your squad and ready up for the fight. Here are some tactics to try:
Tips for Battle Royale
1. Chat it Up: In team-based game modes, communicating with your team should start long before you hit the ground. Sync up in the in-game lobby or on the infil plane on where everyone wants to drop… And don't leave the plane without telling everyone!
2. Just Pinging: Even if you don't have a microphone, using the ping function can allow you to communicate with your squadmates.
3. Three's not a Crowd: A squad that lands together, survives together. Splitting up the party rarely leads to success, as squads that decided to move as one unit will, more often than not, slaughter lone wolves.
4. Redeployment: There are many ways to re-enter a match after being downed or eliminated. Self-Revive Kits, purchasable at Buy Stations and being revived by a teammate will bring a downed player back to life. While winning the Gulag (only available once) or having a teammate buy you a redeployment are both ways to return to the match after being eliminated.
Plunder
In Plunder, trios race to collect Cash throughout the Warzone map. When the first squad reaches $1 million, the bonus round starts and players have a final two minutes to scramble for Cash, steal from competing teams, and do whatever it takes to have the most Cash when the time is up. The match ends after the bonus round, and the team with the most Cash wins.
There are three primary ways to earn Cash in Plunder: Loot from a variety of sources, complete Contracts, and of course, steal it from rival players. When you are killed, you drop a percentage of your Cash before respawning back into the match. Enemy players can collect your drop Cash and add to their overall total. Cash can be found on the ground, in Supply Boxes, at banks, and through Cash Drops – packages dropped from planes that can be found by listening to in-game callouts or checking the Tac Map.
In order to protect your Cash, it can be deposited. Deposit your Cash at a Cash Deposit Helipad or by using a Cash Deposit Balloon. Cash Deposit Helipads are marked on the Tac-Map and should be approached with caution as enemy players may be targeting those areas. Cash Deposit Balloons can be found in Supply Boxes or purchased with in-match Cash at Buy Stations.
Check the Tac-Map during a Plunder match to see three High Value Target circles. The first is the lead team and the other two circles are teams with the most loose cash (not deposited). Loose cash can be stolen as you drop a percentage of their cash when killed. If your team reaches the $1 million first, your Cash is auto deposited and safe. But, don't rest. Keep collecting Cash to ensure another squad doesn't surpass you in collecting Cash at the end of the bonus round.
In Plunder, there is no Gulag because you have infinite respawns. You drop into the match with a loadout created in the Warzone lobby. Upon each respawn you can choose from your loadouts or the default loadouts.
Tips for Plunder
1. Get Money: Winning the Plunder mode is all about collecting Cash. Don't worry about dying; keep completing as many Contracts as possible while looting and shooting around Verdansk, and your team may just scrape together the cool $1 million to start the bonus round.
2. Deposit: A squad's Cash can be deposited and protected by either using a Cash Deposit Site or a Cash Deposit Balloon. It would be wise to do this often, lest you drop tens of thousands of Cash by dying a few times.
3. Free to Roam: The circle collapse doesn't exist in Plunder, allowing you to explore all of Verdansk without fear – or at least, only with the fear of enemy players. Seek out the far-flung locales in this game mode, and you may be rewarded with untouched Supply Boxes containing a variety of loot.
4. Mercenary Life: Completing Scavenger or Recon Contracts may be a safer route to earning Cash than confronting enemies, but you won't have the satisfaction of knocking off your foes. Or taking out other teams that are ahead of you. Keep in mind that if you take the lead your general location will be exposed on the Tac Map, so stay alert.
A Massive Battleground
Warzone takes place across the city of Verdansk which may be a somewhat familiar battleground for Call of Duty: Modern Warfare players. This dense and massive map features more than 300 points of interests and a variety of landscapes for different types of engagement.
A mix of areas including the cityscape of downtown Verdansk complete with tall buildings, the more rural Krovnik Farmland, and urban areas with many interiors prime for looting, decorate this expansive map. Players can explore Verdansk on five different vehicles – ATVs, Tactical Rovers, SUVs, Cargo Trucks, or Helicopters. Ride with your squad to your next destination, take out a rival, or drive to escape the closing circle.
More than Battle Royale; Introducing Plunder
While the battle will vary every time you drop in, Warzone will have two game modes at launch that both require distinct strategies. Battle Royale pits your trio against all other squads in a quest to be the last team standing. The deadly gas in the closing circle tightens the combat while heightening the intensity of the match.
In Plunder, a respawn mode, players race to collect the most Cash which can be found across the map or gained by eliminating opponents or completing contracts, objective based tasks that reward Cash and other loot. Plunder relies on exploring the map to find Cash and other useful items, like Killstreaks, strategizing to complete contracts, and being ready to take down or defend against other opponents.
Additional Information
On launch day of Warzone, we will bring more details including a deeper dive on Battle Royale and Plunder, plus strategies and tips to master both modes.
In celebration of launch day, Playstation Plus users will be able to get the exclusive* and free Call of Duty: Warzone Combat Pack at Playstation Store. More information to come with launch.
Warzone is live on March 10 starting at 8am PDT for owners of the full version of Modern Warfare and available at 12pm PDT to download free, for all players.
*Timed exclusive content until Oct. 1, 2020.