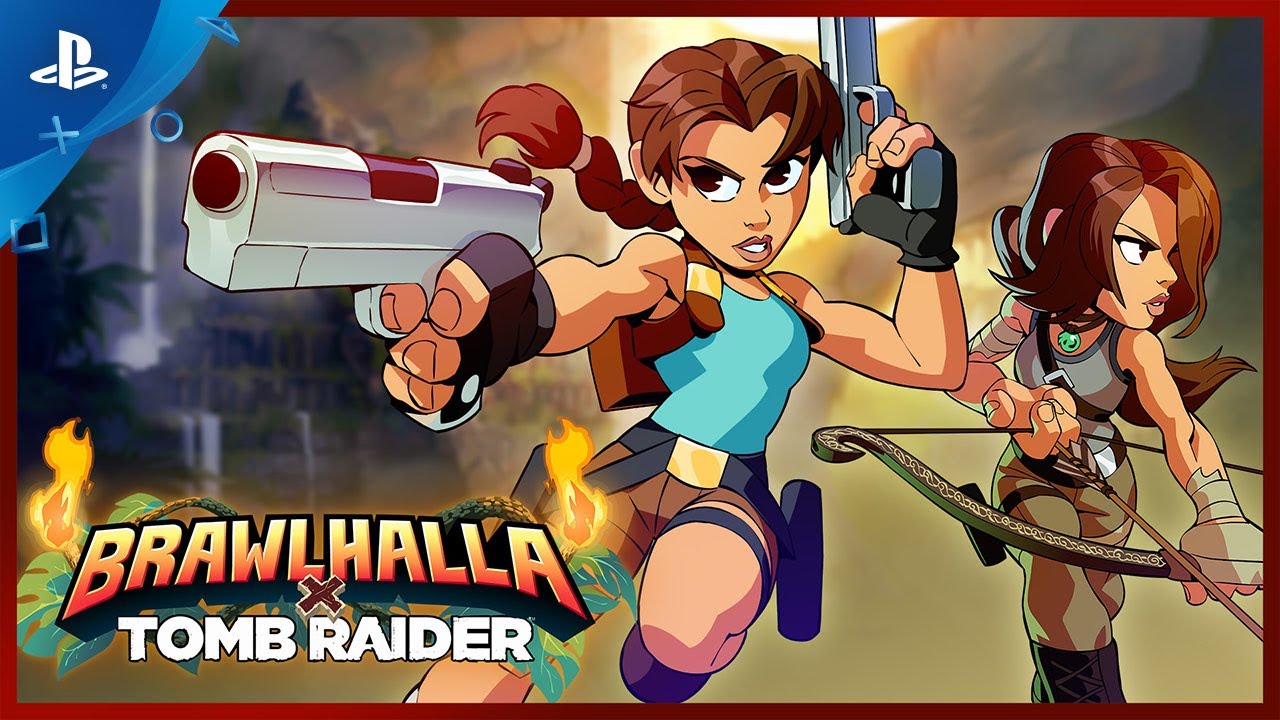 Blue Mammoth shares five tips to take the Tomb Raider herself to victory in their multiplayer brawl 'em up.
The Tomb Raider herself, Lara Croft, has discovered Brawlhalla and joins the fight starting today! She uses her dual blasters, her bow, and a few gadgets (like her grappling hook shot) to knock her opponents off-stage. If you want to start playing Lara Croft by getting as many KOs as you possibly can, then check out these tips. Practice them and you'll see more victories than losses!
1) Dual Blasters Neutral Light into Signature
Lara Croft's dual Blasters are very good at following up with powerful Signature attacks. Case and point, Neutral Light attack into the Neutral Signature attack. Lara shoots three times, with the last shot knocking her opponent into the air. The Neutral Signature attack is a powerful attack that is aimed up and away to blast foes… up and away. It just makes sense!
2) Bow Gravity Cancel Down Signature
Especially right by the edge of the stage, the Down Signature attack on Lara Croft's bow is incredibly useful. It uses her grappling hook shot to pull enemies behind her and launch them into a pit. Gravity Canceling allows grounded attacks to be used in the air and to stop from falling, basically stopping gravity altogether. To Gravity Cancel, press the dodge button in the air without pressing any directions, then hit an attack button. Gravity Canceling into Lara's Bow Down Signature attack is bound to get the KO.
3) Dual Blasters Down Light Attack into Aerial
A classic Blasters combo in Brawlhalla, the Down Light attack into a jump Side Aerial attack is the bread and butter of Blasters players. The Down Light attack shoots three shots at the ground, which puts enemies in position for a follow up attack. The Side Aerial shoots twice in front of Lara to launch those enemies that were so nicely set up. After getting the timing down, this two-hit combo is great for building damage and knocking out opponents. The Down Light attack makes them dance, and the Side Aerial makes them fly.
4) Dual Blasters Dashing Side Signature
As Lara Croft, a good way to cover the distance between opponents is dash then use her Blasters Side Signature attack. For her Side Signature, she does her classic jump-roll and shoots a bunch of shots in front of her. Dashing allows a quick approach, and Blaster Side Signature makes Lara jump pretty far, so combining them makes for a huge leap across the stage. No one will be able to hide from Lara Croft!
5) Bow Down Light into Neutral Signature Finisher
On Lara's bow, the Down Light attack has her jump forward and shoot the ground, which pops opponents up into the air. Luckily, Lara Croft's bow Neutral Signature attack catches airborne enemies and shoots them with a powerful fire arrow. It's a set-up attack into a knockout attack, which makes it the perfect finisher and one of the best things to keep in mind when playing as Lara Croft.