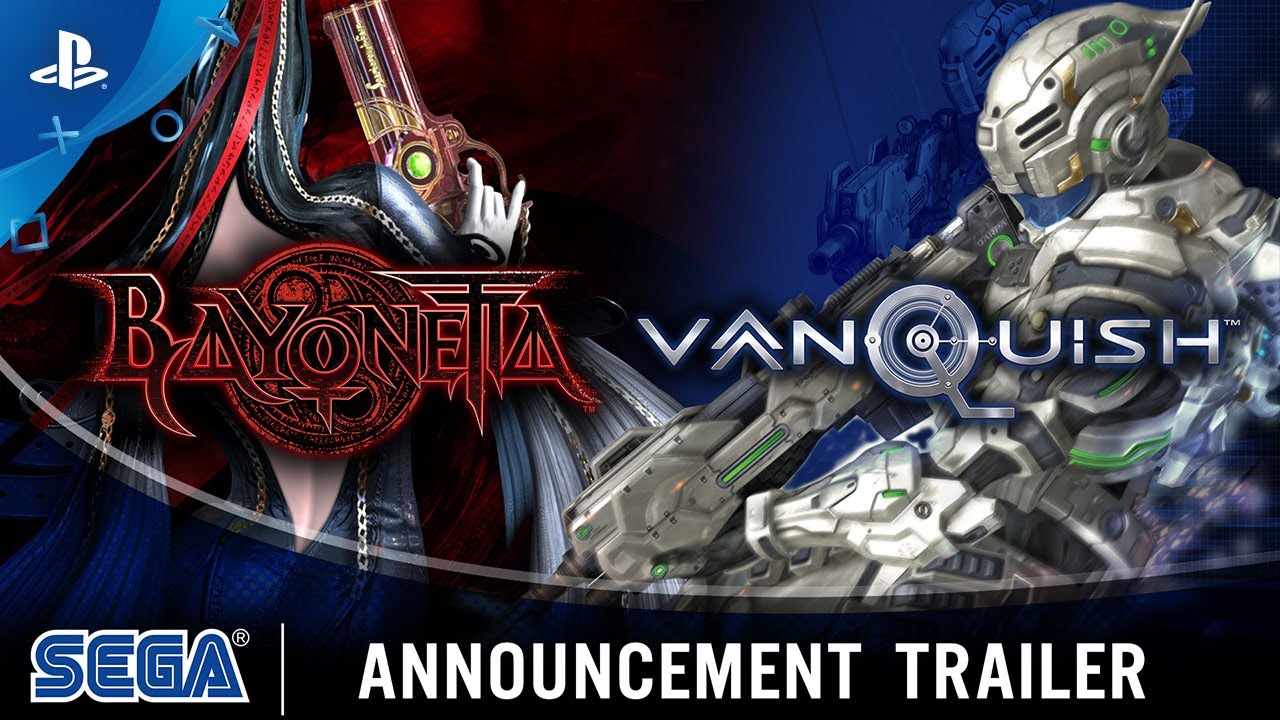 Celebrate the decade milestone of two pulse-pounding, action-packed experiences by picking up these classic PlatinumGames titles!
Hello there, one and all! It feels like only 71 days ago when we originally announced Bayonetta and Vanquish would be stylishly blasting their way to PlayStation 4 in the new year. Well, be sure to check your pulses beforehand (doubly so if you're medically required to), because the Bayonetta & Vanquish 10th Anniversary Bundle is now available for $39.99!
So you may be asking, "Hey, Sega, what in the world makes this so different from the original releases?" Well, I'm glad you asked, potential player! The 10th Anniversary Bundle takes everything fans know and love of these two iconic action games and gives them a beautiful high-resolution makeover at a blistering 60fps framerate on PS4 Pro to keep the high-octane action running like a dream, all for an affordable price.
Of course, this also marks the first time either Bayonetta or Vanquish have been available on PS4, so there hasn't been a better time to try out these two ridiculously relentless games. In fact, it's the first time Vanquish has been released on any current console, so for those playing it for the first time, prepare to have your minds blown with some of the most over-the-top action seen on this side of the universe.
For those unfamiliar, the game stars the take-no-prisoners DARPA agent Sam Gideon who comes equipped with a high-powered Augmented Reaction Suit that turns you into the ultimate weapon, complete with superhuman reflexes and an arsenal of deadly firepower. With its unrelenting pace and slick presentation, there's nothing quite like rocket-sliding around a stage, performing incredible feats of gymnastics in slow-motion while blasting a ton of giant robots into a tangled mess of wires.
Just as a reminder from our previous blog post, those who pick up the bundle digitally at PlayStation Store will unlock two exclusive static themes, which include:
Bayonetta & Vanquish Theme: Show some love for the original Bayonetta and Vanquish cover art with this theme – available for all digital purchases.
Bayonetta & Vanquish 10th Anniversary Theme: Celebrate the 10th anniversary with a theme featuring the brand-new cover art shown above. Available for a limited time for all pre-orders and purchases up to March 3, 2020, two weeks after launch.
Collectors, take note! Those who opt for the physical release of our first-run Launch Edition will get both games packed inside an embossed SteelBook case featuring brand-new cover art produced by Weapons Van and supervised by Bayonetta director Hideki Kamiya and Sega. Whichever you decide to go with, you're sure to be in for a treat!
Whether you're eager to step into the gun-strapped heels of the Umbra Witch herself in Bayonetta, or want to discover for yourself why it's so satisfying when you slide your way to victory in Vanquish — or both! — this is one brain-melting collection you won't want to miss. As Sam Gideon says, "Time to hit hard and make 'em regret it!"
Update from Sega: "We've updated the blog above to clarify the messaging around the resolution for the Bayonetta & Vanquish 10th Anniversary Bundle – the games are both displayed in non-native, upscaled 4K and 60fps on PlayStation 4 Pro."