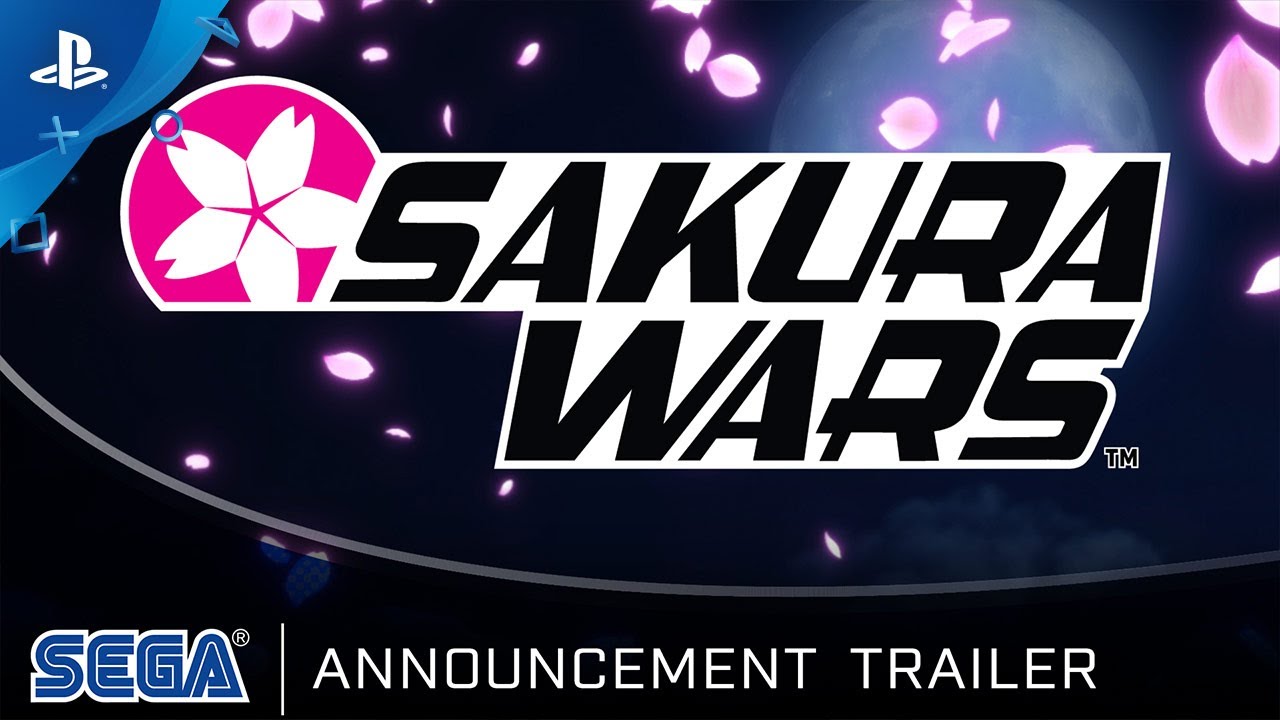 Some of the best creative minds in the anime and JRPG industries join forces with Sega to bring Sakura Wars to a new generation.
Hello there, everyone! Last year, we announced the Sakura Wars franchise would be making its grand return to the West after so many years. It is with great pleasure that we can now reveal the official release date for Sakura Wars – April 28, 2020!
For those who may be unfamiliar, the original Sakura Wars made its debut way back on the Sega Saturn almost 25 years ago. It quickly became a beloved cultural phenomenon in Japan, thanks to its memorable characters, masterful writing, story-driven combat, and sublime music. From there, it grew into a franchise, spawning numerous sequels, spin-offs, and other multimedia adaptations, including prominent stage shows. Hands up if you watched the movie or anime series!
We're excited to reintroduce everyone to Sakura Wars, presenting a new beginning for one of Sega's greatest franchises. Whether you're completely new to the series, or a longtime fan anticipating its historic return, Sakura Wars is an all-new narrative designed to be enjoyed by both parties.
Sakura Wars producer Tetsu Katano (whose official title is Deputy Department Manager/Producer of 2nd Development Division Department #1, 2nd Development Divisional HQ/Entertainment Content HQ – phew!) dives further into why newcomers should be interested in the game. "We'd like users to experience the detailed movements and expressions of the characters through cutscenes, and of course would like them to enjoy the story where users sometimes have intimate communications with the girls to build the stronger bond together. A number of famous creators also joined the team, such as Kohei Tanaka, who has composed a number of music scores for decades including the Sakura Wars theme song, and Tite Kubo, who designed the main characters."
The Imperial Combat Revue takes the stage as Tokyo's defense force against an imminent demon threat in this extravagant adventure. Soldiers in wartime, but theater performers in peacetime, the Revue's Flower Division is not living up to their legacy and is at risk of being shut down. As newly appointed captain Seijuro Kamiyama, it's up to you to turn the team around.
Sega of America's associate localization producer, Andrew Davis, provides additional insight. "With the setting being what it is, there are many cultural references that may be less familiar to Western players, like the traditional Japanese candies or the "koi-koi" hanafuda card game. At the same time, Japan in the Taisho era was voraciously importing culture from around the world. It's that charming mix of the traditional (Shrine maidens! Kimonos!) and the modern (Musical revues! Omelets!) that makes Sakura Wars so compelling. That's why we were committed to presenting all these concepts authentically."
During your adventure, you'll interact with a colorful cast of characters via the dynamic LIPS dialogue system (a trademark of the series), where what you say and how you say it makes an impact both on and off the battlefield. This flows into the high-energy combat system, featuring giant steam-powered mechs called "spiricle striker" that can only be piloted by those with strong spiritual power. All of this is presented in the style of an exciting anime production, complete with gorgeous animated sequences and dramatic character arcs that will leave you eager for what happens next!
Tetsu Katano expands on what makes this title so distinct. "The previous Sakura Wars used 2D Anime-style graphics and a tactical combat system for the battles, which everyone was using back then. However, for this title, 3D has been incorporated to enhance its visual expression, and battles have been changed to action so that users could feel a higher sense of immersion than ever before.
"The game engine used for Sakura Wars is called "Hedgehog Engine 2." The background graphics, GI and local reflections are similar to our Sonic entries, but the facial expressions and body animation have been blended in for the characters to show the subtle expression. The teary-eyes and the twinkle of the glasses are also expressed in an animation style. We focused on the small details, like the fabric on clothing."
Now let's meet the incredible cast of Sakura Wars. First off, we have our protagonist – the main character of our story, Seijuro Kamiyama. Formerly a captain of an auxiliary ship in the navy, he was reassigned to the Imperial Combat Revue to oversee the reformation of the Flower Division.
There, he meets his childhood friend Sakura Amamiya (voiced by Ayane Sakura), a novice stage performer who joined the Flower Division to follow in the footsteps of her idol, onetime mega-star Sakura Shinguji (star of the original trilogy). She believes strongly in defending Tokyo and lifting the spirits of the populace, and fervently prays the theater will eventually be restored to its former glory.
Sakura introduces Kamiyama to Hatsuho Shinonome (voiced by Maaya Uchida), a shrine maiden whose beauty draws visitors to her family's historic Shinonome Shrine. Born in the working-class neighborhoods of central Tokyo, she's a true child of the city who loves her people, her festivals, and everyone in the capital. Despite her brash exterior, she's a dependable comrade.
We then get to meet the booksmart Claris (voiced by Saori Hayami) – full name "Clarissa Snowflake", a sweet, intellectual girl from Luxembourg who always has her nose in a book. Her ferocious curiosity about the world drives her to read every day and learn about all kinds of topics.
Azami Mochizuki (voiced by Hibiku Yamamura) then appears from the shadows. A descendant of the Mochizuki clan of ninja, she displayed a tremendous aptitude for martial arts, battle tactics, and weapon-handling from a very young age. Thanks to the strict training she has undergone her entire life, she believes unquestioningly in the 108 Village Rules passed down by her clan, striving to obey them at all times.
Finally, there's the dazzling Anastasia Palma (voiced by Ayaka Fukuhara), star of the European stage who hails from Greece. She recently transferred to the Tokyo revue after spending time in various revues around the globe. A world-class singer and actor, she has the charisma and confidence to play everything from the male lead to the bewitching temptress.
Throughout your adventure, you'll meet other Combat Revues from around the world, all competing in a biennial tournament called the World Combat Revue designed to sharpen their skills and honor those who came before. Each of these revues and a few other characters were designed by a number of guest artists:
Shanghai Combat Revue: Yukiko Horiguchi
London Combat Revue: BUNBUN
Berlin Combat Revue: Fumikane Shimada
Itsuki Saijou and Hiromi Hongou: Noizi Ito
Hakushu Murasame: Shigenori Soejima
Great Imperial Gekizou: Ken Sugimori
As Tetsu Katano explains: "We selected the artists based on whether our image of the characters match their style. In order to fit all this together, Masashi Kudo has been assisting us greatly, though I believe it was a difficult challenge. Each artist made their designs based on the settings the development team provided. However, the details were all up to them, so their characteristics are shown in their design. Mister Tite Kubo also provided us with suggestions on the names for the core game settings and even designed the items."
"Localization for the Western release of Sakura Wars was similar to another one of our popular titles, Yakuza 0," Andrew Davis shares. "The game was first translated by our long-standing friends at Inbound Games (who've been working with us for many years) and passed to our internal team for a second pass. We focused on ensuring the dialogue flowed naturally while capturing the quirks of each character's personality, just as we do with any project. For instance, Hatsuho's speech is brash and confident, while Azami's is terse and steely.
"After we were done, we reached out to another outside partner (Keywords Studios) to handle the localization into French, German, and Spanish. Just like with our English translation, these teams were committed to crafting faithfully entertaining scripts in their respective languages."
As you can see, a lot of work and care has gone into this project. As avid fans ourselves of this series, we can't wait for everyone to experience this amazing game and hope it's only the start of something greater for the series in the West. Stay tuned as we draw ever closer to the launch of Sakura Wars this April!