The road to launch begins.
There are a scant 108 days to go until The Last of Us Part II releases on May 29! [Updated release date: June 19] We are thrilled to say that we've entered the final stretch of production and are putting the finishing touches on The Last of Us Part II as you read this. The end of development puts us one very large step closer to launch. We know all of you have been so patient over the last few years, so it's been thrilling to see our game taking on its final shape and knowing that means it will be in your hands soon. Today, we're kicking off regular communications about The Last of Us Part II with a few awesome announcements!
The Last of Us Part II Ellie Edition Returns
You've been sending us letters, e-mails, and messages on social media asking if we could get more Ellie Editions in your hands. Since selling out last September, we've been working closely with the teams at PlayStation to make more The Last of Us Part II Ellie Editions. We're delighted to let you know the Ellie Edition will be back and available for pre-order in limited quantities (available at select retailers across US and Canada only) starting Thursday, February 13, at 6:00am PST at Amazon, Best Buy, GameStop, Walmart.com, Target, and in Canada exclusively at EB Games for $229.99 USD / $299.99 CAD MSRP.
As a refresher, the Ellie Edition is packed with all of the collectibles and content found in the The Last of Us Part II Collector's Edition, but is the only version that comes with a full-scale, fully-functional replica of Ellie's backpack, an embroidered patch, and a 7″ vinyl single featuring music from the game. Don't miss out!
The Last of Us Part II Hands-on Demo at PAX East 2020
Update on PlayStation's presence at PAX East 2020.
Not only did Ellie and Joel's journey begin in Boston, but PAX East also has special meaning for us: it was where we gave you the first ever opportunity to go hands on with The Last of Us back in 2013. We thought it would only be fitting to return to the city that started it all to give fans the first-ever public hands-on with The Last of Us Part II. From February 27 until March 1, attendees will have an opportunity to play "Patrol," featuring an early area of the game where Ellie and Dina must venture out of Jackson into the surrounding areas to clear out infected. The demo will span an hour of gameplay and provide just a small glimpse into what awaits you in the full game.
Attendees can visit the booth to play the demo, but space is limited! We recommend securing your spot via the Experience PlayStation mobile app available on Apple Store* and Google Play**. New appointments will be made available each day of the show. For more information about the demo and to get updates about our presence at PAX East, keep an eye on Naughty Dog's Twitter, Facebook, and Instagram pages.
New Collectible Ellie Statue and Concept Art Prints
Following up the 12″ limited-edition Ellie statue revealed on Outbreak Day 2019, we've teamed up with Dark Horse once again to release a brand new 8″ "Ellie with Machete" polyresin statuette. Designed and sculpted by our incredibly talented character artists, this new statuette will be a limited production run based on the number of pre-orders received via Dark Horse Direct before March 13, 2020. After that, it's gone! You can begin pre-ordering today. Additionally, Dark Horse will be releasing an 8″ PVC version of the "Ellie with Bow" statue revealed last year, which will be available at participating retailers this summer.
Our friends at Cook and Becker have launched a set of new concept art prints from The Last of Us Part II. These new pieces join the collection of designs released last year and can be purchased as museum-grade-quality giclee art prints, individually numbered and packaged with a certificate of authenticity. You can see them now on CookandBecker.com.
New Key Art, Wallpapers, and Free PlayStation 4 System Dynamic Theme
Speaking of art, today we're proud to reveal our two latest pieces of key art for The Last of Us Part II, which explore the two sides of Ellie's journey: from the relative peace she's found when the story begins to the relentless pursuit of vengeance that follows.
You can download high-resolution versions of the art as wallpapers for your device of choice via PlayStation.com/wallpapers. We've also produced a new dynamic system theme that transitions from day to night based on your PS4 system clock, available now for free at PlayStation Store.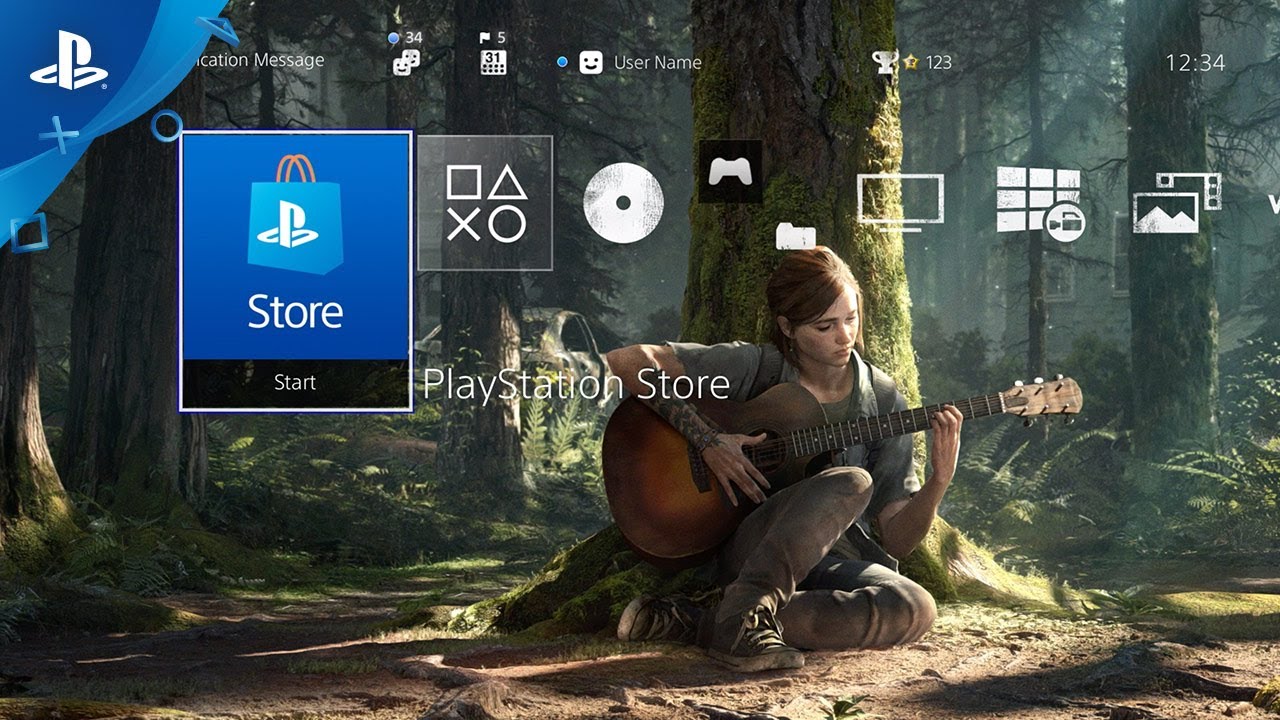 Americas: 4FMP-BBNM-J5L3
Europe/AU/NZ/Russia/Middle East/Africa/India: 9DEK-PKNG-N445
Japan and Asia: Please check out each country's official PlayStation social channel for more details.
Codes expire February 11, 2021. Redeem Region-specific code at PS Store while supplies last.
---
As we mentioned, this is just the first step on the road to the launch of The Last of Us Part II on May 29 June 19, and there's plenty more to come. Be sure to follow us on Twitter, Facebook, and Instagram pages for all the latest!
*Minimum iOS v11.3 required.
**Minimum Android v8.0 required.
Apple and the Apple Logo are registered trademarks of Apple Inc.
Google Play and the Google Play logo are trademarks of Google LLC.