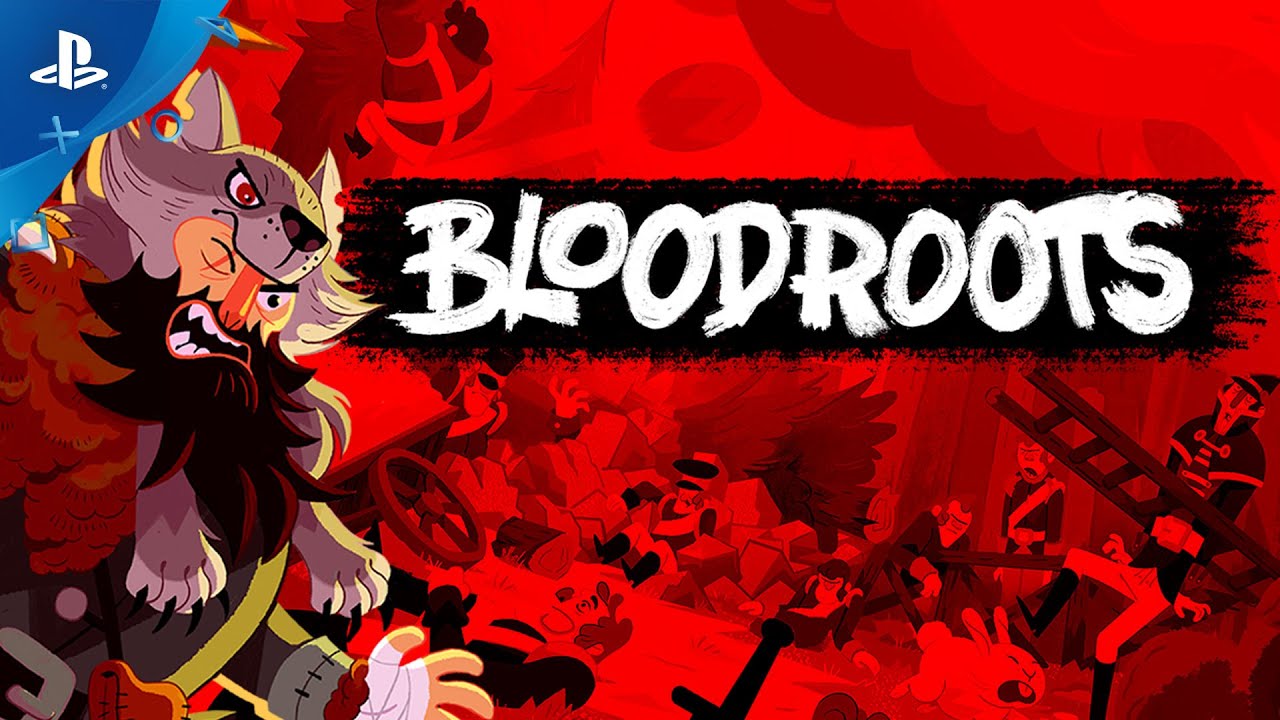 Watch this Weird West revenge story unfold in between bouts of blood-soaked, action-packed insanity.
Hey everyone, it's Raph, your dedicated mullet-wearing developer. I come with great news! After three years of development, we can finally announce that Bloodroots will be releasing on… DRUMROLL… February 28!
One thing we haven't talked much about is the game's story. The plot is inspired by a classic western trope: the lonely hero fighting his way back for revenge. Think Kill Bill meets The Revenant, and spice it up with a lot of Jackie Chan.
We've had the great honor to work with Nick Suttner [Editor's note: Hi Nick!] who helped write the wonderful Guacamelee 2 and the excellent Celeste. Through his dialogue, Nick gave life to our Weird West revenge tale and all its crazy characters.
Without further ado, let me take you through the game's set up. The story begins with Mr. Wolf discovering Tarrytown completely engulfed in flames from a recent raid. In the village cemetery, the outlaws of the Blood Beasts gang ambush him. After a brief encounter, the leader of the gang, Mr. Black Wolf, takes down Mr. Wolf. Left for dead, Mr. Wolf mysteriously survives the attack and is consumed by rage which leads him to seek out revenge. He hunts down each member of the gang one by one. Bloodroots' mysterious story then begins to unfold, one encounter at a time.
The Blood Beasts gang is at the center of the story. The pack is led by Mr. Black Wolf. Along his ranks there is Mr. Boar, a foul-mouthed dandy that will go to great lengths to protect his land and riches, even if it means sacrificing his own soldiers to do so. The youngest recruit is Ms. Bison. Fueled by her hyperactive nature, she is always thirsty for some bloody action. Finally Mrs. Crow is the one who has seen it all. Her wisdom and crafty nature makes her an indispensable ally to the Beasts. She is the most cunning of all the members which probably makes her the most dangerous of the gang.
When you eventually take down your enemies, their ghosts appear by your campfire and retell stories of the past, offering glimpses of their backstory. This is a feature meant for story-driven players. A lot of details for the story are there for you to experience if you want to delve into it. For the more hasty out there, you could also ignore it and go on with your killing spree.
All in all, we are really excited to get the game in your hands later this month!