Team up to take down armies of outlandish undead in this off-the-wall Sniper Elite spinoff.
Hi everyone — my name's Jason Kingsley and I'm the Creative Director and Co-founder of Rebellion. I'm delighted to be back at PlayStation.Blog the day Zombie Army 4: Dead War launches on PS4!
It's almost five years ago to the day my first PS Blog post got published, and oddly enough that was all about Zombie Army Trilogy. It was so exciting to see PlayStation players fall in love with our crazy 1-4 player Sniper Elite spinoff. Loads of you teamed up to gun down Hitler's hordes of the damned. Were you one of those who sent the demon Fuhrer to the pits of hell?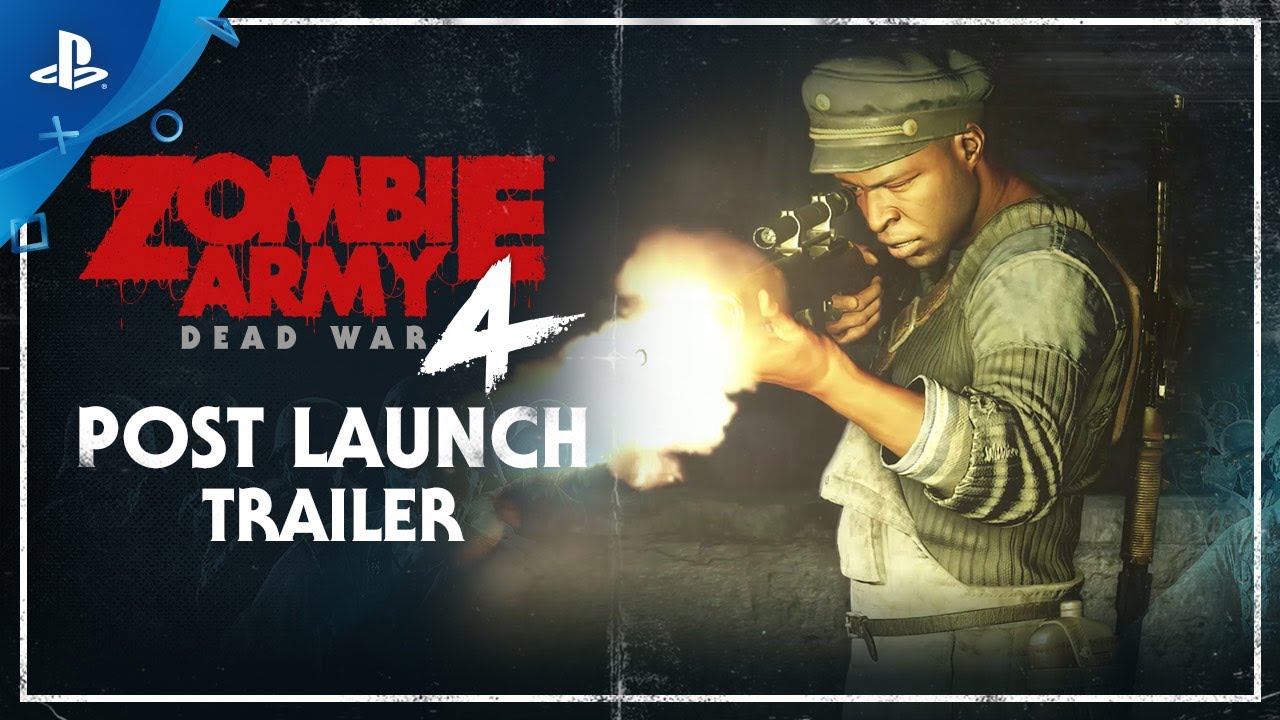 The Dead War Rages On
Zombie Army 4 is bigger, deadlier and dare I say even crazier than what came before. The Dead War continues in a diabolical story campaign, again for 1-4 players. Not only do the damned still roam the Earth, but they've developed strange new powers. You'll face all manner of monstrosity, from fast-paced crawlers to zombie snipers, flamethrower-wielding elites to undead-summoning generals, and even zombie tanks. Oh, and zombie sharks for that matter!
A greater threat demands stronger resistance. In Zombie Army 4 we've introduced a range of special supercharged abilities. Deploy a long-range overkill to take out multiple zombies with just one bullet, go into slow-mo to tear through undead, or line up a rapid-fire chain of pistol headshots! Maybe you prefer things up close and personal — take out zombies with brutal executions and use special melee attacks to control the crowd. That's on top of the lethal array of environmental traps and deployable items to hand, elemental attachments for your weapons and tons of other additions.
Progress through the massive levels of our challenging story campaign and you'll rank up, unlocking even more new goodies to play around with. You can build the slayer you want with our brand new perks system, upgrade your arsenal into death-dealing super-weapons, and apply modifiers to items like grenades and trip mines.
Despite all these additions, we've held onto the 80s horror movie aesthetic, shambling but deadly zombies, and grindhouse arcade third-person shooting that you all fell in love with in Zombie Army Trilogy. Zombie Army 4, just like Zombie Army Trilogy, is an absolute romp of a video game!
Beware the Hell Cult
I do have one juicy titbit to offer before I go, though. We've already announced some of our post-launch plans for Season 1 of Zombie Army 4 — check out trailer teasing the season's three-part story campaign, "Hell Cult," and the bucket-load of brand new content also coming in the first season.
I'm really excited about Hell Cult, though. The story offers a fascinating new turn for the Zombie Army series, and it takes you and your fellow dead-hunters to extraordinary new realms of chaos. I can't say too much without spoiling things, but I think you're all going to really enjoy it. I've probably said too much so I'll stop there!
Until then, I hope you have an amazing time with Zombie Army 4. Our whole studio has put our souls (of the damned!) into the game. Now the Dead War is finally upon us — see you on the battlefield!