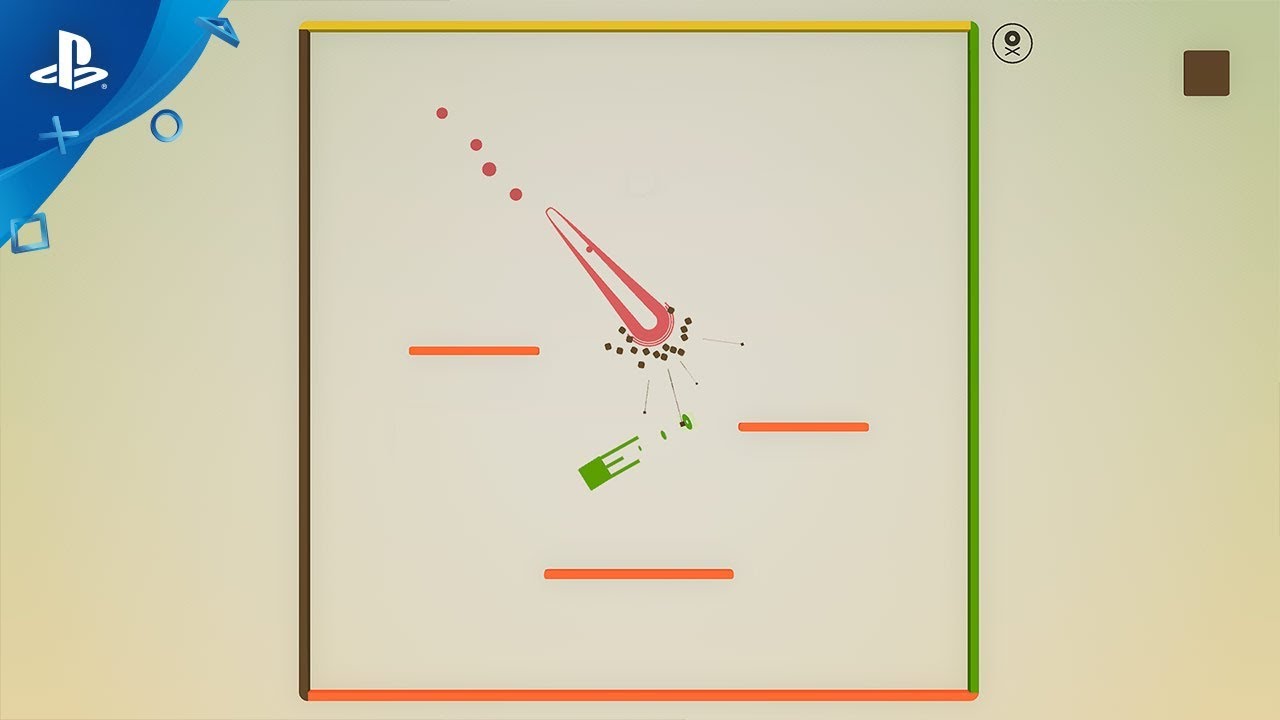 How a team of creators from Spain and the UK banded together to create this gameplay-first passion project.
Hey everyone! We are Parallel Circles — a little indie studio from Spain and UK — and we are about to bring our very first game to PS4 on January 14.
The last few years and months have been a rollercoaster for us. After working in AAA development for quite some time we decided to take a leap and embark on a more personal adventure. We established our own 2-person indie studio, Parallel Circles, and started working on our dream project: a highly polished platforming game with tight controls and a lot of care put into game-feel, to be played on your own or enjoyed with your friends and family.
This is how Flat Heroes came into being and now we are especially proud to finally launch it on PS4. We've put a lot of love, passion, and work into this project so we hope you will enjoy it as much as we did creating it.
So what is Flat Heroes? Flat Heroes is a game starring a few minimalistic heroes trying to survive wave after wave of ever-changing enemies. It is fast-paced, it is intense, it is chaotic, and it is a lot of fun. Especially if you are sharing a play session with your friends. There will be a lot of shouting, quite some challenge and a lot of things to overcome, you have our word on that.
Since this is our tiny studio's very first game, we tried to include everything we like in games ourselves. If we had to describe our dream game through gameplay we would definitely show you Flat Heroes. It's also jam-packed with content: different singleplayer and multiplayer modes, over 300 handcrafted levels and many epic boss battles, versus modes, and even infinite levels to prove your skills and add your scores in the leaderboards. We put all our passion for games into this indie gem.
Up to this point, it's been a uniquely thrilling experience to found our very own studio, making a game we are passionate about, showing it to people around the world at events and festivals and getting so much great and constructive feedback. Seeing how people react so positively to something you've made has been magical to us so we wanted to bring it to as many players as possible. This is why we've decided to bring it to PlayStation and its loving fan base very soon.
Finally, and before we forget, we know Flat Heroes is hard to imagine with just words and images of minimalistic cubes jumping around, so we've put together a free demo for you to try by yourself or with some friends and see if it's up your alley!
Enjoy the ride with Flat Heroes, try to beat it by yourself if you dare, or share the experience with your friends, family and loved ones and let us know what you think. We would love to start a conversation with you!
Thank you so much for making all of this possible.
Roger Valldeperas Juan & Lucas Gonzalez Hernanz, Parallel Circles