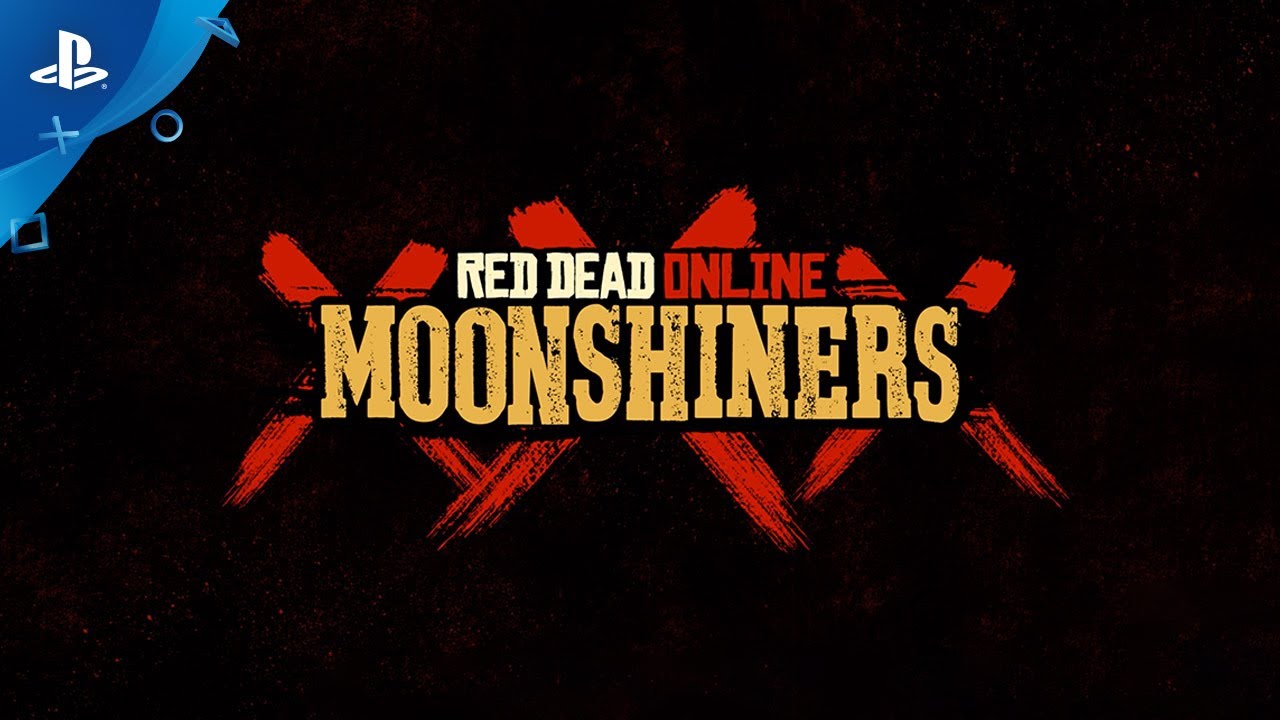 Photo Mode and Story Mode round out the additions coming to PlayStation players.
With the release of Moonshiners on December 13, Red Dead Online players on PlayStation 4 will also be receiving a new batch of early access content and bonuses available until January 21.
Free Moonshiner Band Expansion
Operating your own moonshining business comes with many perks, a constant stream of thirsty clientele in your underground bar is just one of them. Bar owners can start a band to help foster a pleasant and welcoming atmosphere while serving up your own shine with the Band Expansion, free to all PS4 players until January 21.
New Hideout: Beaver Hollow
Deep in the woods of Roanoke Ridge lies the ruthless Murfee Brood, a backwoods menace that can be found in Beaver Hollow. PS4 players have early access to this all new Hideout, and can clear out and pilfer their makeshift camp for rewards.
New Apparel and Emotes
Wheeler, Rawson and Co. has its own selection of special offerings coming to their catalogue specifically for PS4 players, which includes four new clothing items and five new emotes.
Apparel:
Salizzo Double Bandolier: Many an outlaw prefers the double bandolier – because two bandoliers are twice as stylish. Naturally.
Starrett Hat: A fashionable hat with contrasting oval crown and upturned brim. Each hat is finished by hand with a woven leather buckled band.
Rulfo Boots: One of Wheeler, Rawson and Co.'s most attractive designs, featuring elaborate studding on the pull straps, shaft and vamp. Cut only from high-quality leather.
Gordillo Half-Chaps: Buckled half-chaps with studded panels and lavish fringes. Guaranteed to add grandeur to any outfit.
Emotes:
Hat Flick: Greet passersby with a casual flick of the hat
Howl: Vocalize and advertise your acquisition of new territory, search for companionship, or utter loneliness in a primal, prolonged fashion.
Jovial Laugh: A jovial, good natured guffaw, grinning from ear to ear.
Subtle Wave: Politely acknowledge friend or foe with this subtle and relaxed wave of the hand.
You vs Me: An immediate and indignant offer to settle a situation immediately on site through pistol fire or fisticuffs.
And more…
Look for a selection of limited time festive-themed variations on Red Dead Online Showdown Modes coming to all platforms just in time for the holidays on December 19, with a few select variants only available to PS4 players.
Alongside this new early access content, Photo Mode has been added on PS4, which lets you capture and share stunning images from the frontier with an array of features including free-form camera movement and the ability to add Filters, Stickers or Text and upload your shots directly to Social Club.
In addition to Photo Mode, Red Dead Redemption 2 players on PS4 will also get:
Story Mode Bounty Hunter Missions: track down wanted criminals Herman Zizendorf, Camille de Millemont and Bart Cavanaugh
Story Mode Gang Hideouts: Take on the deadly Del Lobos gang at Gaptooth Breach and Solomon's Folly
Story Mode Treasure Maps: Landmarks of Riches and The Elemental Trail
"To The Ends of The Earth" Story Mode Mission
Weapons added to Story Mode: M1899 Pistol, Evans Repeater, High Roller Revolver and LeMat Revolver
Horses Added to Story Mode: Warped Brindle Arabian, Few Spot Appaloosa, Perlino Andalusian and Red Chestnut Arabian
Hidden Trinkets Added to Story Mode: Hawk Talon, Cat Eye, Shark Tooth, Turtle Shell and Crow Beak