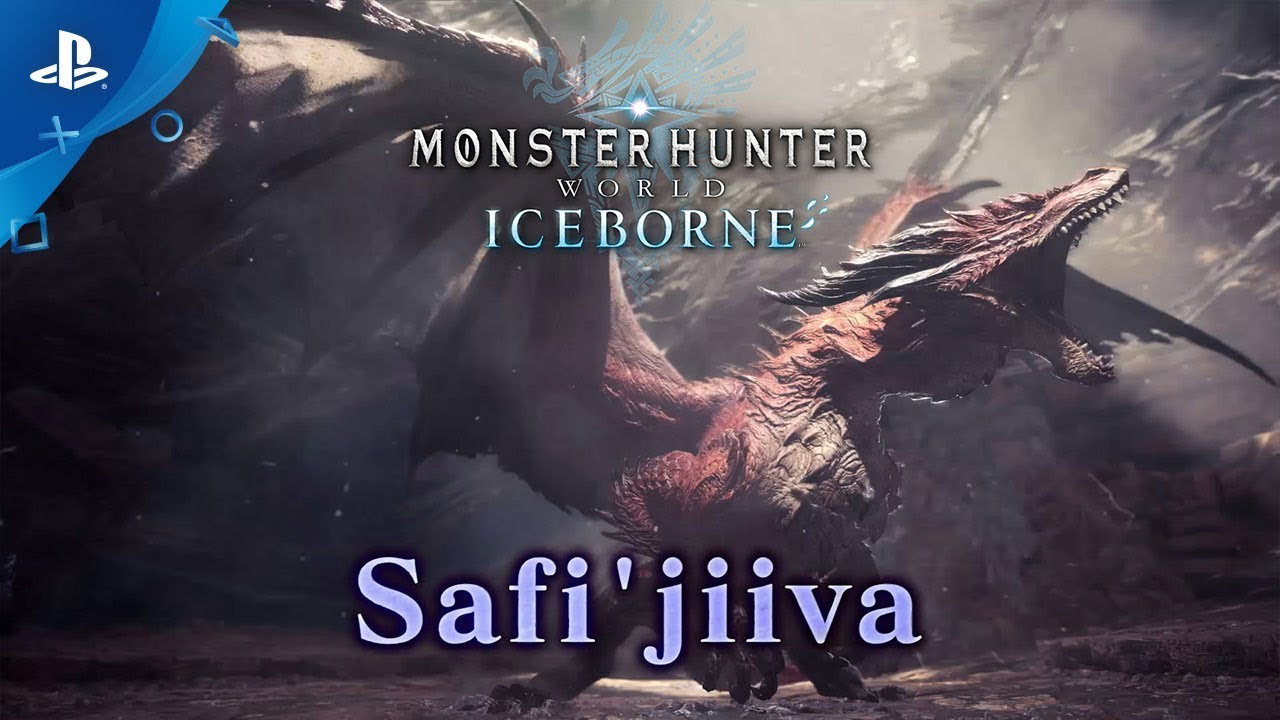 Unravel a new mystery and earn new gear.
While we pursued the mythical Velkhana and sought to undo the ecosystem unbalances caused by the Old Everwyrm, something much more dangerous was brewing in the background… the exotic Xeno'jiiva has fully matured into the cataclysmic Safi'jiiva.
Awaken the Dragon within
Little is known about this mysterious red dragon, but we do have some amazing insight on the Siege style quest and the potential rewards that are set to shake up the way you hunt in Iceborne.
Your special assignment is to group up in Seliana's Gathering Hub and take on the Safi'jiiva Siege. Work together as a team to complete as many Siege objectives as possible. There are some unique gameplay mechanics in this quest and you'll need to get acquainted with them to maximize the rewards. We highly recommend taking on the Recon Assignment to learn the ropes and practice a bit before the real hunt.
Successfully completing this mission will result in Siege rewards that have phenomenal potential: the "awakened" Safi'jiiva weapons!
Each weapon comes with a preset distribution of stats (Attack, Elemental, Affinity, etc.), but take it to the Smithy, along with some Dracolites, and you can upgrade it to awaken its true potential! What we have here is one of the most customizable weapon systems in the history of Monster Hunter.
Every time you upgrade a Safi'jiiva weapon—and it can be upgraded a lot—you are presented with the option to assign it an "awakened ability." And these abilities can be mixed, matched and stacked to generate truly powerful creations. You can even unlock Set Bonus skills from other monsters' armor sets, opening up even more diverse armor build customization. For example, upgrade a Safi'jiiva Great Sword to include Barioth's Set Bonus, Punishing Draw, then pair it with one single Barioth armor piece (instead of the standard requirement of two) to activate that set bonus. This leaves four additional armor pieces open for you to equip and unlock… say Velkhana's armor Set Bonus, Frostcraft!
And if that wasn't enough, you can even use the standard augment system to further amplify your power.
On the other side of this powerful equation is the Safi'jiiva armor set. This sleek defensive gear offers a simple silhouette design at first glance… but draw your weapon, and it unfurls into a majestic and imposing visage. The set bonus, Dragonvein Awakening brings a devastating, but highly dangerous way to hunt. When you unsheathe your weapon, all your main stats (Attack, Elemental and Affinity) will be raised, but your health gets drained with each attack you perform. Don't worry too much, though; after landing some hits on your enemy, the second part of Dragonvein Awakening will activate, giving you a surge of health recovery.
Warning! You won't get your health back if you whiff attacks, so be extra careful when donning this armor set.
Speaking of gambling your health for power… the 2nd Event Quest crossover with Horizon Zero Dawn: The Frozen Wilds is now live for Iceborne players. By completing the quest "The Survivor," you'll be able to craft the new Aloy Shield-Weaver+ full armor set, the Frostclaw Palico gear and upgrade your Stormslinger Prototype into the Adept Stormslinger. If you recall our previous blog covering the first crossover quest, Roy Postma, Art Director of Horizon Zero Dawn, said this:
For the feel, we wanted the Improved Stormslinger to behave temperamentally when using its charge-up mechanic. The ability to overcharge the weapon causes the capacitators to glow and spark, eventually resulting in blowback that can cause massive damage to its wielder.
So… we actually implemented that gameplay mechanic in Iceborne! With the Adept Stormslinger, you can apply a mod called Power Source Mod that replicates the health recoil function in Horizon Zero Dawn: The Frozen Wilds. However, if you use the Shield-Weaver+ armor alongside this Light Bowgun, you'll take on reduced damage; a highly recommended pairing.
If you're on the hunt for some really powerful gear in Iceborne, now's the time to jump in. The Safi'jiiva Siege and the Horizon Zero Dawn crossover quests will be live until January 4, 2020. Happy hunting!