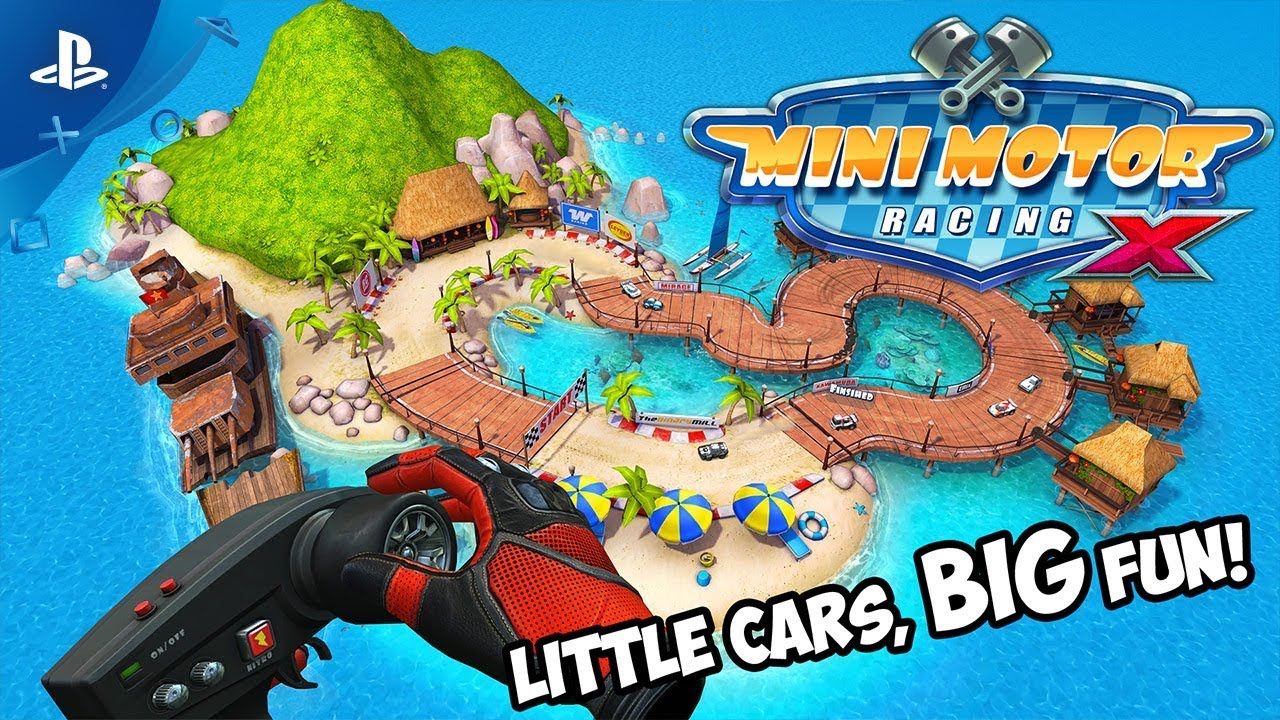 The arcade-inspired racer adds weapons, VR support, co-op, and more in the series' PlayStation debut.
In the almost decade since we introduced Mini Motor Racing to the world, the frantic nitro-fuelled action has found its way into millions of homes and across countless platforms. Now, for the first time ever, these tiny racers will make the jump onto PlayStation 4 with the launch of Mini Motor Racing X next week.
If you're new to the series, Mini Motor Racing (or MMR as we call it, unless we're trying to pad the word count) is a top-down arcade-style racer made from the gaming DNA of classics such as Super Off Road, RC Pro-AM, and Micro Machines. You race your car in a helter-skelter boost-fest across dozens of different maps, earning cash prizes which you can use to upgrade your cars or unlock new ones. It's simple, fast, and fun, like the arcade games our developers and many of you grew up with.
MMR X brings a whole lot of new content to the franchise, so we figured the best way to cover it quickly is in the time-honored tradition of the listicle. So here, without further ado, are the top five new additions in Mini Motor Racing X!
Type X Combat Mode
Finally! The most frequent questions we've gotten over the years are always along the lines of "Where are the weapons? Why can't I have weapons? When are you going to add weapons?" Well, here's your answer. Type X mode lets you play through the entire game with the addition of some wildly destructive weapons. Heat-seeking rockets, unpredictable wrenches, shields, mines, even tornados! And believe me, the feeling of wiping out a friend with a well-timed spanner bounce is satisfying beyond words. But fear not, the beloved original weapon-free racing remains in tact with its own "classic" career and modes.
Virtual Reality
At this point it's trite to say VR adds a whole new dimension to a game, but danged if it ain't true! Looming over the track like a god adds a wonderful sense of perspective, and really drives home the 'mini' in Mini Motor Racing. And if looming ain't your jam, VR lets you jump right onto the car with a hectic first person perspective. Get up close and personal with the world and your competitors, enjoy the thrill of destroying them with a well-timed rocket firsthand.
And because we know not everyone is blessed to live in the VR future, we've added flatscreen play as well. We even added some new POV perspectives for the flat version, too.
Bumper Ball
So this may alienate millions of European readers, but I've always found soccer (okay, football) to be kinda boring. Turns out the solution is to add cars, and nitro, and ditch all the rules. Bumper Ball is madcap fun and ideal for parties and for ruining friendships and can be played on or offline (but online is where it's at).
Co-op
What's more important than friendship? Victory, naturally. Maybe glory. And success. But still, friendship is in the top 10 at least, which is why we've expanded the co-op features of MMR dramatically. You can now play through the entire career mode with a buddy on local couch co-op or online. High five between races, pause to use the bathroom, the options are limitless. We've also expanded the quick-mode and party game co-op, so you can battle online with friends or randos. As the old saying goes, a friend in need is a friend indeed. A friend in need of a rocket in the back, that is.
PlayStation Power!
Coming to PS4 allowed us to go back and rebuild a lot of the game elements. For starters, we've collected all the maps from the different versions of the game into one place, for the ultimate MMR experience. Then we rebuilt them with new textures, meshes, graphical effects, and weather systems. The game has never looked better, and a good thing too, as VR lets you see the detail like never before.
And we didn't forget about PS4 Pro support either. In flat screen players will experience ultra-crisp full 4K support running at a buttery 60 frames per second. And in VR? A glorious 120 frames per second to ensure maximum comfort and immersion.
We also were able to add some cool new control schemes. Along with the standard control stick method we've got full PlayStation Move support so players can use a virtual wheel or for the true enthusiasts, an authentic RC controller. You know the ones, with the trigger grip and the steering wheel in the middle shaped inexplicably like a tire? A unique way to play to be sure, but as real as it gets when it comes to tiny race cars.
Phew, what a list. And that's just the overview. There's plenty more to dig into, so whether you're a first time player or a devoted fan, this is the perfect time to get in on the action. Mini Motor Racing X is the pinnacle of arcade racer fun, and it's just the beginning…