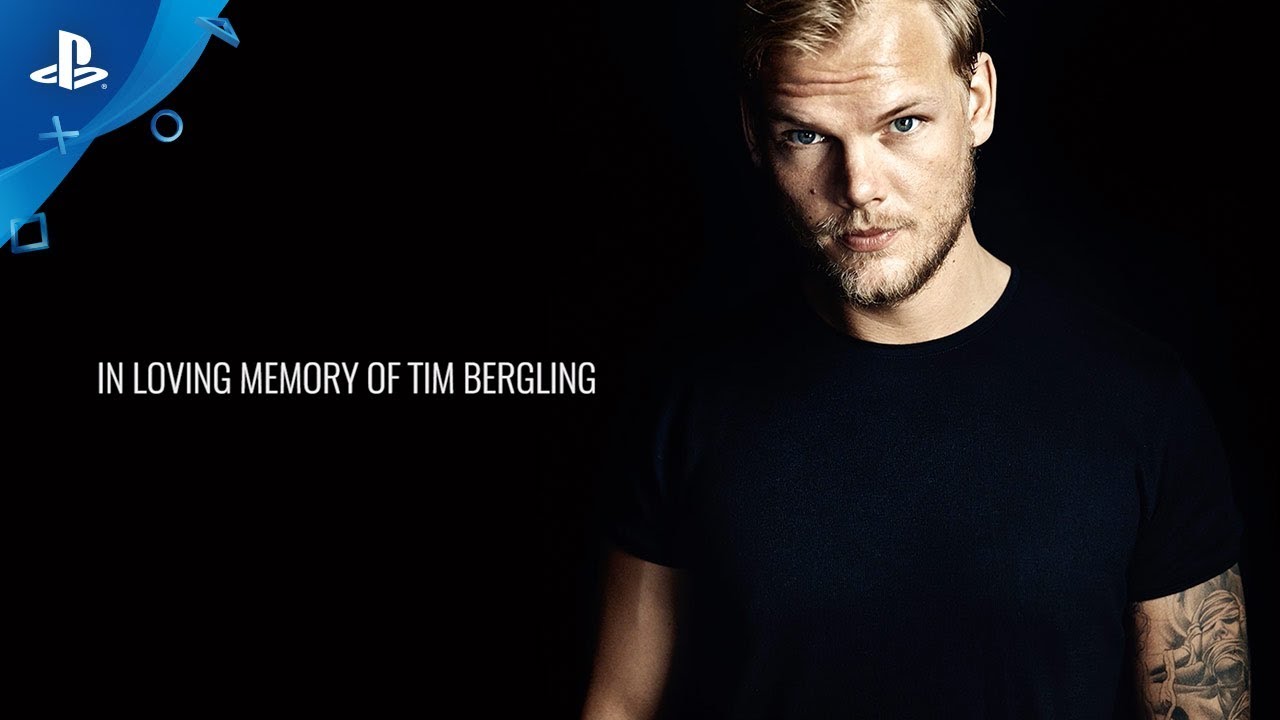 Celebrate the life and music of AVICII with the new rhythm-action game, AVICII Invector.
AVICII Invector launches today on PS4, available for $19.99 and created in collaboration with Tim Bergling himself. It's safe to say the project has been an emotional journey for everyone at the studio and of course his friends and family. The game is part of an outpouring of support and recognition for Tim, with our launch following the selling out of the AVICII Tribute Concert, which was held in Stockholm December 5, and where names including Rita Ora, Kygo, David Guetta and more honored our friend. We wanted to talk about why we continued work and what we hope people will take away from the game… so read on.
What is AVICII Invector?
AVICII Invector thrusts you into a musical journey across six different worlds lit up with fantastical colors, wondrous sights, and 25 of AVICII's greatest tracks.
You'll glide, float and race through each musical track, tasked with hitting the beat, swiping each fade while wrapping yourself up in each world and track — the goal: keep the beat and rock for that high score.
Working with Tim
Usually when people mention they worked in collaboration with an awesome celebrity or personality, they expect that they just put a tick or a cross in a box at the end of a project or have a different team watch over proceedings…
We're happy to say that in this instance, this was not the case! Tim was present throughout the majority of the development process, and when we say present, he really took it upon himself to get elbows deep into the thick of things — from scrutinizing mechanics, visuals and even digging into the minutiae of how each musical phrase was represented in game.
Tim had a huge passion for games. He played a lot of games in his spare time and in our meetings he was always present and interested. I especially remember one occasion when we were supposed to have a quick playthrough of Invector. The meeting lasted for many hours. We ended up playing music; he showed me some new songs. He asked me if I could show him some Taekwondo stretching — he knew I'm a black belt — in the middle of a dev session. At first I was surprised! But then, okay why not? So we stretched for a while with laughter and had a really nice time. Fantastic memory.
He came with a lot of valuable feedback, and we implemented his changes, which made Invector a better game. We also decided to create more games together in the future which unfortunately never will happen. I remember our meetings with great warmth and I will never forget it.
The 2017 release
In 2017 we launched Invector on PS4 with Tim. It was a fantastic moment for him and a phenomenal once-in-a-lifetime opportunity for us…
We had more plans and were figuring out where to take the game next, and then everything changed.
When we heard of Tim 'AVICII' Bergling's passing, we were numb — the magnificent spark which burnt fierce with love, support and passion had ceased. With that, we stopped.
A foundation of change
After some time, we heard that a foundation was to be set up by Tim's father, The Tim Bergling Foundation — a charity to recognize suicide as a medical emergency as well as funding support to those who struggle with their mental health.
After some discussions, we decided to head back to the base of Invector and finish what we started with Tim — giving life to AVICII Invector, which includes new visuals, tighter mechanics, as well as a brand-new world to celebrate the memory of AVICII, including tracks from his posthumous album 'Tim'.

Handing a boxed PS4 copy of Avicii Invector to Tim's father, Klas
All of Avicii's music royalties from the game will be donated directly to the Tim Bergling Foundation to support their phenomenal and important work, as well as an additional donation made by Hello There Games and Wired Production to Safe in Our World, a mental health charity set up to support those in need and break down the stigma and provide support towards mental health in general.
So we're very proud of having this privilege to work with this talented guy. He gave our studio and team his love and attention. After the fact, you wish you could go back to one of these dev sessions, give him a comforting hug and let him know how brilliant and loved he was — we can't do that, so this is the next best thing we can do to pay tribute to his music and support his silent plight.
For those of you who supported the original release of Invector, we've worked with PlayStation to make sure you can download this release for no extra charge. We thank you for picking it up originally and supporting Tim.
We hope you enjoy his work.