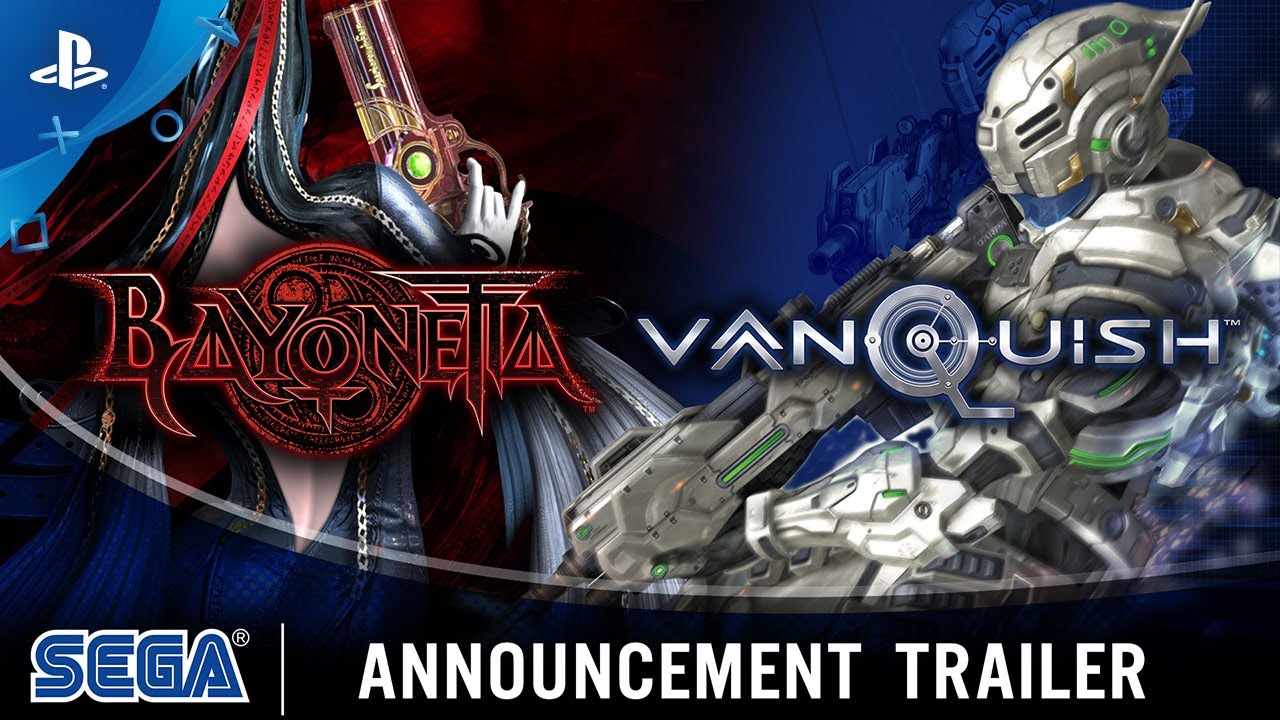 Get a look at the physical SteelBook bundle featuring new cover art for both games.
"As long as there's music, I'll keep on dancing."
"Time to hit hard and make 'em regret it."
Two lines that should get any action game fan's heart racing.
Ten years after their original debut, Bayonetta and Sam Gideon return once more in the Bayonetta & Vanquish 10th Anniversary Bundle on PlayStation 4! This hard-hitting combo pack launches on February 18, 2020.
Have you broken a controller playing through Bayonetta on Non-Stop ∞ Climax? Spent countless hours perfecting every movement in Vanquish's infamous Challenge 6? Or are you just fascinated by the idea of controlling a gun-wielding witch or a DARPA agent donning a rocket-propelled Augmented Reaction Suit? Then the Bayonetta & Vanquish 10th Anniversary Bundle is perfect for you.
We know how special Bayonetta and Vanquish are to fans, and they're an important part of SEGA's history as well, so we wanted to go big for their 10th anniversary. That's why we're happy to announce that the physical release of the Bayonetta & Vanquish 10th Anniversary Bundle will come in an embossed SteelBook with brand-new cover art for both games produced by Weapons Van, supervised by Bayonetta director Hideki Kamiya and Sega. We're happy to give PlayStation Blog readers an exclusive first look at the new cover art here:
Two exclusive static themes will be available for fans who plan to pick up the bundle digitally (pre-orders begin today at PlayStation Store!):
Bayonetta & Vanquish Theme: show some love for the original Bayonetta and Vanquish cover art with this theme – available for all digital purchases.
Bayonetta & Vanquish 10th Anniversary Theme: celebrate the 10th anniversary with a theme featuring the brand new cover art shown above. Available for a limited time for all pre-orders and purchases up to March 3, 2020, two weeks after launch.
If you're brand-new to either Bayonetta or Vanquish, you're in for a treat. Bayonetta takes fast-paced third-person action to the extreme, pitting the unflappable Umbra Witch Bayonetta against hundreds of angelic foes with an arsenal of interchangeable weapons, powerful abilities, and mystical beasts summoned through her incredible hair.
Meanwhile, Vanquish redefines the cover-based third-person shooting genre by introducing elements from action games and beat 'em ups, a wide variety of weapons, and some of the craziest boss fights you'll ever see, creating an entirely unique experience that shouldn't be missed.
The Bayonetta & Vanquish 10th Anniversary Bundle comes to PlayStation 4 on February 18, 2020 for $39.99. We're so excited to give even more players the opportunity to experience these classic action game gems, and we look forward to the deluge of new playthroughs, combo videos, and speedruns for both games!
Update from Sega: "We've updated the blog above to clarify the messaging around the resolution for the Bayonetta & Vanquish 10th Anniversary Bundle – the games are both displayed in non-native, upscaled 4K and 60fps on PlayStation 4 Pro."