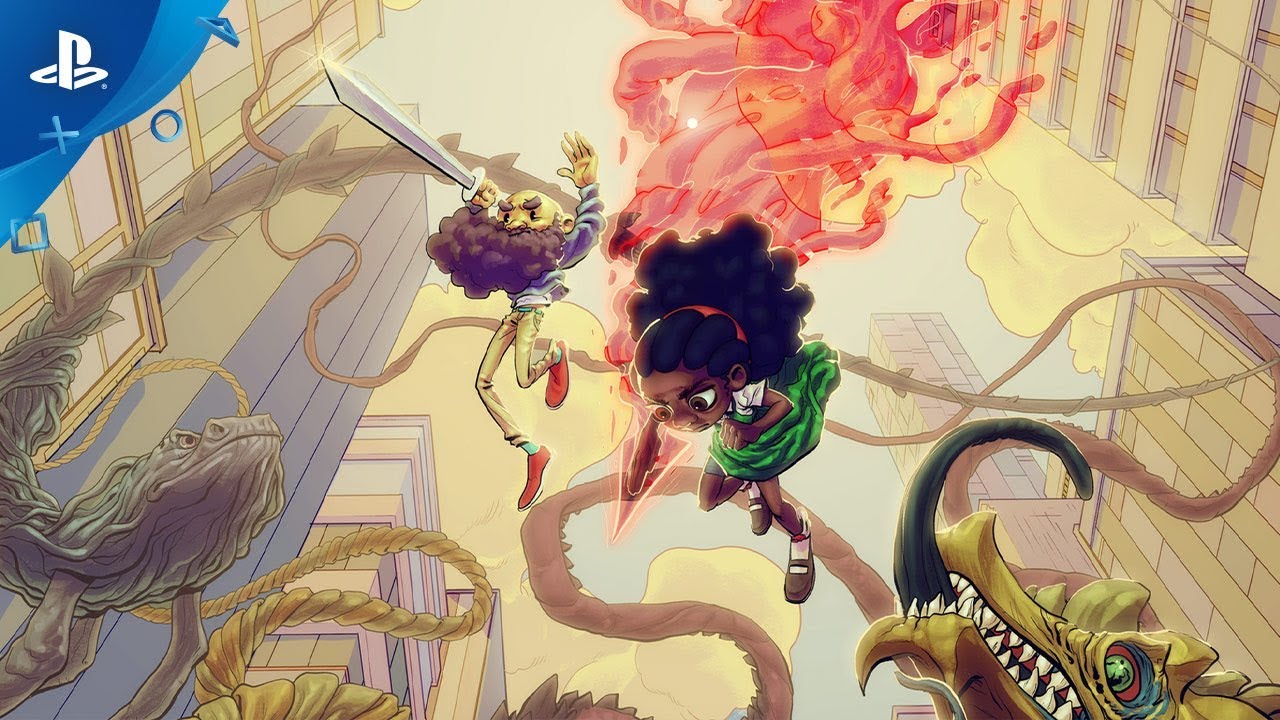 After more than seven years of dedication from a small, passionate team, the hand-painted dragon apocalypse has nearly arrived on PS4.
After over seven years of dedication from a small passionate team, we are so happy and proud to announce that the hand painted dragon apocalypse has arrived. EarthNight launches on PS4 on Dec 3.
EarthNight is a painting brought to life and a love letter to classic arcade games. Dragons have taken over the Earth, and humanity has fled to space. You must help Stanley and Sydney skydive back to Earth while careening across the backs of massive, snake-like dragons as they soar high above the planet, all while an original chiptune soundtrack pounds away in the background.
EarthNight features an epic challenge that demands mastery. Getting back to Earth and defeating the EarthNight dragon will take all your wits and a lot of practice. You will unlock and upgrade powerups to help you on your way, but to find true victory you'll need to bend the game to your will by mastering the nuances of the controls and understanding your environment.
EarthNight is inspired by classic platformers like Mario and Sonic. I've always wanted to play an autorunner that is deep and engaging. EarthNight is an attempt at making a game I've always wanted to play; one that is light-hearted and approachable, but also challenging and unpredictable.
Each of EarthNight's thousands of frames of animation and elements have been painted by the artist Mattahan. His style of painting fantastical creatures and humans bathed in light inspired the entire world of EarthNight.
EarthNight features an unbelievable original chiptune soundtrack, including more than 20 fun, rocking full-band and Game Boy-only tunes by Chipocrite. The soundtrack is available now on BandCamp, Apple Music and Spotify.
We want players to have a blast every time they take a run at EarthNight. We're after pure unadulterated joy. As you run along the spine of a massive dragon, leaping to new heights, bouncing on monsters' heads, taking in the beautiful sights and rocking out to the chiptunes, you'll find yourself falling into a rhythm. Over time what once seemed like madness will all make sense. Everything will click and you'll be bobbing and weaving like a champion on your way back to Earth.
We want to give a big thank you to Sony who has been so amazing to us over the years. Before Sony saw our game at a festival we were a small team working in obscurity. Sony brought a playable demo of EarthNight to multiple E3s, IndieCades and PlayStation Experiences where we got incredibly valuable feedback that improved the game and inspired us to keep working. Thank you so much to all the PlayStation super fans we met over the years. We cannot thank you enough for your support and patience. We hope you love the final game. There are over 45 trophies to collect including a Platinum for the most dedicated dragon slayers. Happy hunting!