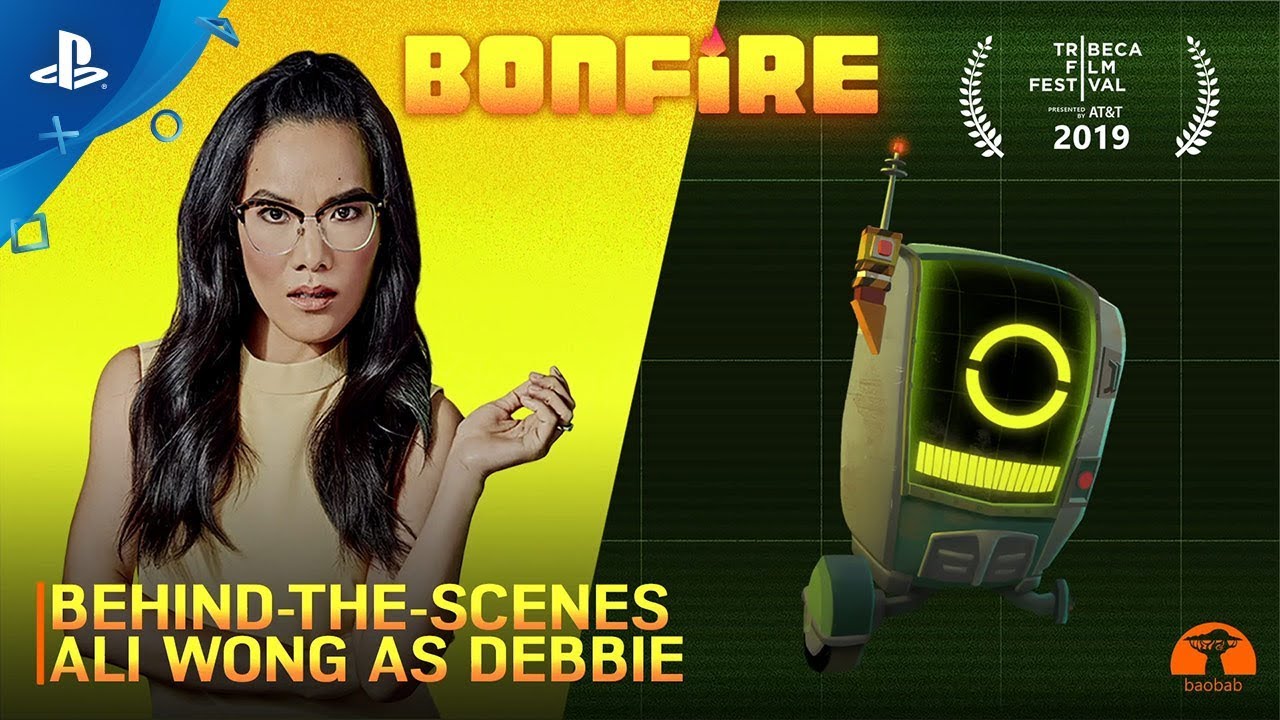 The stand-up comedian and actress voices your reluctant robotic sidekick in a new PS VR story launching today.
Is Bonfire a movie? Is it a game? It's neither! It's an interactive narrative in virtual reality with complex character AI that enables you to make decisions and progress the story. You're the star of this animated short and Ali Wong is your sidekick. Oh and it also launched today on PS VR with a limited time discount.
We'd like to share a bit more about Baobab and Bonfire with you. Plus we also have an exclusive behind-the-scenes interview with Ali Wong who plays Debbie.
We are Baobab Studios and Bonfire is our most recent project. We also created the PSVR animated interactive experiences Invasion!, Asterioids! and Crow: The Legend. Our mission is to inspire you to dream by bringing out your sense of wonder. We assembled a star studded team of game designers and animated feature film talent to create experiences like animated short films. But because we're doing it in virtual reality, you are not just a part of the audience; you are part of the story. We create experiences in VR where you matter.
Be the Star of an Absurd Alien Adventure with Ali Wong
You are Scout 817 and you've been sent to find humanity a new home. Instead, you just crashed your spaceship on an alien planet. Your only tools for survival are a fading bonfire, nourishment cylinders and a wary robot sidekick… or so you think.
We don't want to spoil the story for you, but let's just say, there is something lurking around in the alien jungle. We want you to embrace the unknown and seek the unexpected as a little trust and acceptance might help you survive, and hey, you might make a couple new furry friends.
"We wanted to put the viewer in the middle of a story where they can develop believable, meaningful relationships with other characters so that the viewer feels that their interactions with these characters have legitimate stakes — that their decisions really matter," said Eric Darnell, writer and director of Bonfire.
An Animated Movie-Like Space Survival Story of Trust and Friendship
As a not-so-elite member of The Space Force, you'll be immersed in a seriously ridiculous situation playing the lead role in a comedic and casual narrative-based experience where your personal decisions impact the story. We modeled our comedic interactions based off of Ali Wong's stand up performances.
"We created a design system that emulates stand-up comedian's chunks and bits structure. Fully integrated into the narrative, the system will respond to you based on how you choose to interact with the characters and objects around you. Ali had to record a lot of voiceover lines to ensure the system would enable her character to respond appropriately," said Executive Producer Maureen Fan.
Your mission is not just to survive, it's to save all of mankind… no pressure! You'll learn about the new planet, its inhabitants, your surly robot sidekick and maybe even a bit about yourself. In the end, you will get the choice: follow your captain or your conscience?
Ali Wong adds, "When they asked me to voice a character for a virtual reality experience, I thought I was going to be an action hero lighting garbage cans on fire. I didn't know it was going to be this story that could go in several directions depending on the viewer's choices. And when I finally watched Bonfire with the goggles and everything, I was surprised by how touching and fun the whole experience was."
Intuitive Interactions in an Immersive World Where Your Decisions Matter
With fluid movements and intuitive interactions, you'll evaluate life-sustaining viability of an alien planet, identify valuable extra-terrestrial resources, neutralize hostile creatures, and maybe even tame them.
You'll engage in meaningful interactions with the characters and the world around you with Baobab's award-winning real-time rendering, artificial intelligence and interactive design systems.
Executive Producer Larry Cutler says, "The alien creature Pork Bun has an AI brain that is procedurally making decisions influencing its personality and behavior all rendered in real-time. There is emotional branching that occurs and Pork Bun will respond appropriately. Your behavior will determine how your relationship and journey will unfold."
Watch our launch trailer, which includes testimonials from people who experienced Bonfire during our World Premiere at the 2019 Tribeca Film Festival. To learn more of the story, you can watch our official trailer below.
From all of us at Baobab Studios, we hope you enjoy the experience. Thank you.