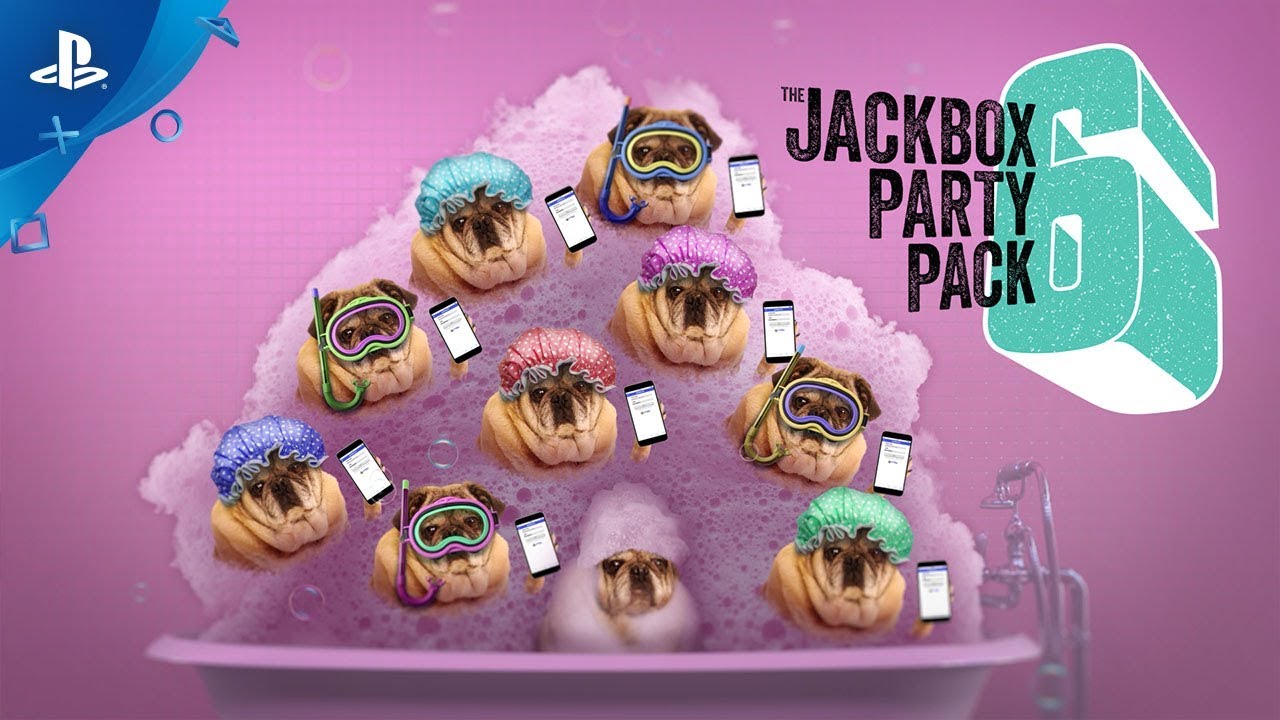 The irreverent party game collection returns with Trivia Murder Party 2, Dictionarium, Push the Button, and more.
Hi, gang! [sits down on backwards chair] We here at Jackbox Games make five party games a year and release them in a pack called — ingeniously — The Jackbox Party Pack. We're on Party Pack 6 this year (available for PS4 tomorrow, October 17) and we're more excited than ever about this set of games. How is that possible? Well, just like a healthy marriage or the veggie crisper in your fridge, we keep things fresh. Each game has a new mechanic, core concept, or function that we've never tried before. And we'd like to highlight a few of those here!
We brought back fan-favorite Trivia Murder Party and we've called it — ingeniously — Trivia Murder Party 2. We added all-new trivia, a load of new minigames, and a whole new backdrop (ever been to a haunted murder hotel?). We also listened to our international audience and delivered on a cool new function. You can turn off the America questions! Yep, that means that if you toggle the "Filter US-centric Questions" button in Settings, you won't get any questions about our weird version of football.
Joke Boat is a head-to-head joke writing competition. Because there is so much user-generated content, we wanted a function that gives players an extra layer of privacy and control. Introducing: passwords! If you opt for password protection, you can control who can play the game (writing jokes), while anyone with the room code can still join the audience (voting on the jokes). We put this in place especially to help our dear friends, streamers, keep games safe, civil, and troll-free.
Push the Button pushed the envelope in a lot of ways. It's our first top down isometric game and has one continuous timer. Also, our design for how the controller (your mobile device) looks and works is our most ambitious yet. Since it's a hidden identity game where you gather data on your fellow space passengers, the controller tracks everyone's answers and makes them available for future reference. That way, when you make your big accusation, you have exhibits A-F to back it up. We want you to be the best alien detectives you can be, and we built a slick controller to get you there.
With Dictionarium, we had the goal of making a quick game with a minimal learning curve. We worked to design a three-round game that you can get in and out of in 10 minutes. We like the idea that you can either use Dictionarium as a palate cleanser after a longer, intense game (see: Push the Button) or you can play a bunch in a row. We added a cool new function that allows you to save your entries, so you can flip through your personal archive whenever you want. (Don't worry, you can also delete them if they're too unhinged!)
For Role Models, we knew that we'd have to get creative with the controller. The object of this game is to assign your friends weird roles (e.g. Which grandmother name are you?). We tried out a bunch of different ways to match players with roles and the one we loved the most? A drag n' drop. You drag your friend's name and drop them into their role. Even after you've arranged everyone, you can swap them around. It's very satisfying to tap and drag your friends around your phone and we think even Meemaw will dig it.
Oh, and one more thing: All five games in The Jackbox Party Pack 6 have subtitles! We've been wanting to add that feature for a while now and we're happy to report that this year they're in. We'd love to hear what you think of this year's pack, so share your thoughts below. Happy partying!