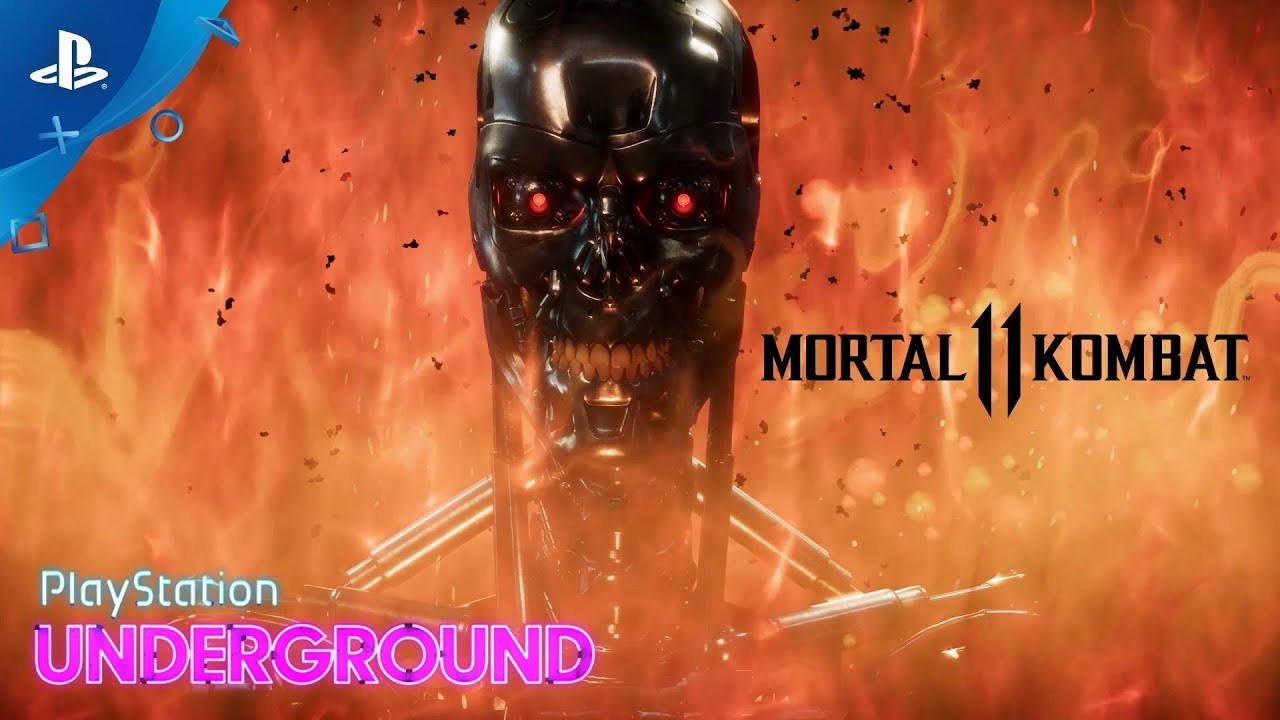 Legendary series co-creator Ed Boon joins us for a gameplay walkthrough of Terminator's gameplay.
Update: Ed Boon, Mortal Kombat series co-creator and NetherRealm creative director, joins the crew for a gameplay walkthrough of the Terminator in MK11 on a special PlayStation Underground episode. The Terminator T-800 is available now to Kombat Pack owners, and will be widely available as DLC starting October 15. Play Terminator and MK11 for free on PS4 with a trial running October 11 to 14.
---
One of the many great things about working on NetherRealm games is the opportunity offered by DLC to add guest fighters to our titles. What's more, these are usually iconic characters that I've grown up with and have had an impact on me as an artist.
The Terminator T-800 from the Terminator: Dark Fate film is such a great addition to Mortal Kombat 11. Everyone in the studio has so much love and respect for this character, and the amount of creative energy felt during the character creation process, along with everyone's excitement during the final playthroughs, were incredible.
Although most of my work consists of reviewing and art directing assets for the character and prop teams, I also build character faces and facial rigs that drive our facial animations. As Arnold Schwarzenegger is arguably the most iconic action hero of all time, it was a real career highlight to work on his face and facial rig.
The team added a lot of new features, pushing everything to its technical limits to make all gameplay, intros, victories, Fatal Blows and Fatalities feel truly impressive. The character team worked hard to not only add new systems for all the Terminator dismemberment and Krushing Blow content but to also add new features enabling the addition of decal elements. These allowed us to give the Terminator several different shirt options.
We couldn't do the Terminator without showing the T-800 endoskeleton. This is my favorite skin, the damage to the face and the revealed skull are just plain cool. In addition, the design team has really outdone themselves by adding a game mechanic that will have you fighting as the T-800 endoskeleton, if you have the right move equipped and you are at low health in the final round.
We also have additional character skins dropping with all this content, including Sonya Blade as a Cyborg Hunter, Kano as a cyborg in his Cash Machine Kano skin and Johnny Cage in a very expensive tuxedo, movie premiere-ready as Red Carpet Johnny Cage. These are great skins, especially the different tux color options for Johnny.
And we have a Cassie Cage as Harley Quinn character skin for Kombat Pack owners, which we've been looking forward to releasing. Not only is it a great visual, but it also adds some fun to Cassie's costume options.
The opportunity to add Arnold Schwarzenegger as the Terminator T-800 to Mortal Kombat 11 has been nothing short of an amazing experience for everyone here at NetherRealm Studios, and it really shows off the huge amount of great creative content that has been added to the game. We hope you all feel the respect and love that we have for this brilliant character when the DLC drops on October 8 via early access for Kombat Pack owners and October 15 for wide (à la carte) availability.
And lastly, we have a Mortal Kombat 11 free trial coming up October 11-14 on PS4, where you'll be able to preview all multiplayer game modes, a portion of the Story mode, the full base game roster of characters and some of the Kombat Pack fighters (Terminator T-800, Nightwolf and Shang Tsung) within the Towers of Time mode. If you haven't played the game yet, feel free to check it out!