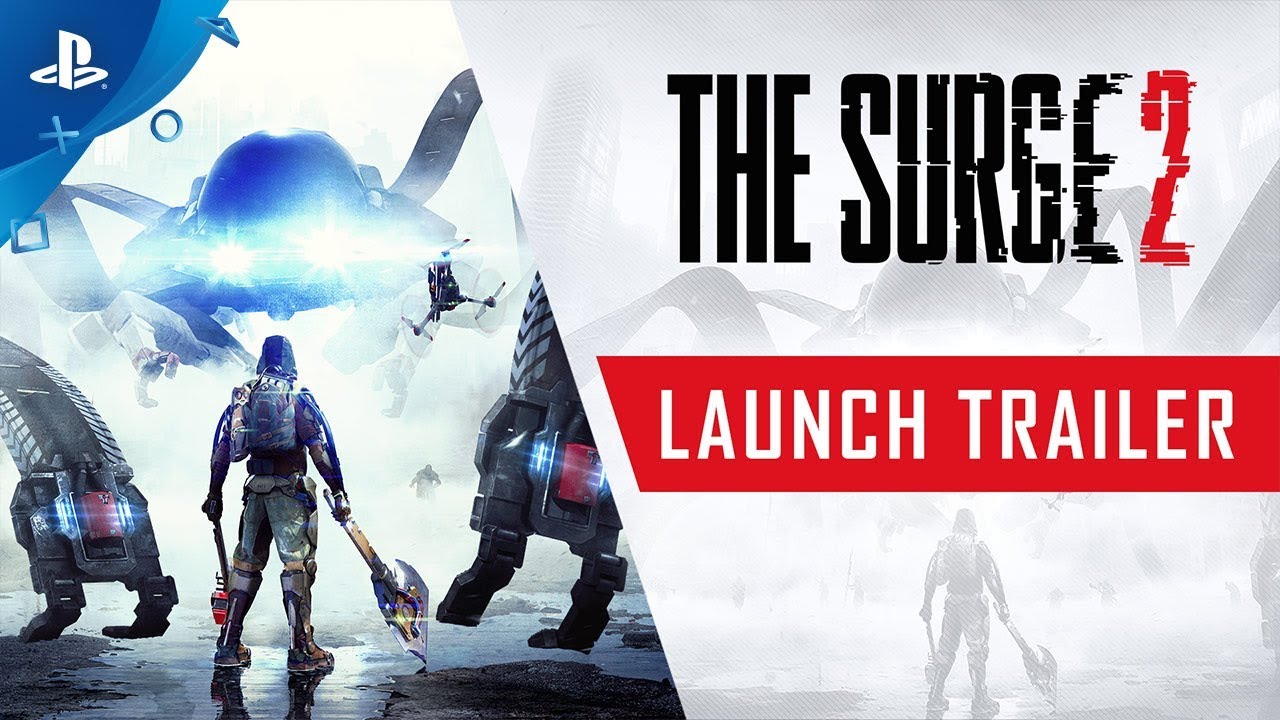 Deck13's concept artist discusses crafting convincing monsters, assembling drones, and comic books.
Deck13 returns to PlayStation 4 with The Surge 2 on September 24, bringing back and expanding on hardcore combat, limb targeting system, and deep character customization. The game ups the ante by placing you in a sprawling city devastated by a cataclysmic event where you must fight to survive with your personalized exo-rig and combat drone.
Inside the high walls of Jericho City, trapped in a technological apocalypse that threatens to consume everyone within, players will have to fight to survive and uncover the truth of the disaster. Cult members hopped up on drugs, nanomachines monstrosities, looters, and security forces will try to stop you wherever you go while a mysterious girl leads you to parts unknown.
In anticipation of the release, we sat down with David Müller, Concept Artist at Deck13, to learn more about the art process.
Hello David! Please describe your position at Deck13, what it entails and how it fits within the larger picture that is the creation of a video game like The Surge 2.
I have been Concept Artist for Deck13 for roughly four and a half years now. As a concept artist I focus on character, armor, and weapon designs. Sometimes I help with UI/HUD elements like achievement icons, I create fake companies used in the game (so much fun!), and I do promo stuff, like cover artworks, postcards, posters or comics. I work closely with game design, animation, character artists and outsourcing partners, so that the ideas I come up with are doable and not too crazy.
The challenging part for the Surge franchise is the layer system of a character. You have the basic model with clothing, the exo-rig, the gear-set with the possibility to have big weapons attached to it. Armor and weapon designs should be optionally combinable among each other without too many clipping errors. For The Surge 2 there was another layer mounted on top of the armor set at different positions: the drone carrier.
What's at the heart of Deck13's sci-fi aesthetic? Is there a formula? Is this a combination of current-day references and anticipation? How can modern times influence the creation of a sci-fi setting and is the worst destined to happen?
I would say in its core, our sci-fi aesthetic is to give a glimpse into what could be happening in the close future, observing current developments and trends, so yeah: current-day references and anticipation is a big part. The formula is to stay grounded as much as possible and draw a believable dystopia with a pinch of hope to make it believable and exciting.
It's funny when you look up how artists and writers imagined the future in their works centuries ago. It's always interesting to see what actually came true, because most of the time it is just the idea that came to be, not the execution. The face of the future we can imagine is always just a distorted reflection of the present.
A first look at the first few pages of The Surge 2 comic, "Out of the Ashes" — included in the Limited Edition
The Surge 2 features creatures that seems to be coming from a distant world. What goes into creating brand-new "species"? What were your inspirations? What makes a good monster in your opinion, and what are some of the best monsters out there, games or movies?
Every new concept starts with a lot of research. I always try to get as much input from every possible angle and source as possible. I do get my inspiration from almost every medium. Film, music, technology (machines, cars, planes, etc. for shapes and ideas), photography, paintings, drawings (old and new) and of course concept art. Just don't steal unique ideas or concepts! I try to build on top of existing stuff I like, until almost everything that it was has been overwritten by my own style. That's one way to get to the goal.
A good monster needs to be believable in my eyes. It needs to be crafted like it could actually be a part of our world. If it needs to have some extraordinary elements, I'd try to build that on top of the core concept. The exception proves the rule of course, so if that "out of this world" element you want to pitch is the main idea for your monster design, go for it. It doesn't have to work in the real world, but it should look like it could.
If I would have to pick five awesome monster designs spontaneously, it would be: H.R. Giger's Alien design, the fantastic creatures of Moebius, the Predator (especially that face), the classic Werewolf and Katsuhiro Otomo's shapeshifting monstrosities (e.g. Akira).
Concept art from "Out of the Ashes"
The Surge 2 is set in Jericho City, a metropolis under quarantine that is far from the industrial identity of the CREO complex. What kind of challenges did you face in putting this world together?
In terms of character designs and weapons, it was a challenge to combine the existing world of Surge 1 with the new companies, weapons, and factions of Surge 2. It needed to be connected but the new stuff also had to be able to stand on its own. Since Surge 2 plays outside now, we had to come up with new ways to combine the existing "tool" melee combat design of the isolated factory with firearms.
We have been able to accomplish a combination of close and ranged combat, that feels fresh and easy to use mid-fight through our drone. The player drone design itself was a real beast to handle, because there's so much stuff that builds up on it (armor designs, weapon attachments and the drone carrier), but it is one of the things I am most proud of. I think it could work in real life — I want that backpack!
You've given our readers an exclusive look at the first pages of the "Out of the Ashes" comic that is only available by pre-ordering The Surge 2's Limited Edition. Why this choice of medium? What can people expect from it, and what excited you most about putting it together?
If you remember Iron-Maus from The Surge 1, we already played around with comic book references in the past. With The Surge 2, we were given the chance to provide players a new way to experience the story by providing a real comic for players to flip through and learn something they won't discover anywhere else. We decided we should use this unique opportunity to fill the gap between The Surge 1 and 2 and continue the story of Warren, our hero from the first game.
I love comics, so I was happy they asked me to do this. For me, the thing I liked the most was translating the characters I created for the game into another form of media – especially the comic medium. To see that it works was a great reward! I was also able to show two completely different drawing techniques here too (cover art and pages), which was really fun!
You can see more early sketches from our later-abandoned Iron Maus-themed comic here.
---
The Surge 2 brings the nanomachine nightmare of Jericho City to players everywhere on September 24 on PS4. Pre-orders are now available and come with the URBN Gear Pack, which includes a new armor set, two new weapons, and other cosmetics and equipment.