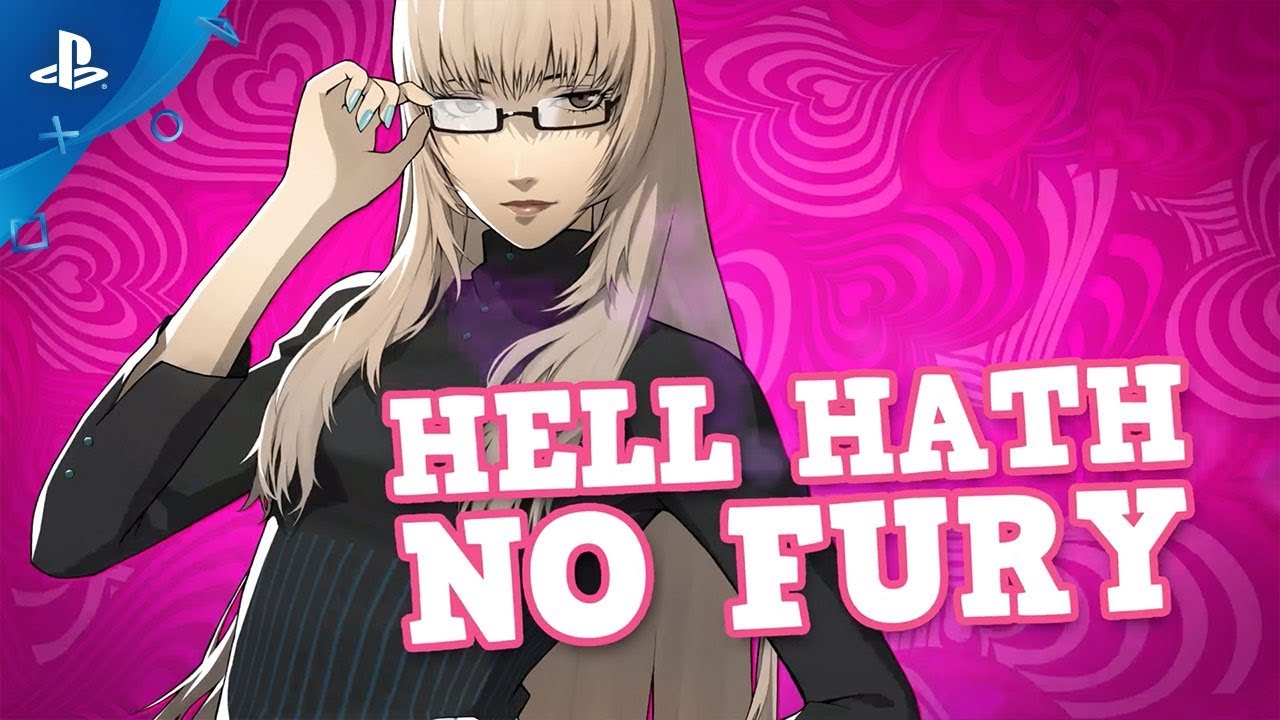 Learn how Atlus localized this full-bodied remake of their bizarre PS3 puzzle-RPG.
It's not a dream —
launched in the West yesterday!
What's Catherine: Full Body?
First, for anyone who has yet to begin their ascent through the twisted nightmare tower of Catherine: Full Body, a bit of background. Take a load off, grab a snack, and get ready to enjoy the tale of Vincent, our tragic main character.
Catherine: Full Body is at once both an expansion and a remake of Catherine, which released in 2011. The recipe for Catherine: Full Body is equal parts puzzle-platformer and choose-your-own-adventure game. With over 500 platforming stages total across multiple difficulty levels and two distinct gameplay modes, as well as 18 unique endings, Catherine: Full Body is sure to satisfy. For folks who want to just sit back and enjoy the story, there are even options to skip puzzle stages entirely on lower difficulties.
How Catherine: Full Body is Brought to Life in the West
From Catherine to Catherine: Full Body, our localization team had to work with about 165,000 Japanese characters in text and 6,000 new recorded voice lines, adding up to about an additional 60% of content on top of the original Catherine. Here's a few behind-the-scenes details about the work that went into turning that into a game that would play well for an English-speaking audience.
The original Catherine featured a star-studded English voice cast, including Troy Baker, Laura Bailey, Michelle Ruff, Yuri Lowenthal, and many more. After eight years away from the recording studio for this game, the simplest thing to do would be to recast these characters with new actors, right? Possibly! However, in order to preserve the integrity of Catherine: Full Body's English voiceover, our production team worked hard to bring back every English voice actor for the main cast, and a vast majority of the side cast, to record their character's new lines.
There were some concerns at certain points during recording, like potentially needing to record a scene from the original game where Vincent (Troy Baker) had to scream for about 20 seconds straight, and that's for a single take. Multiple takes of 20-second screams in a single recording session would be… a bit of a nightmare. Eventually, our production team worked out a solution to use the original recording instead of asking Troy to scream for a few minutes, so everyone still had a voice at the end of the day. It took some work, especially for folks who had to voice younger / higher-pitched characters after eight years away, but everyone ended up doing a fantastic job, and we feel like the effort really comes across in the final product.
In terms of localization outside of voice recording, a great deal of the Japanese script relating to content from the original Catherine had been rewritten, so our team went back and painstakingly referenced the Japanese script alongside the original English translation to ensure that lines were still accurate for pre-existing content while translating and editing entirely new corpuses of text for the new content in Full Body. There were a few particularly difficult sections of text that our team had to work through, including famous quotes on loading screens that had to be reverse-engineered from Japanese back to their original language, and a whole suite of extremely technical alcohol-related trivia for when Vincent orders drinks at the bar. This effort was also duplicated across English, French, Italian, German, and Spanish subtitles!
This is just a little look at some of the work that goes into bringing a game from Japan to the West. It takes time and a lot of effort and expertise, but our team always strives to add just that little extra something to make it that much more relatable for our audience while respecting and accurately portraying the original language and intent. Experience the localized release of Catherine: Full Body for yourself, available now exclusively on PS4!