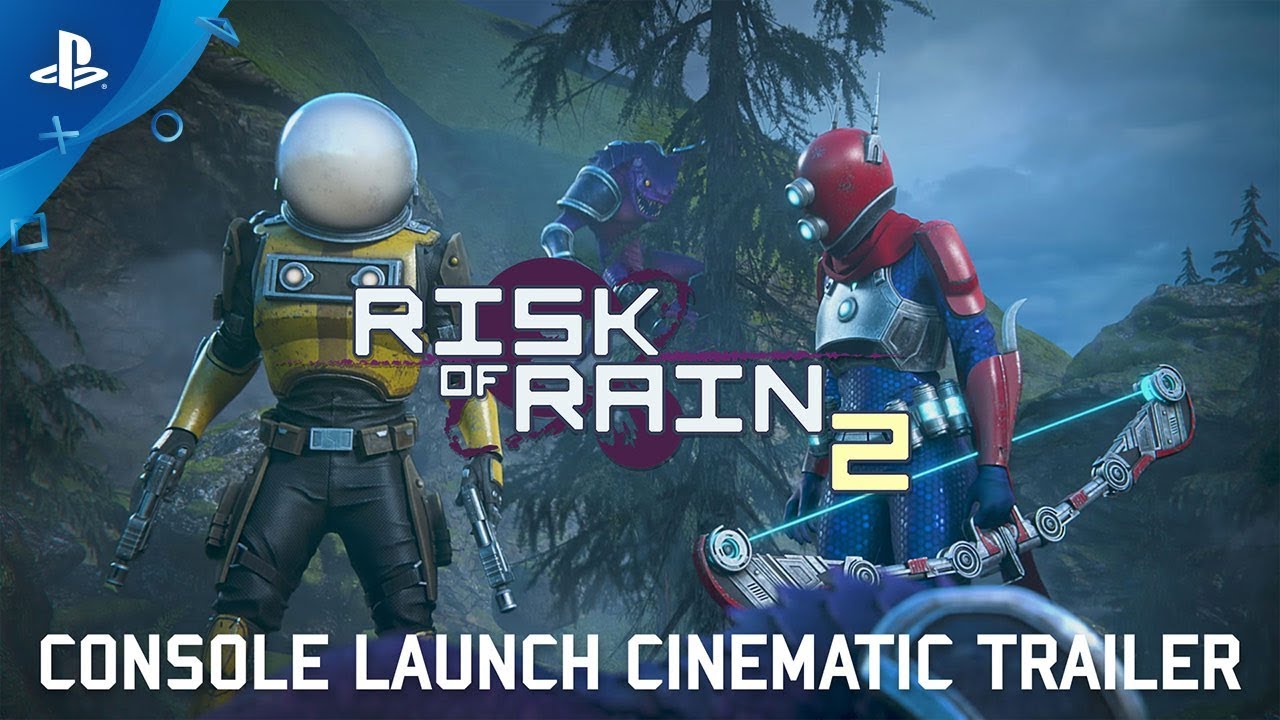 The sequel to the cult classic goes full 3D, and you can play it starting today.
Those of us at Hopoo Games and Gearbox Publishing are stoked out of our minds to
. If you're hearing about Risk of Rain 2 for the first time, let's play a little catch up! Way back in the halcyon days of 2013, Risk of Rain dropped, quickly becoming one of the early titles leading a roguelike resurgence.
Now, Risk of Rain 2 marks the return of 2013's classic roguelike, but adds a whole new dimension. While the first game was a 2D action game, Risk of Rain 2 is a fully 3D title. That means some things are pretty different, but one of our goals was actually to keep the core moment-to-moment gameplay feeling similar and authentic to the original title. Here's what it's like!
As one of a cast of sci-fi survivors, drop onto a beautiful but foreboding planet and blast your way to an escape. Enemies, loot, and mysteries abound in this multiplayer roguelike that's absolutely stuffed to the seams with places to see, items to unlock, and baddies to blow up. Grab some friends in four player online co-op, stack up some items, and try to survive the wildlife.
When you land in Risk of Rain 2, the enemies will likely kick your butt, but in a fair way. Pay close attention and you'll see patterns everywhere. You learn. You grow. You get better. Eventually taking down enormous bosses to push ever deeper into the planet's mysteries.
In each randomized run, it's essential to explore wide open stages, hunting enemies that turn into sweet, sweet EXP and gold. Once you've caused a mini-extinction event, use that gold to pop open some chests and gear up.
More than 70 items await your discovery, each one appearing on your survivor as you pick it up. Each item stacks and combines with the rest, scaling you from a regular shooter to an absolute god of destruction. For example, who doesn't want a teddy bear who will literally take a shot for them? How about a ukulele that shoots lightning? A goat hoof? Yeah, it gets a little weird.
Seven different survivors are included on day one, each with a different suite of abilities and playstyles. The Commando's a great place to start, which is why he's the only character you have at the beginning of the game. He shoots, he rolls, he rocks. As you play you'll unlock more survivors like the Huntress, a futuristic archer, the turret-happy Engineer, and REX, a puppy-like symbiote of a robot and plant.
Enjoy months of free additional content, already on its way to PS4. This includes new survivors, stages, bosses, items and more. Risk of Rain 2 is available NOW. Also, be sure to download the PS4-exclusive dynamic theme for free.