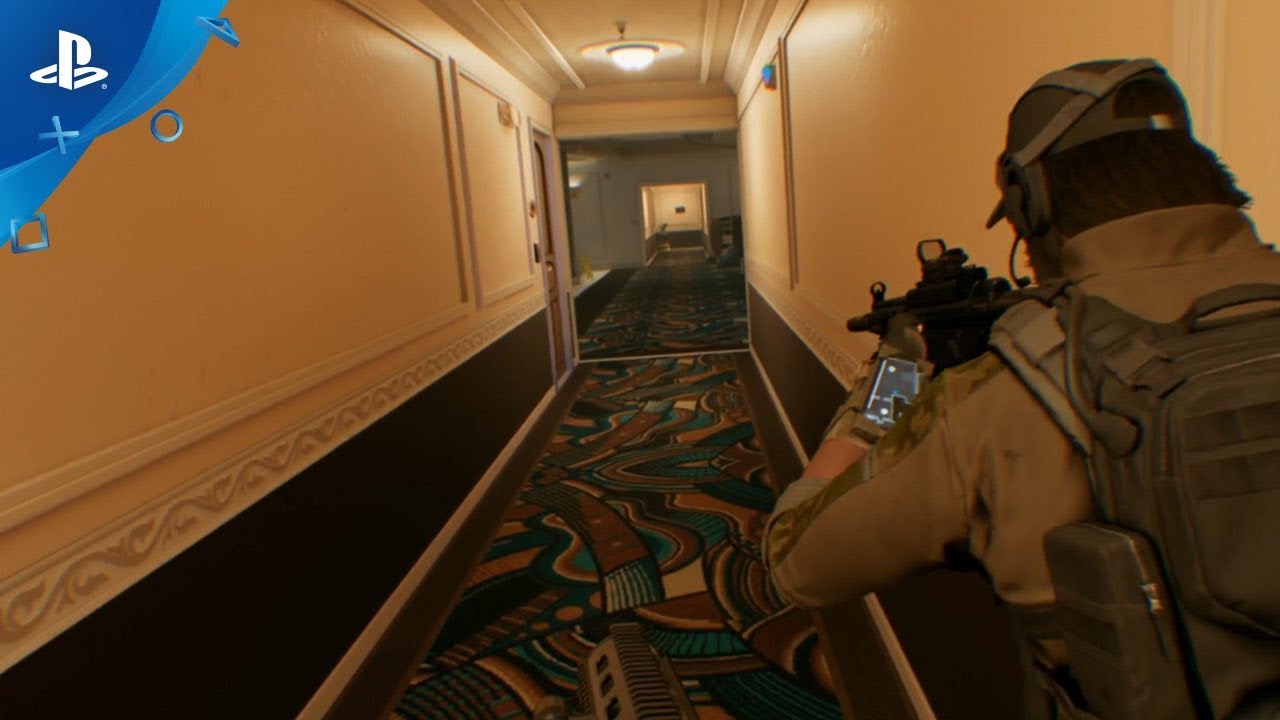 In honor of one year since launch, Firewall Zero Hour gets an Extended Free Trial--and devs get you up to speed on the latest strategies.
Hey guys,
Shabs here, Game Director on Firewall Zero Hour*, the 4v4 tactical multiplayer shooter, exclusive to PS VR.
We're absolutely pumped to be celebrating the one year anniversary of Firewall Zero Hour's launch. And what a year it's been!
Over the course of a year, we've released a number of updates to the game — at times directly influenced by the awesome feedback we've received from our players! Our amazing community continues to grow stronger than ever, and we're grateful for the recognition Firewall Zero Hour receives — such as being named the VR Game of the Year (2018) by UploadVR, and named a finalist for the VR Game of the Year Award (2019) by AIXR's VR Awards.
Coming up on a year of playing Firewall Zero Hour, we also have some fun data stats from the community to share with you. As of 8/13/19:
You've played over 4,028,896 total hours!
You've eliminated over 26,833,576 enemies!
Your top three chosen Contractors are Texas, Red, and Skip!
Your top three chosen maps are Compound, District, and Hotel!
Your top three chosen weapons are Taylor X-75, Spitfire, and Taylor X-75 CQB!
In honor of all of these milestones, we're excited to be putting together an Extended Free Trial for active PS Plus members, August 28th – September 2nd!
During this 6-day Free Trial, players can squad up and dive straight into battle—testing out the latest maps, weapons, and equipment. Since launching one year ago, we've added 4 more maps to the game (Containment, Hangar, F.O.B., Newsroom), plus new Contractors, weapons, and tons of customizations like camo skins, face paints, and trinkets. Players will get to try out the new free missions from our latest season which launched August 13th, Operation: Dark Web, and earn free cosmetic rewards. There will also be a Double XP event happening concurrently during the 6 days–so players can level up even faster in-game.
It's truly the perfect time for new players to hop in and try out Firewall Zero Hour! To get you in gear for the Extended Free Trial, we're also bringing you a list of ten favorite tactics used by the Firewall Zero Hour community. Study up before you squad up!
First time stepping into the game? Try out the Tutorial, then try out Solo Training for a few different maps. In Solo Training you'll go up against AI, and get a feel for what it's like to be an Attacker or Defender. You can also experiment with different loadouts and their weaponry (Assault, CQB, Support). Once you get the hang of different game mechanics, you're ready to try out Public Training, where you and your teammates will play co-op against AI and learn the value of teamwork by communication. Try out different Contractors in this mode and see how their Primary skills play out.
Now you're ready for the heart of the gameplay — Public Contracts! In this mode, teams of 4v4 go head-to-head, and the stage is set for unpredictable outcomes. You'll experience what it's like to play as both an Attacker and a Defender, as your role switches after every round. Strategize together in the lobby and throughout the match. Who's staying together? Who's going to flank? Vocal communication with your teammates is crucial to your success.
Experiment with different loadouts, depending on whether you're on the Attacking team or the Defending team. The Support loadout is a great choice for new players, as you get access to the Revive Pistol right away. The Support loadout also comes with a Signal Modifier, which is a great tool if you're a Defender. When you place a Signal Modifier near the laptop, Attackers must find and destroy that Signal Modifier before they can hack the laptop.
There's a new loadout this season called the Operation loadout. It's an awesome option for those wanting to try out some of the latest gear in Firewall Zero Hour. The Operation loadout comes with the Raptor as primary weapon, the Sarge as secondary weapon, the C4 as lethal equipment, and the Motion Sensor as tactical equipment.
The Motion Sensor is Firewall Zero Hour's latest piece of equipment, as of Operation: Dark Web's launch. You'll be sure to encounter players using it, and you can test it out yourself with the Operation loadout. When a Motion Sensor is placed, a radius is engaged that can detect enemies. If an enemy enters this radius, their enemy outline will turn red and can be seen by the player who placed the Motion Sensor. Teammates of this player will receive a red-dot marker on their wrist tablets, but proper communication is still very important between the player who places a Motion Sensor and his/her teammates!
Speaking of Motion Sensors — you might be wondering what's a good counter to an enemy who places a Motion Sensor. Check out the Ninja Skill, Contractor Meiko's Primary Skill. This Skill gives you reduced movement noise, as well as renders you undetectable to a Motion Sensor.
The Operation: Dark Web season kicked off with a new Contractor, Kane**, whom you might see in a lot of your matches. It's good to be aware of Kane's Primary Skill of Blade, which allows up to 3 knives to be thrown using the melee button. How can you, as a player, counter against this type of attack? Equip your Contractor with the Secondary Skill of Rhino Skin, which lets you take less damage from knife attacks.
All about the maps! Firewall Zero Hour now has thirteen different maps, set in diverse locations throughout the world. Take note of certain areas in maps that can really work to your advantage, or detriment. With great risk, comes great reward…but also…risk! The catwalk in Shoothouse, the ditch in District, and the skybridge in Hangar are all notable spots where both unique attacks and dangerous chokepoints can happen.
Some maps are on the larger side (Docks, Warehouse, District, Hangar, F.O.B., Newsroom) so be sure to keep that in mind when strategizing what might work best for them — such as equipping Skills like Double Time (Diaz's Primary Skill–faster movement speed) and equipping long-range weapons, like the Kruger.
During the Extended Free Trial, you'll be able to complete a variety of Operation: Dark Web missions and earn free rewards–and you'll keep all your progress if you decide to get the game. Some of the free rewards during the Operation: Dark Web season include weapons, camo, trinkets, and face paints. Many missions will require you to complete a task (or several) in a particular map, or by using a particular Skill or weapon–giving you an array of interesting missions to complete. As a quick reminder: Firewall Zero Hour will soon welcome another free new map, Cargo, at the mid-season update September 17th!
Well there you have it, Contractors.
We're excited to be welcoming even more of you into the fray!
And we're over-the-moon to be celebrating one year of fun with you in wildly unpredictable multiplayer matches, across realistic maps, and with a player base that now spans over 150 different countries…all on PS VR!
For those of you who have been with us since day one — we thank you again for staying on this wild ride with us, one year on.
Let's squad up, and I'll see you online, Contractor!
– Shabs
*An internet connection is required for all modes of Firewall Zero Hour, including Single Player Training Mode. An active PS Plus membership is required for Multiplayer Training and Multiplayer Contract modes.
**Firewall Zero Hour – Dark Web Op Pass required to unlock contractor Kane.
PlayStation®4 system, PlayStation®VR and PlayStation®Camera are required to experience VR functionality.