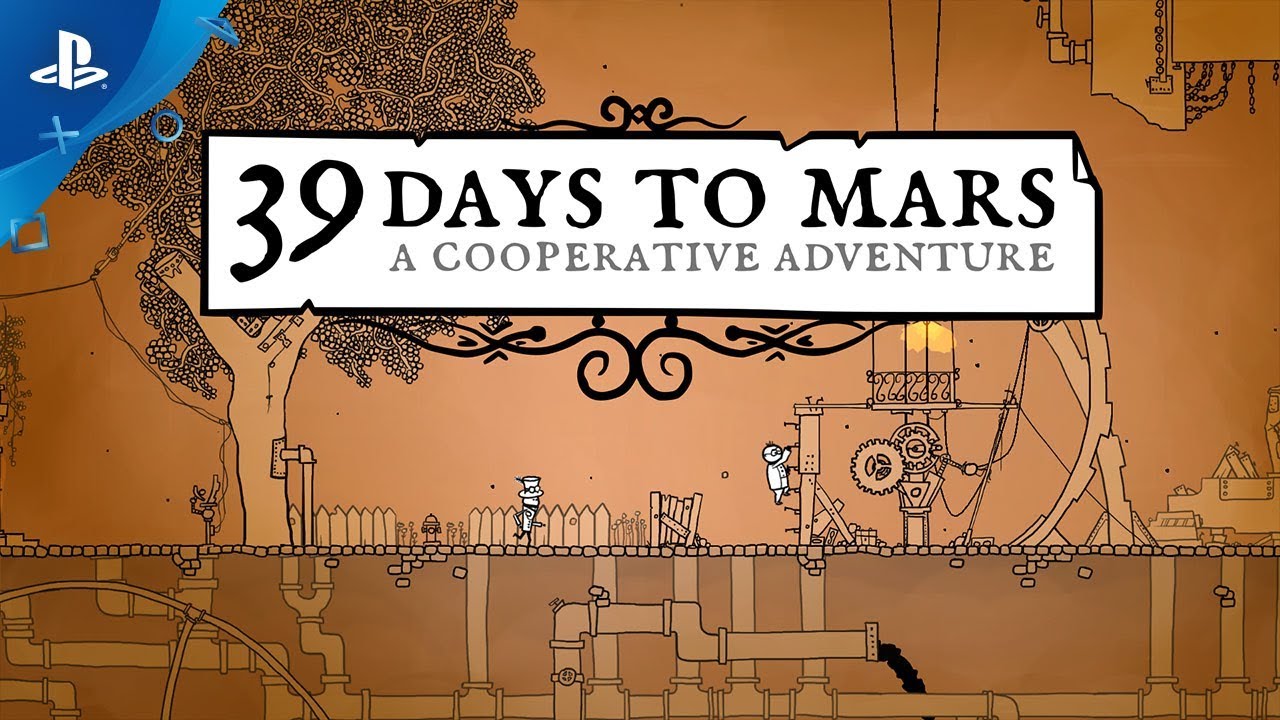 Embark on the 19th century's most unreliable spaceship in this two-player couch co-op adventure.
Hello, I'm the developer of 39 Days to Mars, a two player cooperative puzzle-adventure game, and I'm very excited to announce that it will be coming to PlayStation 4!
39 Days to Mars is about cooperation, where you work with a friend to control two hapless British inventors on their quest to sail to Mars for a cup of afternoon tea. It's inspired by my childhood reading and love of Heath Robinson and Jules Verne, and it's a mix of whimsical story and absurd contraptions.
One of the things I'm most excited about for the PS4 release seems inconsequential at first, but I really think it will make a big difference! In the single-player mode, you control both characters (Albert and the ship's cat) at the same time. When playing on a computer, this was done using the mouse for one and the keyboard for the other, two very different input methods that made things feel lopsided.
The DualShock 4 controller, on the other hand, is almost exactly symmetrical! The two joysticks and the trigger buttons are at the same level, and balanced on the controller. When trying to coordinate your left and right thumbs to pour the perfect cup of tea, I feel like having both sides equal is really going to help!
Aside from coordinating your tea brewing, 39 Days to Mars tasks you with baking scones, fixing water leaks, pruning your garden, and fighting a giant space Kraken. The entire game is hand drawn, and one of my favourite scenes — both when I was drawing it, and when I play it — is when the ship runs out of space coal. Albert and Baxter have to jump on a repurposed penny farthing to try and collect enough space rocks to refuel their ship.
The absurdity of the situation is enhanced by the fact that this is the first time you get to move outside of the ship. Lacking gravity in space, you suddenly find yourself without a reference for up and down. Navigating the wobbly penny farthing through space as the ship rotates around you is a surprising moment and gives a neat view of the HMS Fearful that you don't get at any other point in the game.
I hope this gives you a glimpse into 39 Days to Mars and what to expect on the PS4, and I hope that you enjoy playing it when it comes out this winter!