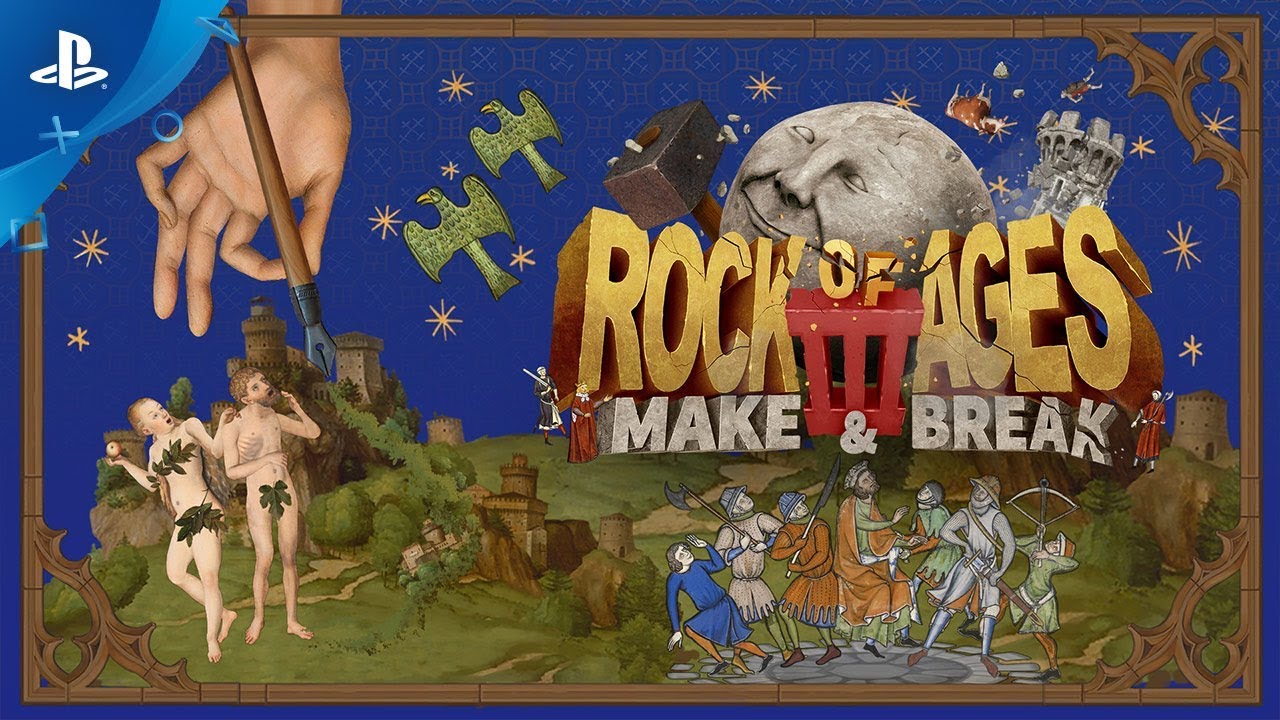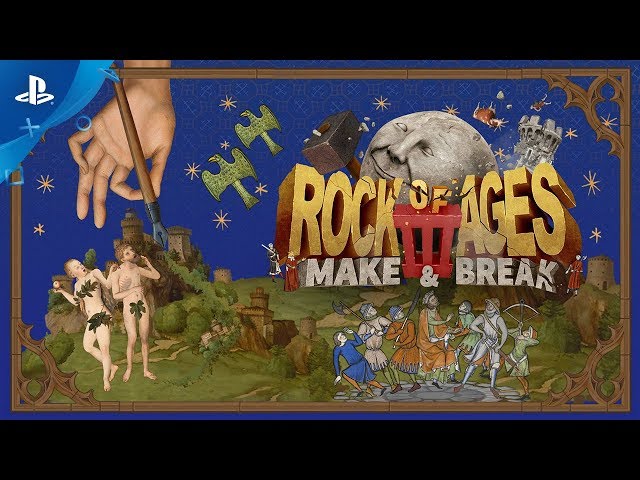 The comedic arcade-action series introduces a new create mode and expanded campaign.
If you like competitive tower defense, going real fast and smashing things with rocks — or just hilarious cutscenes — then boy are you in for a treat! That's exactly what you'll get early next year when Rock of Ages 3: Make & Break arrives on PlayStation 4.
Anyone who's played any of ACE Team's previous games will already know they're in for a gut-busting treat next year. For the rest of you, we're introducing the third game in this great series with a little trailer we like to call "The Rules of the Rock." While these simple rules don't cover all the game's awesome features, they'll get you started down that path and we'll have more to share soon! Now, on to rule number one.
Rule 1: Thou Shall Create
In traditional Rock of Ages gameplay, creating simply meant the tower defense portion of the game. That is, you would place towers, cows, ballistae, exploding barrels, war elephants, and a whole host of other units along your opponent's path in an effort to slow them down, knock them off course, or just straight up shatter their boulder.
This time around, that's all still part of the fun, but for the first time ever in a Rock of Ages game, you'll get to create your own levels and share them online with friends and strangers alike. That means that creative player levels will serve as a nice complement to the game's brand-new (and much larger) campaign.
Of course, defenses and levels are kind of like rules though — they're meant to be broken. So, on to rule two!
Rule 2: Thou Shall Destroy
You better get ready to rumble! In the most traditional 'War' mode of Rock of Ages 3 you'll find yourself alternating between careening down a course with your boulder and defending your stronghold. To win, you'll take your boulder on a mad dash to the end of the course where your opponent's castle awaits. While your boulder is being prepared for another roll you'll be doing your best to defend your own castle by placing and upgrading your defenses. The main goal is simple in both parts though — destroy your opponent!
Other modes return and ask you to change up your destructive glee with altered objectives like Skee-Boulder, where you'll test your ability to maneuver and destroy at high-speed. Race your opponents and break targets for points along the course — the first to the end of the course blasts off for a skeeball shot at a score multiplier.
Rule 3: Thou Shall Protect the Crown
While you'll be protecting yourself and battering on opponents in the campaign mode, you'll also want to protect your own crown (or noggin, as I like to say) in head-to-head split screen or up to four-player online matches. This of course is all made more exciting by the largest roster of new and returning boulders, units, upgrades and game modes ever seen in a Rock of Ages game.
The story of Rock of Ages 3 will introduce you to all the game modes (including more I didn't cover here!) and new boss battles that expand the gameplay even further! Everyone from Caesar and Moctezuma to Krampus and the Spaghetti Monster will make an appearance in an expansive campaign across history and beyond when Rock of Ages 3 releases early next year.
Don't forget to pre-order now and let us know what you're excited for in the comments!