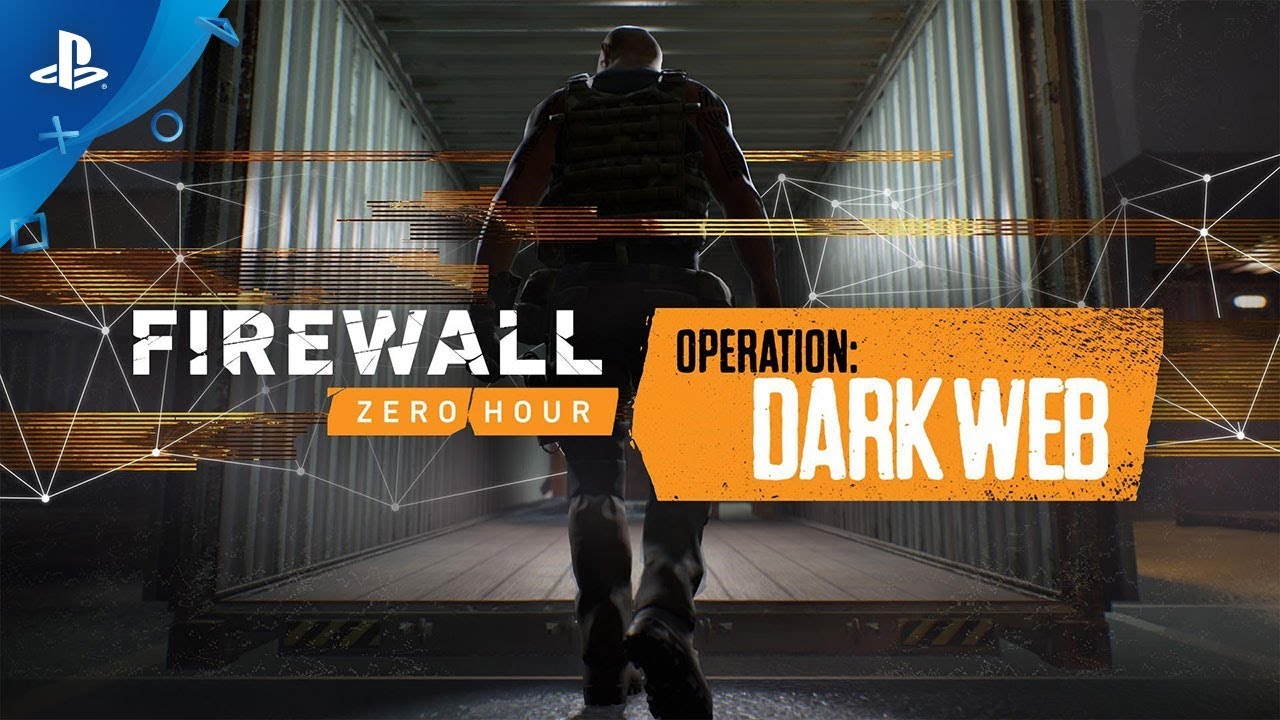 An in-depth look at the new season of Firewall Zero Hour, arriving tomorrow.
Hi guys, it's Shabs here, Game Director on Firewall Zero Hour*, the team-based tactical multiplayer shooter, exclusive to PS VR. Today, we're excited to showcase the next season of Firewall Zero Hour — Operation: Dark Web — landing tomorrow, August 13! The trailer highlights what you'll see in Operation: Dark Web.
As we approach the one-year anniversary of Firewall Zero Hour's launch, we're continually awed and humbled by the reception of our game by the PS VR community! Developing Firewall Zero Hour is a labor of love for us at First Contact Entertainment, and we're beyond grateful for the feedback we continuously receive from fans. We've been paying close attention to our community since day one, and have channeled that feedback right back into the game, with a number of updates launched over the course of the year.
The Operation: Nightfall update last May completely revamped the game with a whole new UI, and new system of time-limited progression taking the form of the Op-Pass, Hack Keys, Missions, Tasks, and cosmetic Rewards. Players welcomed two new maps, two new Contractors, three new weapons, and new AI behavior in PVE mode (check out our most recent Dev Diary video for a behind-the-scenes in the making of Operation: Nightfall!)
Firewall Zero Hour's new season, Operation: Dark Web, continues in this tradition. With the Dark Web Op Pass† ($9.99 USD), players can unlock additional Premium and Bonus missions almost every week, and earn cosmetic Rewards, which unlock immediately upon completion of Missions. Outlined below, here's what's coming this season!
New Equipment
For the first time since last year's launch, Firewall Zero Hour will have brand new tactical equipment added to the game, allowing players to experiment with new methods of gameplay. As always, equipment in Firewall Zero Hour is available to all players, unlockable via gameplay. Players will be tasked with completing missions that utilize the new equipment. Here's the rundown on new equipment in Operation: Dark Web:
Motion Sensor
Available at season launch, for players at level 13 and redeemable for 7500 Crypto. Once a player plants the Motion Sensor, a radius is engaged that detects enemy players. If an enemy enters this radius, their enemy outline will turn red for the player who planted the Motion Sensor. Allies of the player will receive a red-dot marker on their wrist tablets.
Instant Smoke
Available at season launch, for players at level 5 and redeemable for 3200 Crypto. Similar to an Impact Grenade, the Instant Smoke activates upon impact, instantly filling an area with smoke. Players can the Instant Smoke tactically against enemies in a variety of ways.
New Maps
Operation: Dark Web will have two new maps, free for all players, the first of which kicks off tomorrow — with the Newsroom map! This map marks the thirteenth map added to Firewall Zero Hour, and is the first map to take place in Australia. Be on the lookout for playful nods throughout the map to home sweet 'Straya. You never know what you might find, but rest assured that this news station is very Australian. The Newsroom will also greet players as the new Main Menu and Lobby environment for this season, when players load up the game. Later on in this season, players will see Operation: Dark Web's mid-season update, which will introduce another brand new free map, called Cargo.
New Contractors
This season welcomes 2 new Contractors into the fold. The 2 Contractors and their Skills are accessible via the Op-Pass. The first Contractor, available tomorrow, is Kane. A former member of the New Zealand Special Air Service, Kane comes loaded with the Skill of "Blade" (ability to throw knives by pressing the melee button). The current knife-melee ability has been one of the most intense and too-close-for-comfort ways to engage with the enemy–and we think having the ability to throw up to 3 knives will bring a new level of enjoyment to melee gameplay! Additionally, coming mid-season is a second Contractor (Proxy) and her Skill of "Eagle Eye." More details to come!
New Weapons
Coming in Firewall Zero Hour Operation: Dark Web are two new weapons, the Z1 Reaper and the Sten, available upon completion of their corresponding Free Missions. The Z1 Reaper is a semi-automatic tactical rifle with lethal precision for long distance engagements. The Z1 Reaper is available Week 1. And for all our WWII buffs out there, we're featuring the Sten in Week 5 (mid-season). Help your squad out of the trenches by eliminating enemies with the low recoil and high impact damage of the Sten. Players will utilize both of these weapons in a variety of new Missions throughout Operation: Dark Web.
New Legendary Weapon Skin
This season's Legendary Weapon Skin is Jag's Stalker — available to Op Pass holders who complete all Free, Premium and Bonus Missions in Operation: Dark Web (a total of 24 missions) and redeemed for 250,000 Crypto.
But wait, there's more!
New Cosmetic Rewards
Over 20 new cosmetic Rewards are available this season. Upon completion of Missions, a variety of different trinkets, face paints, and camo skins can be equipped by players. In addition to Free Mission Rewards, Op Pass holders have access to Premium & Bonus Mission Rewards.
Free Trinket for PS Plus users
We're excited to partner with Bend Studio later this season on a Days Gone Trinket, free for active PS Plus users this season! Show the world you "Ride the Broken Road." Customize your weapon in Firewall Zero Hour with the emblem of Mongrel MC — the outlaw motorcycle club in Days Gone, which counts Deacon St. John as a member.
Hack Keys – Reminder
One of the most popular items in Firewall Zero Hour, Hack Keys, are available as a bundle (Op Pass + 25 Hack Keys, $29.99 USD), as well as on their own (5 Hack Keys pack, $4.99 USD). Each Hack Key allows you to instantly complete one Operational Mission. You won't gain XP for Missions completed this way, but you'll be instantly awarded full Crypto, in addition to the Mission Reward (cosmetics only). Hack Keys are a great option for players who don't have as much time to play as they would like. Also, if you have any Hack Keys left over from last season (Operation: Nightfall), you can use them on Missions this season (Operation: Dark Web).
With Firewall Zero Hour – Operation: Dark Web, we're thrilled to launch a whole new season of fun-filled, unpredictable multiplayer gaming on PS VR! We can't wait to see your reaction to all the new content, and witness all the ways you'll be fulfilling your contracts this season. You've got your work cut out for you, Contractor. Let's squad up and I'll see you online!
*An internet connection is required for all modes of Firewall Zero Hour, including Single Player Training Mode. An active PS Plus membership is required for Multiplayer Training and Multiplayer Contract modes.
† Op Pass requires Firewall Zero Hour in order play and unlock content.