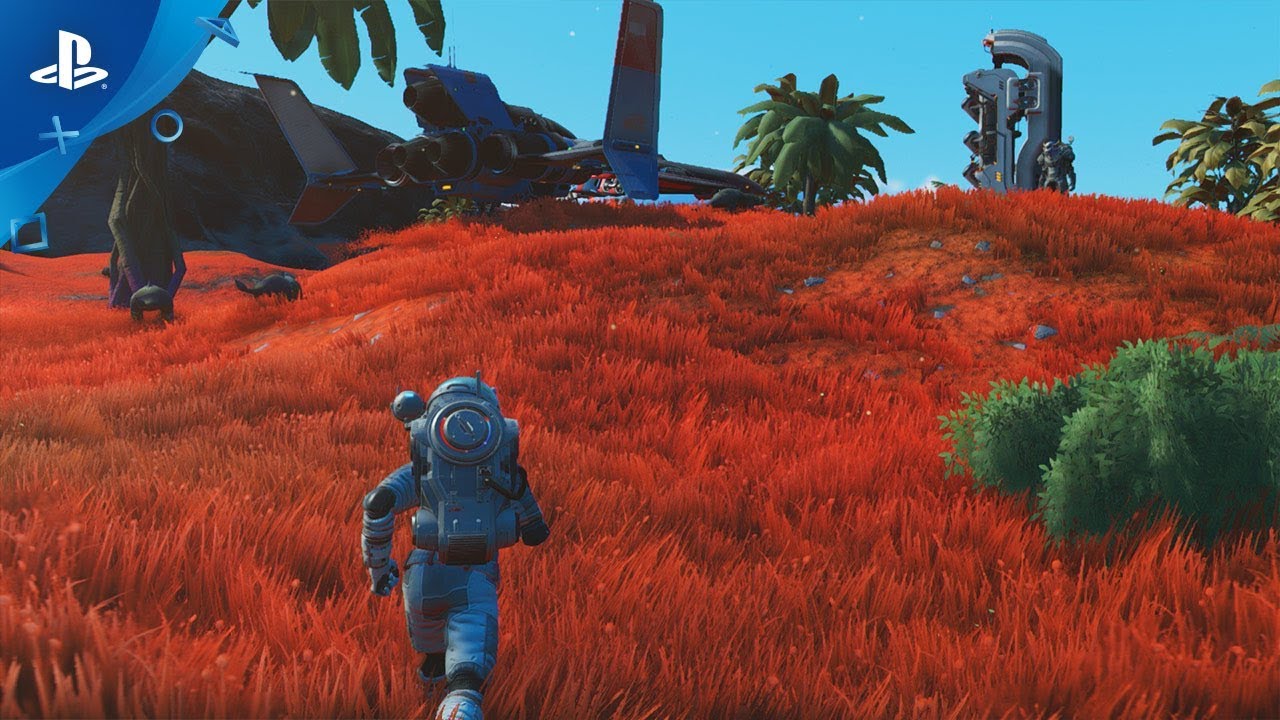 Show off to other players in the new shared social space, launching next week alongside PS VR support in the huge new update.
Hello! On August 14, No Man's Sky Beyond will launch as a free update for PS4 and PS VR. We are focused on development, but we know people are hungry for details.
Nearly eight years ago, with a love of sci-fi, we started writing the very first lines of code on what would become No Man's Sky. It was always an innovative and ambitious game, but over the three years since release it has become broad and deep in a way few games are.
When we sat down to write those first lines of code I could never have imagined the kind of trailer we just recorded. A multiplayer game, with base building, trading, space combat, giant mechs, economies, freighters, first person, third person, and so much more, all set in a beautiful procedural universe.
When we made No Man's Sky, we always wanted it to feel like you had stepped into the cover of a science fiction novel. Beyond is another step closer to that goal.
Even better, if you own a headset, you can experience all of this in virtual reality.
No Man's Sky Beyond aims to bring a huge range of features together into a cohesive whole, with expanded online, virtual reality and hundreds of changes big and small. We want Beyond to be the best time for new players to pick up a copy, for lapsed players to rejoin, and for the players with a thousand hours save to see the game with fresh eyes.
No Man's Sky has always been a science-fiction fantasy come true. That feeling of isolation and loneliness as you explore an alien world for the first time continues to be a unique experience.
However, one of the coolest things you will notice from the trailer is what we call the Nexus, a shared social space that brings people together and lets them play with friends or join with random strangers like never before.
Suddenly your ship that you spent 50 hours earning can now be seen by others in the Nexus. Your rare spacesuit and unique helmet can be shown off to other players. Friends and strangers can visit that massive base you've been working on.
Progression in No Man's Sky is so much more meaningful when you can share it with other explorers and so much more engaging when any creations or missions become shareable. Once you meet fellow travellers who knows what space-faring adventures you will go on together.
This is an incredibly important update for us, but it's also just another step in a longer journey, and we'll continue to support No Man's Sky in this way for the foreseeable future.
On behalf of myself, and the team at Hello Games I just want to say — Thank you. We are so excited to have made Beyond, and to continue to improve and develop No Man's Sky, because of you, the community who play, explore and share this universe with us. It means so much to us.
We hope you enjoy this and what follows — and we look forward to meeting you out there! Our journey continues.