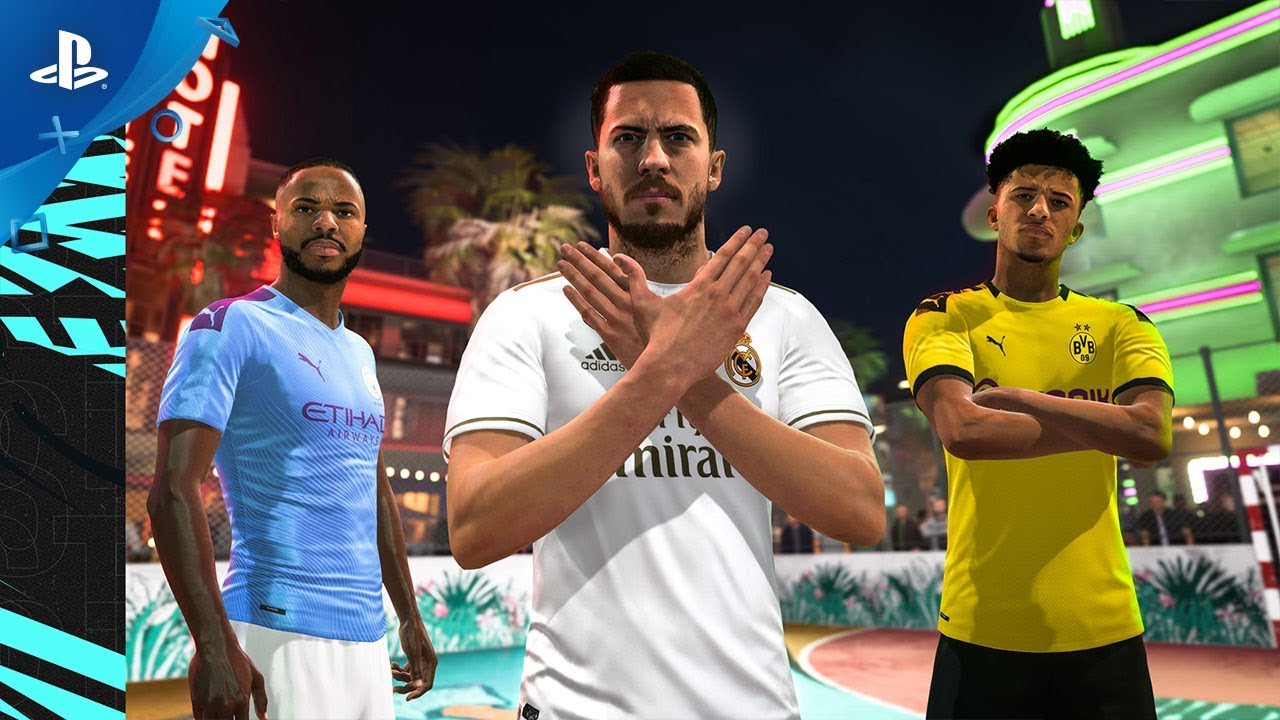 An exhaustive new interview with the team behind FIFA's intense new Volta Football mode.
Hello, PlayStation fans! A few weeks ago, we gave you the opportunity to ask your burning questions about EA Sports FIFA 20 and its shiny new game mode: Volta Football. We sat down with Jeff Antwi, Producer for FIFA 20 on Volta, and Shaun Pejic, Gameplay Producer, to ask them some of your questions and more. Read on to find out the details!
Volta Football
Q: What the thought process was behind Volta Football? Why bring back street football?
JA: We're always looking for community feedback. And one of the most requested features or modes was the ability to play street football — and when would we be bringing it back to FIFA.
It's something we have been working on for quite some time. And we are really excited to be able to unveil Volta Football this year.
Q: What makes Volta Football unique and interesting?
JA: In general, the newness of it, and the depth of the mode. The fact that it's built on the foundation of a great gameplay engine. It's a mode that is accessible to casual players… and at the same time, it has all the depth that FIFA veteran players will expect.
So, we are really excited about the totality and the massive size of the mode. It's not a little thing. It's a big part of the game.
Q: Did FIFA Street influence the development of Volta Football? (via Tom Clancy's da Silva)
JA: I should clarify [this] is not FIFA Street, it's street football. That's a key difference. It's based on authenticity and being culturally relevant, making sure that we are presenting an experience that is fun and authentic.
We were influenced by actual street football legends, we traveled the world, we went to Rio, Amsterdam, London, and all over. We were so inspired by the legends we spoke to, we tried to incorporate them into the experience as well.
We were also inspired by real footballers that grew up playing street football… One of the people we spoke to was Ed van Gills, who in Amsterdam is considered the godfather of street football. He provided us with a lot of insight on what street football is all about and the things we should be looking to do in terms of how to design Volta Football. So, thanks to that influence we were able to develop the mode and a number of features around it.
Q: Is there a big difference between the skills you need for Volta Football as opposed to a regular FIFA match?
JA: In Volta it's a smaller pitch, you have different elements to deal with, including the wall height, different number of players, and so forth. In terms of navigating the space it's going to feel different, not to mention the ball is actually different… [and] behaves in a slightly different way because it's more of a futsal ball which is heavier.
Q: Is the gameplay in Volta Football closer to futsal than to Stadium football?
JA: Yes, I would say that's pretty accurate. And what's really cool is that we actually have futsal as a separate experience within Volta, such as 3v3, 4v4, 5v5, keepers, no keepers and then we have futsal with the rules that come with it. So, it's penalty kicks, free kicks, and that experience is probably closer to 11v11 gameplay in FIFA.
But in general, futsal is kind of the base of all of it in terms of how the players are moving around, quick passing, the pace of it being really back and forth and fun. And then when you add walls there is constant fun and action.
Q: Will Volta Football include a Career Mode and Online Mode? (via @Soulrocketzero)
JA: With Volta, [we] developed a Volta Tour Mode which is a PvE experience. It's an offline experience where you are playing against user-generated squads, and the world is populated by everybody who's playing the game. So, you are competing against everyone else in the community.
And then we have a PvP experience which is similar to Seasons. You're playing, you're getting promoted, you're facing allocation, you're playing through up to 10 divisions.
And that's what we have in the online experience [for Volta] at kick-off. But we also have some other modes we will get to later…
Q: Will all the teams be available in Volta? (via Armando Toledo Sepúlveda)
JA: All of the licensed teams and licensed players that we have access to [for FIFA 20] are available in our kick-off experience, so it's nice because you can be playing 3v3, 4v4, 5v5 in all the environments that are available to you and you will also be able to bring your favorite team and player into an environment where you wouldn't normally see them.
Q: For Volta, will you be able to play mixed teams, such as men vs women, using your personalized characters?
JA: Yeah, that's one of the massive innovations for us. One of the things we are really excited about is being able to have male and female players on the teams, playing in the same pitch at the same time. For example, if you create a character in your likeness and your friend creates a character in their likeness, you can play on the same team at the same time [or] compete against each other. That's one of the biggest innovations for us, Volta as a mode being diverse and fully inclusive as well.
FIFA 20
Q: At a broader level, what are the biggest gameplay improvements planned for FIFA 20?
SP: The biggest foundation for the gameplay improvements is that we listened to all the community feedback. We brought in a lot of people, professional FIFA players as well as game changers and casual players. So, listening to all of this feedback has produced a set of features for FIFA 20 that addresses a lot of the feedback that we've been getting.
Q: Was there a specific piece of fan feedback that really resonated with you guys for FIFA 20?
SP: Yes, there are quite a few actually. AI defending… we wanted to bring back manual defending a little bit. The feedback was that the AI players did too much work for you in FIFA 19, they were helping you out too much. So, we worked a lot on the AI to kind of slow the game down if you want to play that way and give you more time. It incorporates more manual defending so it's up to the defender user to use their skill to try and counter that aspect of the game.
JA: And on the flip side of that, the work that was done in straight dribbling to create more dynamic one-on-one situations. Volta also benefited from that work because it's a shared engine.
Q: Are you planning any additions to in-game tactics?
SP: We're adding extra player instructions in FIFA 20, so you'll have more options for your team. [For example], your defensive midfielder has the option to drop into the center-back position. And then, the center-backs go wide — so now he can be that pivot guy and try to play diagonal balls. That's just one I can tell you about, but we have more new tactics this year.
I can also speak to a few other gameplay features we haven't touched upon yet, like how free kicks and penalty kicks are completely new compared to FIFA 19. So, the new approach this year is actually based off of Lionel Messi. We watched videos of him having this accuracy with the ball where he can spin it any way he wants.
Now, you can press shoot and there is a different aiming mechanic. With the right stick, you can adjust the spin you would like to add — top spin, side spin, or you can even try to get the knuckleball effect for free kicks.
[We also now] have the ability to add the timing shot mechanic to free kicks and penalty kicks too. So, I think that's a really cool new feature that gives more depth to the gameplay.
Q: Will FIFA 20 appeal to newcomers and veterans alike?
JA: Absolutely! As an example… skill moves haven't necessarily been the easiest thing. So, we wanted to simplify that.
We created the simplified Skill move mechanic, which is by holding [L2 and R2] in the controller you gain access to a whole suit of skill moves and it's just based on the direction that the player is moving. And if you don't want to do that, we have all of the right stick skill moves that we've had traditionally in FIFA.
And we added a R3 mechanic in which by pressing that button you lift your ball into the air and that's what we call simplified flick-ups, there are all kinds of skillful things that you can do with that mechanic as well.
FIFA 20 is out worldwide on September 27, 2019.