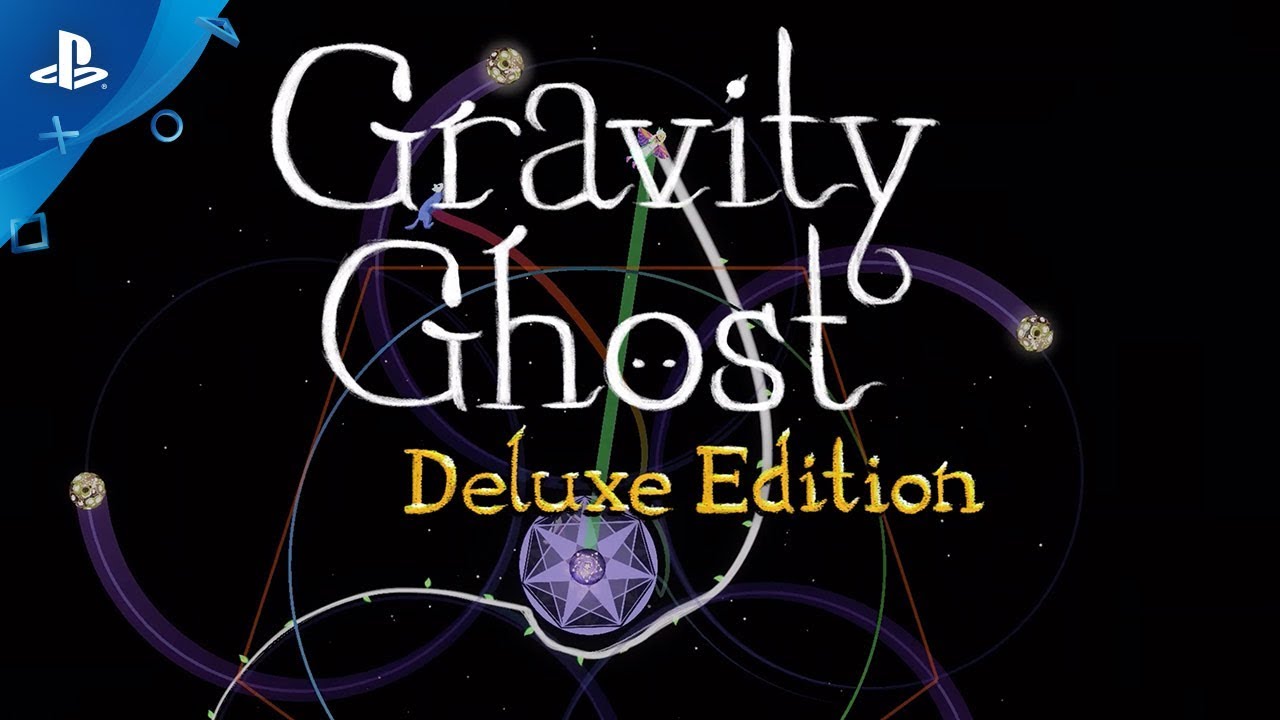 Deluxe Edition adds 13 new challenge levels and a new playable character, Voy the Fox.
Hi all! My name is Erin Robinson Swink, and I'm beyond excited to announce that my game Gravity Ghost: Deluxe Edition is coming out tomorrow on the PS4. It's got an incredible soundtrack by Ben Prunty (FTL, Into the Breach), and an amazing voice cast featuring Ashly Burch (Horizon Zero Dawn, Life is Strange) and Logan Cunningham (Transistor, Bastion). I hope you like it!
What is Gravity Ghost?
Gravity Ghost is a peaceful platformer where you use orbits and gravity to explore a handpainted galaxy. You might find yourself bouncing off tiny jupiters, smashing through glass planets, or plunging deep into a water planet to collect a missing star.
Gravity Ghost is also the story of a 12-year-old ghost girl named Iona who is searching for her lost friend, the ghost fox. It's part ghost story, part coming-of-age tale, and (if you'll forgive the pun) it tends to haunt people — in a good way. The critical reception so far has been pretty incredible, and the game enjoys a 95% positive rating on Steam.
I'm also excited to announce here, for the first time, that 2000 physical copies of Gravity Ghost: Deluxe Edition will be available through Limited Run Games.
What's new in the Deluxe Edition?
Brand New Constellation with 13 All-New Challenge Levels
By the time you finish the game, you have a repertoire of movement powerups: double jump, dash, glide, heavy, etc. You also have 'terraforming' abilities which let you alter a planet's gravity. For example, a pesky dense planet can become a fiery 'repulsor' that lets you blast off like a rocket ship.
With these things in mind, I set myself to the task of creating an 'ultimate challenge' for advanced players. One thing that is particularly challenging in our game is pinpoint precision. It's hard enough to collect one star in each level. Hitting multiple targets in sequence, with no mistakes, requires a very special set of skills.
I created the new musical 'clovers' for exactly this reason. Players must execute multiple twitch moves in sequence, often while avoiding touching any planets (surprisingly difficult). Clever players can make their lives easier by terraforming nearby planets to change their gravity. To round things out, I also created 'puzzle' levels that require some lateral thinking.
All in all, the challenge levels increase the size of the game by nearly 15%, and I think they're a great spin (pun semi-intended) on the core gameplay.
Playable Voy the Fox
Iona has strong air control, but relatively weak vertical jumps. I decided to tune Voy the opposite way, and the result almost feels like a completely different game.
Voy launches himself enthusiastically from each planet, but becomes harder to steer once he's in the air. Aiming the initial jump is much more important, and certain levels are almost like puzzles.
Light Bar Support
Iona has magical hair — it turns blue when you're making water planets, red when you're making fire planets, etc. Making the Light Bar match these colors was a total no brainer (but one that still made me grin the first time I saw it working). There are also story moments that are made more dramatic by adding timed light bar cues.
I'm very proud and excited to bring you Gravity Ghost: Deluxe Edition on PS4. It was the culmination of several years of work from our wonderful team, and it also fulfills my longtime dream of bringing a game to a console.
Gravity Ghost: Deluxe Edition is available in the US, Canada, Mexico, and most South American countries. It's coming out tomorrow, check it out! :)
From my heart to yours,
– Erin