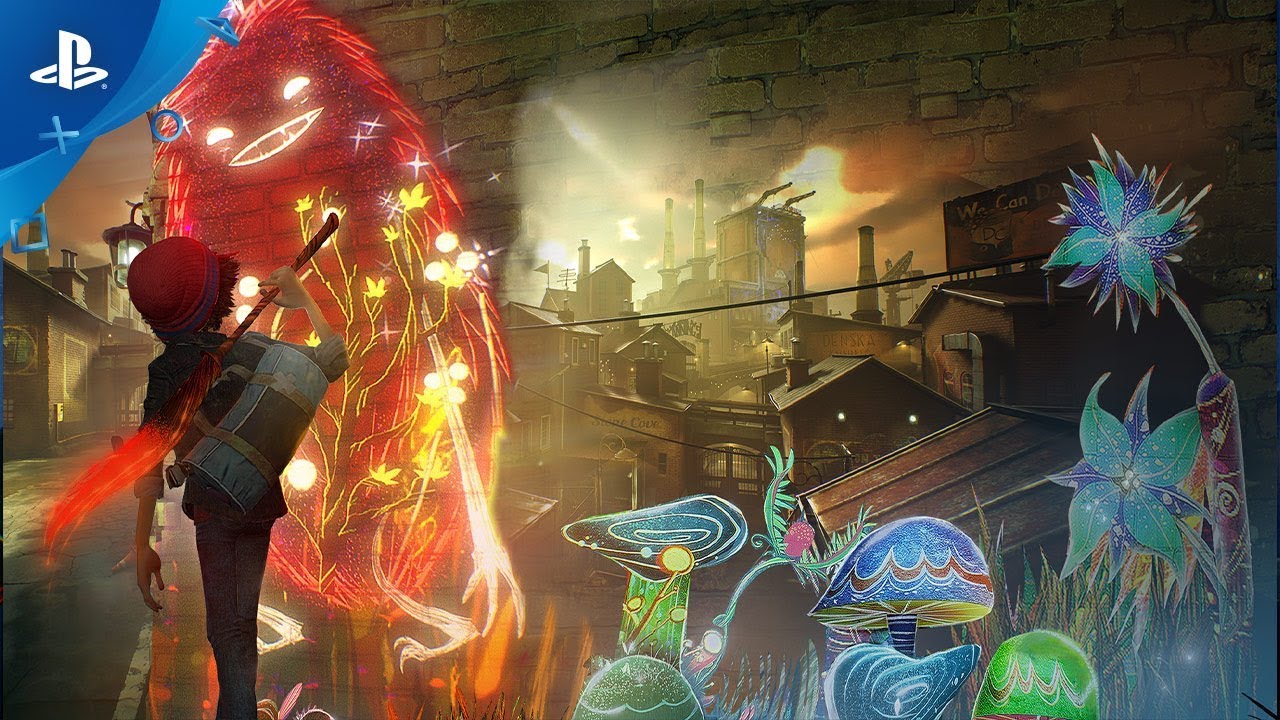 Pixelopus's vibrant new adventure is less than three months away.
Hello! Dominic Robilliard, Creative Director of Pixelopus here with very exciting news. I'm happy to announce that Concrete Genie will be available on October 8.
To celebrate this occasion, we have a new Concrete Genie trailer to share, which provides some new glimpses of our protagonist Ash on his personal journey to paint his hometown of Denska back to life, as well as the challenges he'll face along the way. Later on in the game there is an exciting gameplay twist, which we hinted at in our last trailer, and we show some more of that here. Ash's magic brush has a few new surprises that are revealed through the course of the story, one of which is 'Paint Skating'. We hope you like it!
As for our next bit of news – pre-orders begin today!
All of us at Pixelopus want as many people to experience Concrete Genie as possible. We're thrilled to share our price point – $29.99 USD / $39.99 CAD MSRP for the Standard Edition and $39.99 USD / $49.99 CAD MSRP for the Digital Deluxe. All editions of Concrete Genie include two beautiful and immersive PlayStation VR modes* that we unveiled back in April in addition to the core PS4 game.
Additionally, we're thrilled to confirm that a Photo Mode will be available at launch. We have added a special feature to it – a timelapse style 'Replay' that allows you to show how you put your artistic compositions together. We can't wait to see the images and clips of the artwork you'll create once you get your hands on this feature.
As an incentive for people who pre-order, we're offering an Avatar set as well as a special Dynamic Theme featuring a rooftop scene from Denska, with special music composed by Sam Marshall. We're really happy with how the theme turned out and hope all those that pre-order enjoy having its atmospheric vibes on their PS4s.
As mentioned, we have a great Digital Deluxe Edition available for people who want to immerse themselves even further in the hand-crafted world we've made for Concrete Genie. You get a Digital Artbook featuring a ton of stunning development images created by Art Director Jeff Sangalli and our amazing art team, a complete soundtrack from the game composed by Sam Marshall, a Pond Design Pack to expand your design toolset, and an additional Dynamic Theme featuring the Lighthouse location from the game.
We look forward to sharing more with you on the road to Concrete Genie's launch on October 8! In the meantime, please download and enjoy these beautiful wallpapers put together by our art team.
If you want more frequent updates on our progress, and to follow individual team members' work on the game – please follow us on Twitter
. Thanks for reading!
*VR modes require PlayStation®VR and two PlayStation®Move Motion Controllers. Sold separately. Please review and follow all safety guidelines for use of PlayStation®VR. PlayStation®VR is not for use by children under age 12. PlayStation®4 system, PlayStation®VR and PlayStation®Camera are required to experience VR functionality.
All downloadable content requires Internet connection.