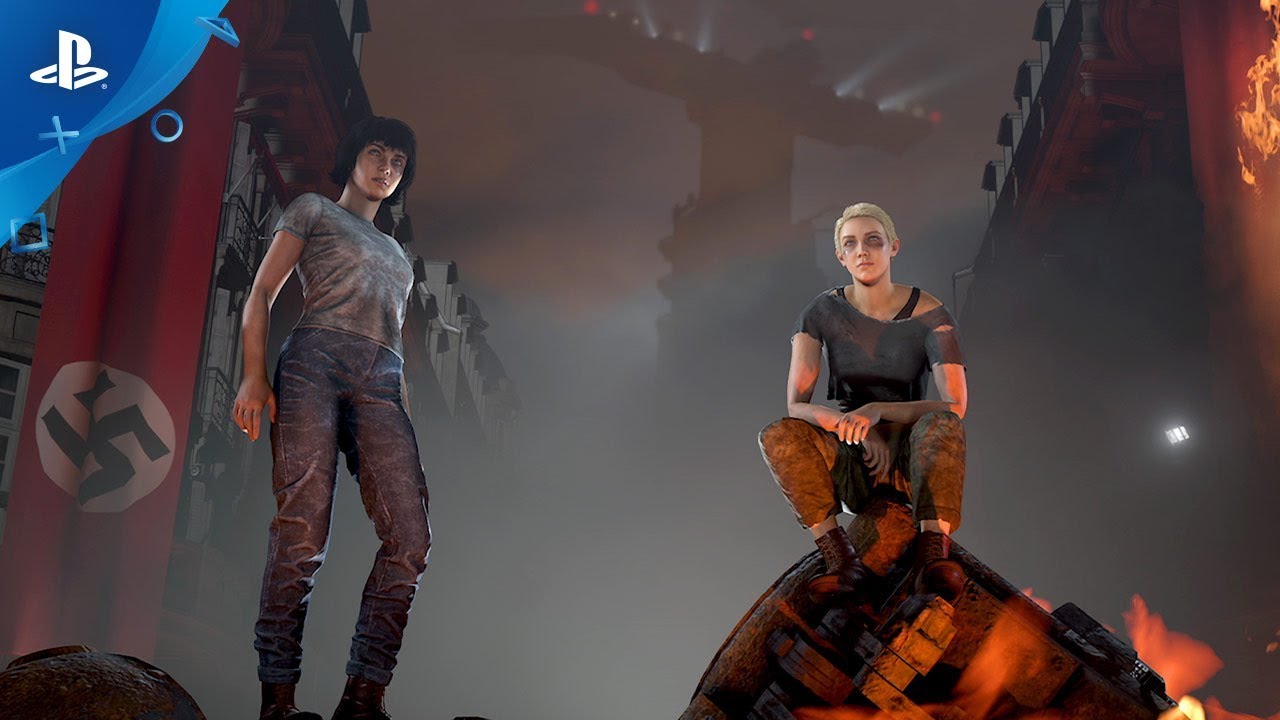 Prepare to unleash co-op carnage upon evil soldiers occupying Paris with Bethesda's gameplay tips.
The City of Lights isn't going to save itself from the Nazis plaguing its streets. It's up to Jess and Soph Blazkowicz, the twin daughters of infamous BJ Blazkowicz, to rid an alternate reality version of 1980s Paris of Nazis and track down their missing father in Wolfenstein: Youngblood, the latest chapter in the series. Take on the Wolfenstein universe like never before — with a co-op partner!
Are you ready to take back Paris from the military scourge? We've got some tips and tricks to get you started:
Communication is key! Use the in-game voice chat in co-op to coordinate with your teammate.
Use your playstyle to back up your sister. While you can play the game with both Terror Twins going in guns blazing or taking out soldiers stealthily, sometimes it's better to cover each other with a mix of weapons, abilities and tactics.
Focus fire on tough enemies like Panzerhunds, Ubersoldats, and Zitadelles. You'll take them down much quicker when you work as a team.
You are your sister's keeper. If your teammate gets taken down in combat, hurry over and revive them to get them back in the fight! If you don't revive them, you'll lose a shared life.
Try to save your Pep Signals for when you're in a pinch. Pep Signals have a cooldown between uses, and you'll want to save that extra health, armor, or damage for when you really need it.
Make sure you're coordinating Pep Signals with your teammate, so you can benefit from both boosts.
Don't neglect your upgrades. While you gain permanent bonuses automatically by leveling up, you'll also earn Ability Points that you can use to boost your combat effectiveness. Make sure you spend them.
Speaking of spending, search every nook and cranny in Paris for Silver Coins. This precious currency can be used to purchase upgrade parts for your weapons. Try purchasing at least three upgrades from parts manufacturers Nadel, Tempo or Stier for a single weapon to unlock its Brand Bonus.
Discovering a keypad code on a note or floppy disk will automatically show the password once you interact with the keypad, so you don't need to memorize them.
Talk to French Resistance members and visit Abby often in the Catacombs to receive new missions and challenges that can award you with experience points and Silver Coins.
If you're also playing Wolfenstein: Cyberpilot on PlayStation VR, be sure to keep an eye out for story connections between the two games.
Wolfenstein: Youngblood launches on PlayStation 4 July 26. Preload now to start shooting, hacking, and slashing your way through ruthless enemies as soon as it's available.