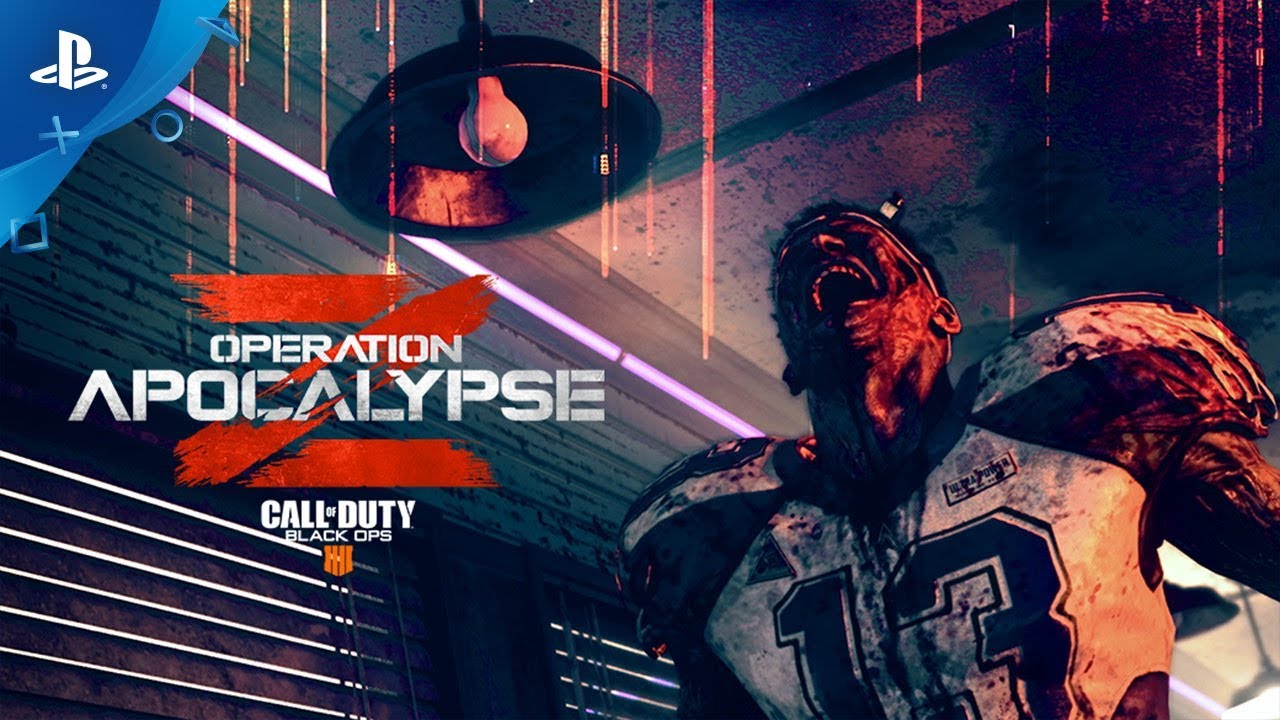 Blackout map changes, new Multiplayer modes, the aptly-named Specialist Reaper, and the penultimate experience of the timeline-twisting Zombies Aether story.
Operation Apocalypse Z is upon us, with hordes of ravenous undead across all the game modes as the latest season of content arrives for fans of Call of Duty: Black Ops 4! Expect new weapons to unlock and master, a return to Treyarch's incredible Aether story in a shocking new Zombies experience, Multiplayer maps that mainly channel the Zombies legacy, and eerie changes to the Blackout maps.
(Time to Fear) the Reaper: Brandishing the Scythe heavy machine gun (which applies a suppression effect on the enemies it targets), Reaper returns to Multiplayer. This experimental war robot also arrives with the Radar Shroud; a versatile deployable jammer that blocks enemies from using minimap information within its radius.
Black Ops Pass owners now have three additional Multiplayer maps to battle across, including two new Zombies-themed battlegrounds, and a reimagined Black Ops classic: Journey to the Austrian Alps and drop into "Der Schatten" ("The Shadow"), a village sitting in the shadow of Griffin Castle (from "Der Eisendrache"), where a giant robot has spilled out element 115 with interesting results. Or head to the Louisiana swamps in Remnant to visit The Museum of Unnatural History. The museum has recently purchased a unique relic of the past that, sadly for them, still thirsts for blood! In addition, return to the streets of Havana. An original Black Ops map where Cold War tensions are high in a city amidst a revolution.
If you're parachuting into the main Blackout map, the bright and sunny skies have departed in a prelude to the zombie apocalypse. Life is being leached from the landscape, forcing those still living to take refuge; expect floating embers, decaying and dead flora and fauna, and… are those rivers running red with blood?! Blackout's environmental changes and associated Zombies secrets will be spread across two map variants: The Haunting Fog limited time Quads playlist and core Blackout modes (Solos, Duos, Quads). As the name suggests, The Haunting Fog features a dark and foreboding fog that will have an impact on gameplay, requiring players to create new strategies to reach the final Collapse. Whereas the core Blackout maps will feature Zombies-inspiring theming but without the intense fog.
Meanwhile, over on the Alcatraz: Nightfall variant of the Blackout Alcatraz map, a new game mode has brought Hellhounds and the Warden to the island where the undead are more prevalent than ever. Drop into the new mode Alcatraz Portals Horde to battle to survive enemies and the horde!
If you're a Black Ops Pass owner, prepare for the penultimate chapter of the Aether storyline in Treyarch's newest Zombies experience, "Alpha Omega." For the first time, you'll be able to jump into the fray as both the Primis and Ultimis characters, as timelines converge and the fight for survival continues! Battle against new Zombies enemies with secrets behind their existence, solve challenges, and discover Easter Eggs in a wild experience that keeps you guessing until the very end!
Operation Apocalypse Z releases first on PlayStation 4 on July 9. For a more detailed look, check the Roadmap (above), watch Treyarch's Livestream today, visit the Treyarch blog, and check the Activision Games Blog tomorrow for a deeper dive!
*Operation Apocalypse Z MP Maps, Alpha Omega Experience, and some content requires Black Ops Pass. The Black Ops Pass is included in the Digital Deluxe Edition, the Digital Deluxe Enhanced Edition, the Pro Edition, and the Mystery Box Edition of Black Ops 4, and can also be purchased standalone digitally or at participating retailers.
Black Ops Pass (BOP) content is not final, is subject to change, and may not include all downloadable content available for the game. BOP content may not be available in all countries, and pricing and release dates may vary by platform. BOP content should be downloaded from the in-game store only; do not purchase separately, or you will be charged again. BOP content may be sold separately.
For more intel about Call of Duty: Black Ops 4, be sure to visit CallofDuty.com/blackops4 and follow @CallofDuty and @Treyarch on Twitter.
For more information on Activision games, follow @Activision on Twitter, Facebook, and Instagram.