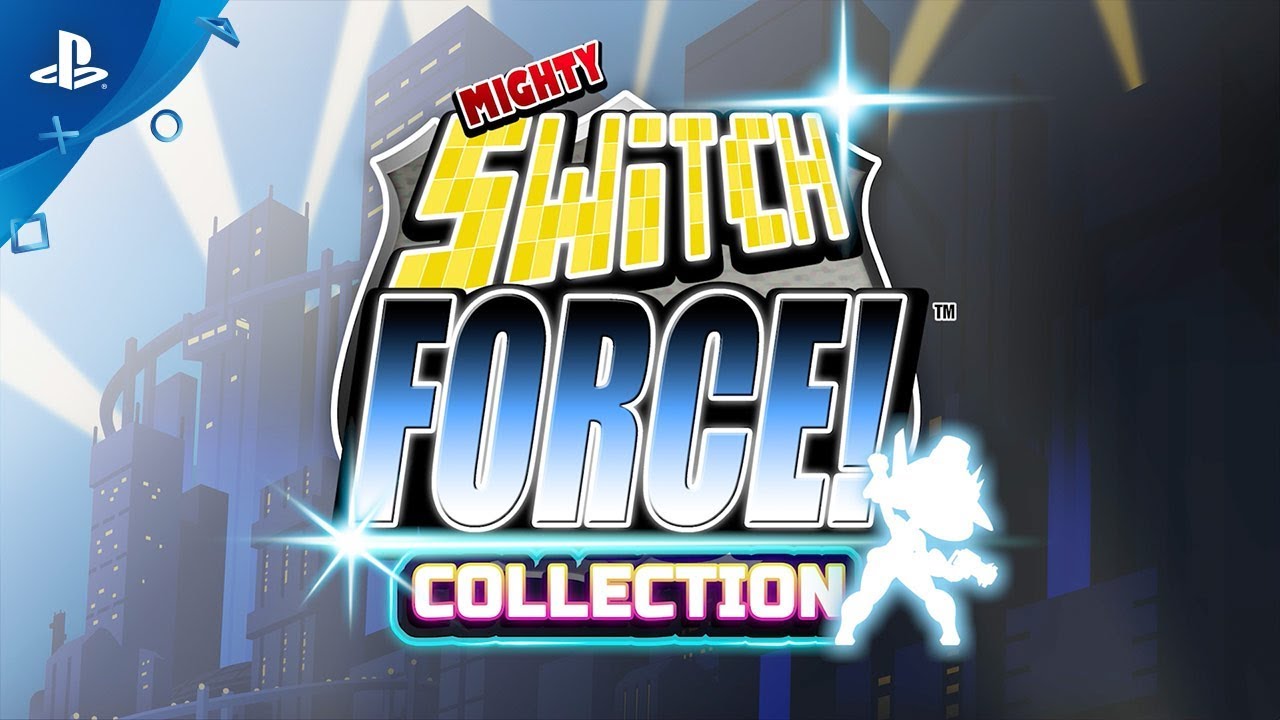 The level-switching puzzle-platformer makes its PlayStation debut with four games in one convenient collection.
Since 2011, players have been shooting, jumping, and solving level-switching puzzles across Planet Land as cybernetic peacekeeper Officer Patricia Wagon in the Mighty Switch Force! games. So far, however, the series has never appeared on PlayStation systems — but that's about to change.
Finally, the Mighty Switch Force! titles are coming to PS4 on July 25, and better yet, it's in the form of Mighty Switch Force! Collection, which features all four mainline Mighty Switch Force! games in one convenient package. At last, fans can enjoy the games' unique puzzle-platforming action in the same place, at the same time, all on a single system.
Mighty Switch Force! Collection contains four full games: Mighty Switch Force!, Mighty Switch Force! 2, Mighty Switch Force! Hyper Drive Edition, and Mighty Switch Force! Academy. As series creative director Matt Bozon explains it, the original Mighty Switch Force! was conceived as a showcase for stereoscopic 3D visuals, so the idea of an action-platformer with multiple layers of depth was born. Initially, the idea was to allow Officer Wagon to use her Siren Helmet to "switch" blocks between four distinct layers to solve brain-bending level-navigation puzzles, and though that was changed to two layers during development, the overall concept remained (and it made the gameplay work equally well even without stereoscopic 3D effects).
Naturally, Officer Wagon does more than switch around blocks — she does it while blasting enemies, avoiding precarious hazards, interacting with a variety of block types (such as Launch Blocks that propel her or her foes across the screen) and recapturing the devious Hooligan Sisters who have escaped prison and are hiding in each stage. After completing her duties, Officer Wagon meets up with her support robot, Corporal Gendarmor, and they prepare for the next mission.
The concept worked so well that it was revisited and enhanced in Mighty Switch Force! Hyper Drive Edition, designed to take advantage of high-definition hardware. While retaining the gameplay of its predecessor, Hyper Drive Edition changed the pixel art of the original to gorgeously detailed HD cel art, and it offered new, more challenging "Hyper" versions of the original levels (created by the first MSF's level designer, Austin Ivansmith) as well as remixed musical tracks by composer Jake Kaufman.
True to the series name, Mighty Switch Force! 2 switches things up, with Officer Wagon trading in her Pellet Shooter for an Infinity Dousing Apparatus (AKA a firehose) and enlisting in the Galactic Fire Brigade to save citizens from a raging inferno. Part of the reason for the change was to allow Officer Wagon to be more of an everyday hero rather than a superhero, plus, from a gameplay perspective, it enabled players to control a new type of weapon that fired in an arc and interacted differently with the environments and block types. Of course, the level-switching gameplay returned, as did characters like the fan-favorite Hooligan Sisters (this time reformed and in need of rescue).
Rounding out the compilation is Mighty Switch Force! Academy, a previously PC-exclusive entry that features widescreen levels that enable you to view the entire stage layout at once, as well as multiplayer action for up to four players. Conceptualized by Bozon and guided into reality by Ivansmith, Academy received a great deal of fan input during development, ultimately arriving at a unique installment that includes both cooperative and competitive modes, plus costumes from the previous Mighty Switch Force! Games.
With four complete games, more than 70 levels, plenty of challenge, and level-switching gameplay for up to four players, Mighty Switch Force! Collection offers a wealth of content for only $19.99, and it's a great way to experience the entire mainline series, whether you've been there since the beginning or you're discovering it for the first time. Mighty Switch Force! Collection is scheduled to arrive at PlayStation Store on July 25.