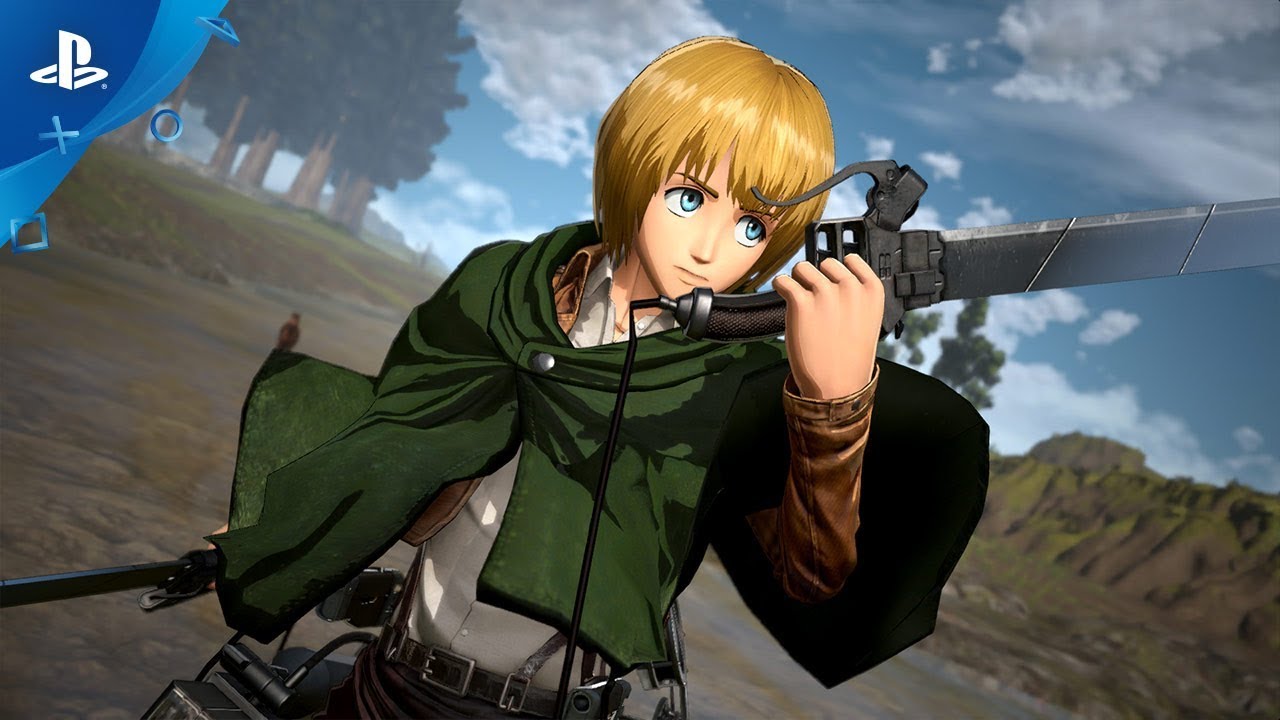 Koei Tecmo details all-new Season 3 content added to their stunning action game.
Attack on Titan 2: Final Battle delivers all of the action from the popular anime to PlayStation 4, and that includes storylines beginning with Season 1 all the way through the end of Season 3, Part 2. That's right, the game is working hand-in-hand with the show's creators to recreate the most heart-pounding Titan battles (as well as original stories!), including an intriguing character development, the Armin Titan.
"To endure becoming a monster, you have to discard your humanity." — Armin Arlert
Armin, known to Attack on Titan's fans as the introverted scout and quick-witted soldier, has eaten the villainous Bertolt in a recent anime episode, leaving the impression that he acquired the power to transform into the Colossal Titan. And that transformation is already complete in the upcoming PS4 game releasing on July 5.
Summoning the Armin Titan in the game's all-new Character Episode mode — a branching storyline that covers all of Season 3 through three different perspectives (the Scout Regiment, the 104th Cadets, and the enemies of humanity known as the Warriors) — players will now be able to call on Armin's assistance to help smash enemies at will thanks to the giant-sized Armin Titan. Unlocking Armin Titan in Character Episode mode then enables you to experience the fun of pounding enemies as the skinless giant in some of the game's other modes as well.
But that's not all of the new Season 3 content included in Final Battle, as the upcoming game also introduces the heroes' new Thunder Spears into action, enabling players to fire projectiles at Titans for the first time in series history. Add to that the addition of rapid-fire Gatling guns, anti-personnel omni directional mobility gear, and other fantasy weapons, and the showdown between man and Titan has never been more intense.
"The only thing we're allowed to believe is that we won't regret the choice we made." — Hajime Isayama
In addition, Attack on Titan 2: Final Battle includes an all-new Territory Recovery mode, where fans can put together their dream team of Titan killers in hopes of taking back their land, all the while researching and upgrading their weapons to deliver the ultimate impact. Playing through Territory Recover mode and Character Episode mode, fans can expect at least 30 hours of all-new explosive content at their fingertips, with over 70 hours of gameplay to achieve 100-percent completion. Add in addictive online modes with characters flying across the screen blasting each other with the new Gatling guns and Thunder Spears, and fans of the award-winning anime will have more variety in Titan gameplay than ever before.
Attack on Titan 2: Final Battle will be available as an upgrade pack for fans who already own Attack on Titan 2 (enabling you to begin your battle in Season 3), or as a standalone game for those who are starting fresh, delivering all of the action of Seasons 1-3 in one package.
"If you win, you live. If you lose, you die. If you don't fight, you can't win." — Eren Yeager
Attack on Titan fans who are enjoying the show's latest season can continue the battle on PS4 on July 5.