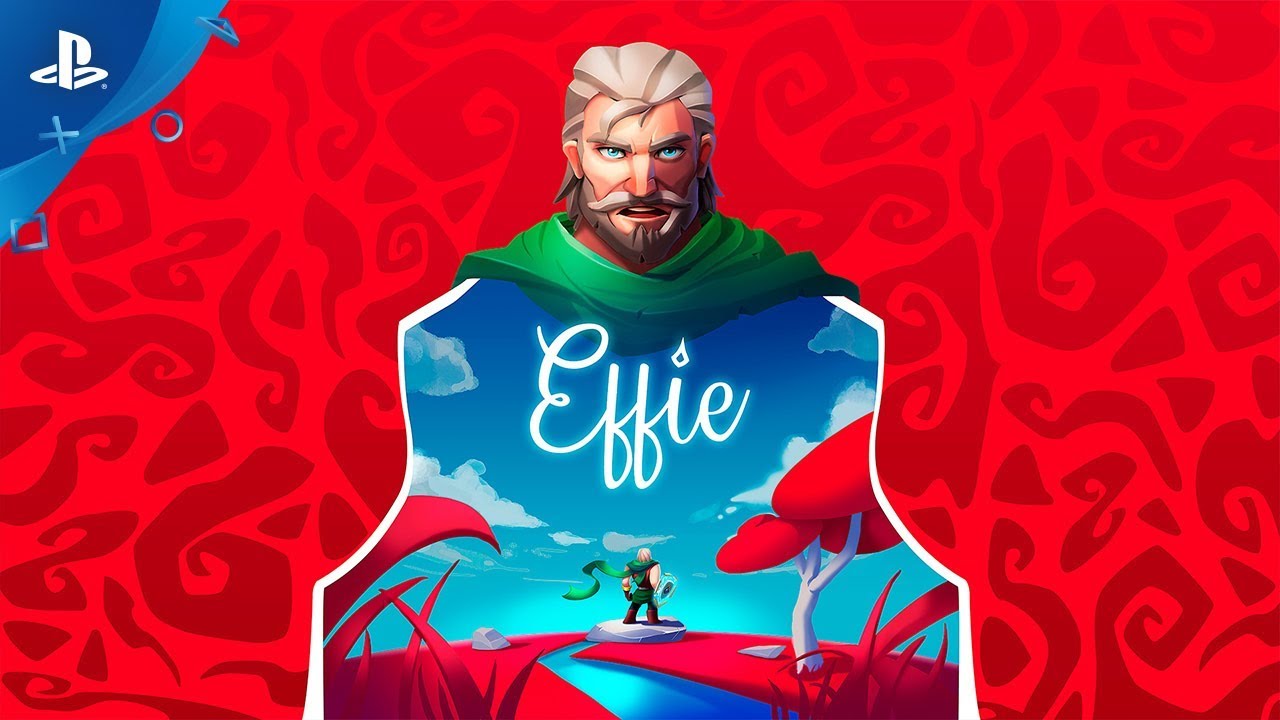 Effie tells the story of Galand, an old man equipped with a powerful magic shield in a quest to break his curse.
Hello there! My name is Javier Gerona and I'm one of the developers of Inverge Studios, a small indie game studio from Spain. Today I come to the PlayStation.Blog to talk about our latest video game Effie, a 3D action-adventure platformer game coming to PS4 June 4.
We all have fond memories of those classic 3D platformer PlayStation games. So from the beginning we had a clear goal: we wanted to make a classic PlayStation video game, with modernized graphics, telling a new story.
In this fantasy tale, you play as Galand, a young man who has been cursed by a wicked witch with premature old age. Galand sets out on a quest to recover his youth, but he won't be travelling alone — he'll have the help of a powerful magic shield, which will be his weapon, tool, and even his means of transport!
The adventure takes place in the Red Plains of Oblena, a distant land recognized for its distinctive red vegetation. In this vast world you'll be able to visit distinctive locations including a windmill city, ancient temples, or even a city dedicated to grape juice production with huge barrel buildings! These aren't things you see every day…
Although Effie is a 3D platformer, it's not 100% linear. Once you arrive in the open world, you can visit any of the settlements freely, but the gameplay becomes linear when you enter one. This caused more than one headache to design, but it's your adventure, and we wanted you to decide where your next stop would be.
In this story, the world has been invaded by ghouls. Some of them are small and funny, but others… you won't want to come near them! And yes, all of them can attack you. So in your quest to recover your youth, you will be accompanied by a magic shield.
During the adventure, you'll be able to strengthen your shield and give it new skills. Eventually, you'll be able to use it to do light and heavy attack combos, charged attacks, dashes, double jumps… as you can see, it's capable of many things! But just because you own a magic shield, don't think that everything will be easier.
If there's one skill that's especially fun, it's surfing on the shield. One of the drawbacks of having such a big world is needing a way to traverse it quickly. And we thought, it would be cool to be able to surf on a hover shield, wouldn't it? The control of the character and the sense of speed when passing through a turbo are so satisfying, you can play for a long time doing nothing more than surfing across the extensive red grassland.
But I won't tell you everything about the game; I'd prefer for you to discover and enjoy it yourself. If you have any questions about Effie, you can write us in the comments below and we will be happy to answer.
Get ready adventurers! Effie, a new PlayStation-exclusive 3D platformer adventure, will arrive at PlayStation Store on June 4.