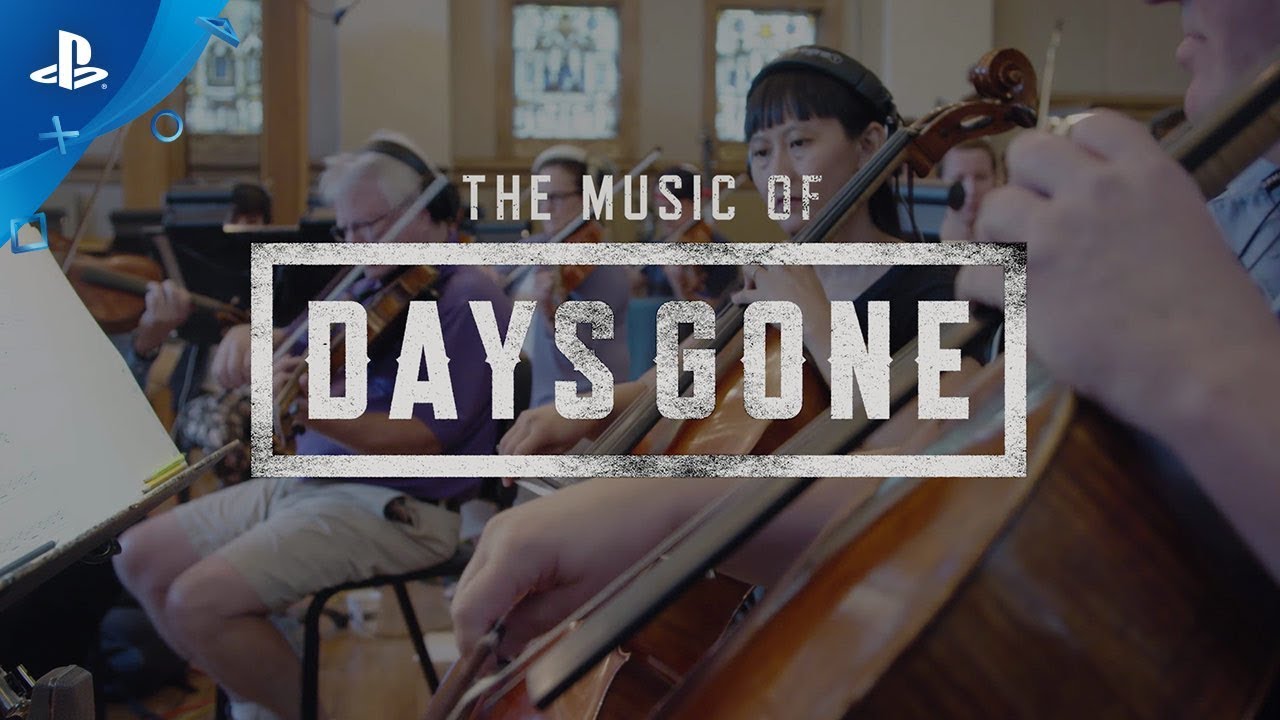 How composer Nathan Whitehead crafted the score of Bend Studio's open world.
---
Spoiler Warning: This post discusses major story beats from Days Gone. If you're still working your way through the game and don't want to read about events from throughout its story, now's your chance to turn back!
---
In composing the music for Days Gone, I drew inspiration from the High Desert of the Pacific Northwest, the gorgeous setting chosen by Bend Studio. There is such a natural beauty with lush forests, mountains, and waterfalls. But also, the volcanic soil in the region creates areas of sparse vegetation and more rugged landscapes, littered with remnants of human structures left to decay in the rain, snow, and heat.
The setting and art direction that Bend Studio was working towards had an earthy quality reminiscent of frontier times. Rather than create a score inspired by Deacon as a member of an MC (motorcycle club), with heavy guitar or classic rock, I wanted to connect the player to the setting so that they are engulfed in the world playing as Deacon. So I composed a score that has a folk Americana feel to it, which drove the more earthy quality to the soundtrack.
A few selections from the soundtrack really showcase the direction we were going for in developing the sound of Days Gone:
Track 01: Days Gone
This was the first piece I wrote for the game, and my goal was to set the overall tone for Deacon's journey. When I thought about it that way, it felt completely overwhelming! Instead, I tried to simply internalize what I knew about Deacon and the story and let that drive the music. I strove to blend a sense of hope with introspection and a touch of melancholy. The dark, grisly ending is our introduction to this dangerous new world and establishes the dual nature of Deacon's path — staying alive and also finding a reason to keep going.
Track 02: The Freakshow
The Freakers needed darkness and aggression but their music still had to feel connected to the overall score. It was also important to maintain a thread of humanity as they are infected humans. I used mostly organic, acoustic instruments like piano, guitar and bowed metals but processed them heavily with pitch shifting and distortion. I thought the big, driving sections conveyed the terror of the Horde and the Freaker melody reprised on piano felt connected to the tragedy of most of earth's population being infected.
Track 03: We've All Done Things
I wrote this piece primarily as Iron Mike's theme and it needed to reflect the "salt of the earth" qualities we see in him. Iron Mike is strong and he's been through a lot. He's also a powerful voice of reason for Deacon and suggests that killing isn't always the answer. I used harmonium and bass harmonica to provide a raw, hymn-like foundation and added acoustic guitars and solo violin that grow as a string orchestra starts building. My hope was for the music to have some of the rugged determination and measured optimism of Iron Mike.
Track 04: Rest in Peace
The collapse of society means different things to different people. The Rest in Peace cult, a.k.a. Rippers, are non-infected humans who essentially worship Freakers as deities. Rippers are extremely dangerous and I wanted this music to be menacing and jagged but still fit into the overall sound world. I used frame drums and bendy, chunky, acoustic guitar riffs as the core elements. I thought this combination evoked a feral, tribal vibe that felt right for the Ripper sound.
Track 05: Finding NERO
The music for NERO is unique relative to the rest of the score. While I did continue using guitars, strings, and other pieces of our organic palette, there also needed to be a high-tech, futuristic quality to NERO's sound and it needed a touch of mystery. I took a more synth-based approach for the foundation of NERO and added building strings and a simple, enigmatic melody to lend a sense of scale and mystery.
Track 07: The Rager Bear
The idea of Freaker-infected bears was instantly cool and terrifying to me. The sound of the Rager Bears starts with the Freaker palette and then everything gets amplified. I distorted some low, angry cymbal scrapes to create this billowing roar and I used more pounding metal percussion to convey the lumbering mass of these creatures. The strings grow more frenetic and jagged. I wanted this music to feel heavy, raw, and relentless.
Track 08: A Good Soldier
This piece is about the Colonel and his militia. The Colonel is a strict leader and is intent on creating order in the chaotic world. His mission seems noble but we see hints of darkness in him as the story progresses. This music needed weight and a militaristic persistence. I used the steady, marching percussion and low strings melody to reflect the Colonel's authority and drive. How far will he go to achieve his goals?
Track 10: I Remember
This piece is about Deacon's life before the outbreak and subsequent breakdown of society. I strove for this music to be wistful and a little hopeful and to reflect Deacon's resolve. His path is complicated and he grapples with regret. John Garvin, Creative Director at Sony Bend Studio, wove amazing nuance into the Days Gone story. It made tracks like this challenging but really rewarding to write.
Track 13: Promises and Regrets
I wrote this piece for a huge moment in the game where Deacon and Sarah are reunited. This reunion does not play out how we might expect and I love the complexity John wrote into this scene. I wanted the beginning to almost feel like slow motion. Does Deacon really see Sarah standing in front of him? We soon realize that the Sarah he encounters here feels different from the Sarah we first met. She is intensely focused on winning the "war" against the Freaker infection and does not want to leave with Deacon. This is shocking, confusing, and painful for Deacon. They have finally found each other but it's impossible to pick up where they left off. I built the first half of this piece around Sarah's theme, keeping the arrangement small with acoustic guitar and light strings. At first, it seems that this might be a joyful reunion, but then the music turns to a cold, distant presentation of our Days Gone theme as Deacon realizes this is not going how he had hoped.
Track 17: Sarah's Theme
This is really the love theme for Deacon and Sarah. I wanted this music to remind us of the early days in their relationship, before the infection, and to also remind us of their connection years later as they struggle together. I used a simple piano motif and some sparkly acoustic guitar to evoke a dream-like quality. This builds up to the introduction of Sarah's melody on an acoustic guitar. Her tune and the Days Gone theme are very closely related.
I wanted these two pieces to feel very connected mirroring what we see in Deacon and Sarah. I also strove for this piece to brightly contrast with most of the rest of the score. Their relationship is a bright light that motivates Deacon to keep going. The theme grows to a big, triumphant statement of Sarah's melody on strings along with driving percussion, guitars, and the simple piano motif. I think it's probably the happiest piece of music in the game and my hope is that it helps players feel this powerful connection between Deacon and Sarah.
Track 19: Never Give Up
This is another pivotal scene where Deacon learns that Sarah's work is not searching for a way to kill the Freakers, but to cure them. Deacon is moved by this and insists that Sarah keeps pushing forward with her work. I wanted this music to be a rallying cry but to also feel intimate. I used the opening chords of the Days Gone theme along with a delicate solo cello melody as Deacon is registering the importance of Sarah's work and urging her to keep going. This is a special moment where we see Deacon fully appreciating Sarah's passion to find this cure and we see Sarah feeling understood and supported by Deacon.
I wanted the players to feel this closeness between them and I shifted the score to soft acoustic guitar strums and strings playing another passage of the Days Gone theme. This delicate moment settles and the strings swell to a driving staccato section as Deacon and Sarah, now energized, hatch their plan to ride north, risking their lives to be free and together. As Deacon leaves, Sarah, once again, thanks him and he responds with "Yes ma'am," only this time it's an inside joke between people in love. It's a wonderful, small, sweet moment at the end and I brought back a soft guitar and piano just suggesting the main theme one more time.
Track 21: Why We Fight
This piece comes at an incredibly sad point in the game when Deacon believes that Boozer is dead, that he sacrificed himself to win the fight against the Colonel's militia. I really wanted players to feel the gravity of this moment. Deacon and Boozer are brothers and Deacon is heartbroken by the thought that he has lost Boozer. I used a simple, somber arrangement of the Days Gone theme here that begins softly and grows with swelling strings and a variation of the tune on solo cello. My hope from the very beginning was for the Days Gone theme to have an element of melancholy and introspection and this is the theme in its saddest, most introspective form.