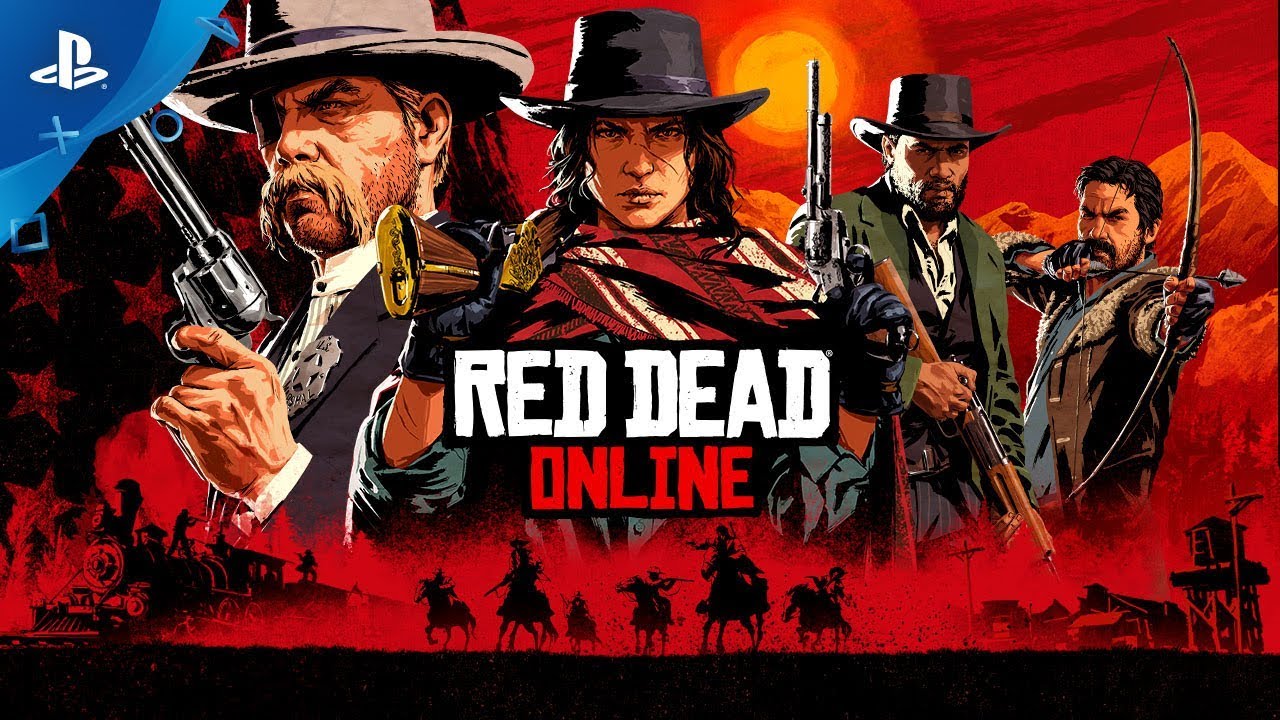 Saddle up with your posse for new co-op missions. Fresh gear, emotes, and more also await. Play without PS Plus until May 27.
Today's update to Red Dead Online brings a host of new gameplay including new cooperative story missions, Free Roam activities and the addition of Poker alongside a range of updates and improvements that strengthen and stabilize the foundational world of the Red Dead Online experience.
This is just the beginning. The future of Red Dead Online not only includes continued improvements to the core elements of the world to make every aspect of the game fun for all kinds of players, but also brand-new experiences that establish a deeper, more immersive connection to the world and your character. For PS4 players without a PlayStation Plus subscription, you'll be able to play Red Dead Online as part of a special bonus period from now until May 27.
See below for details on today's update and what's coming in the weeks and months ahead.
A Land of Opportunities Missions
The revenge saga of Jessica LeClerk expands today with new missions in A Land of Opportunities for both honorable and dishonorable players. After the epic showdown in Fort Mercer that concluded the last series of missions, players will help Mrs. LeClerk get closer to the truth behind the murder of her husband. In the more honorable Gunslinger path, battle the Del Lobos gang and help Marshall Tom Davies save Valentine — and his own neck.
In the Outlaw strand, outwit lawmen to assist Samson Finch in highway robbery, and pull off a daring high-stakes theft at the Saint Denis Bank. Both paths lead to a rendezvous in Blackwater with a dangerous adversary.
Free Roam Missions
Free Roam Missions also expand today with new characters from the story of Red Dead Redemption 2 and a variety of new and diverse mission types. Bring your Posse to meet with Thomas the Skiff Captain down in Bayou Nwa for some honest work or visit the disconcertingly hospitable Aberdeen Pig Farmers to get your hands extremely dirty, and look out for more characters to appear soon.
Poker
Visit poker tables at towns and outposts across the map to challenge your friends to a private, invite-only game of Hold 'Em. Or, raise the stakes and take a seat at a public table, where the buy-ins and rewards are even higher. All poker tables seat up to six players, available in five locations: Blackwater, Saint Denis, Tumbleweed, Valentine and Flatneck Station.
LeMat Revolver, Clothing and More
Boasting a 9-round revolving chamber and a secondary barrel for a single buckshot round, switch between rapid-fire bullets and a devastating shotgun shell on the fly with the LeMat Revolver — now available for purchase from the Wheeler, Rawson and Co. Catalogue.
More clothing items and emotes are also available, featuring some highly-requested clothing options including Ponchos, patterned Bandanas and more — as well as new emotes such as Throat Slit and Flip Off. New inventory will be coming and going often so check the Catalogue frequently to see what's in stock week-to-week.
In addition, all players who jump into Red Dead Online this week will get a gift of 15 Gold Bars and see a 25% increase of XP on A Land of Opportunities, Free Roam Missions, Showdown Modes, Races and Free Roam Events. Treasure hunters will also find 25% extra Cash and Gold in chests containing them. All Ultimate Edition owners will also get a gift of RDO$100 and the Throat Slit emote for free.
What's Next
In the weeks ahead, more additions to Red Dead Online include new Free Roam characters, as well as new Showdown modes and lots more. This includes new Free Roam Missions and Clothing, along with all new PS4 Early Access content, more details coming soon.
Visit https://support.rockstargames.com for details and limitations.