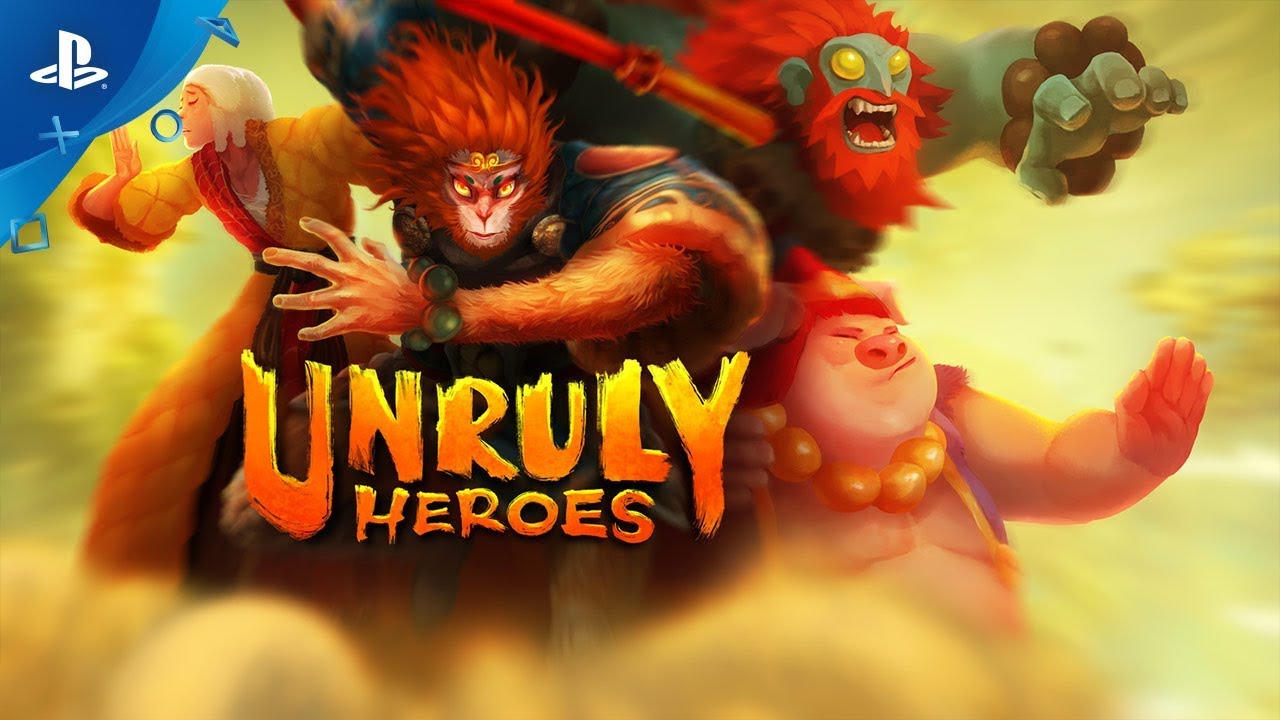 Featuring oodles of vibrant art, an unforgiving new Challenge Update, and photo mode.
Hi folks! We're excited to announce that our game Unruly Heroes will be available on PS4 starting May 28! We'd like to share with you what inspired us and how we created our first game as a studio.
The Monkey King Legend
"I've already seen this monkey somewhere before!" We heard that a lot during event shows and playtests for Unruly Heroes. Yes, you know this monkey. It's Wukong, the Monkey King. A legend, particularly in Asia. He's the anti-hero from the story Journey to the West. So, why did we choose an ancient, satirical Chinese tale? Firstly, because our creative director Yang Lu is Chinese and he wanted to make it more popular in across the West. Secondly, we thought it was an interesting background to create a unique interactive experience.
That's how Unruly Heroes was born. The game was developed over three years by a passionate team in Montpellier, South of France (very sunny, you should visit). The core team previously worked on many titles at Ubisoft while the rest of the team comes from the indie game sphere.
Holding out for Unruly Heroes
Instead of focusing on a specific genre or theme, we decided to create a combination of platforming and kung fu action, punctuated by puzzles.
Each level is based on multiple gameplay experiences. We have more than a hundred different objects and forty enemy types in more than twenty environments. This represents a huge amount of work, but it also creates a variety of unique gameplay situations and gives players a feeling of discovery in each level (even in the loading screens). We even have one specific world that completely changes the rules: "Underworld," a cartoonish version of hell based on a specific look and feel, mechanics, and cute kiddo character.
Another challenge was the multiplayer aspect: it was important to playtest and adapt the cameras and gameplay, but also to balance each character for the game's PvP mode. In order to do that, it was necessary to adjust the abilities and special powers of each character.
Warm up your fingers
Unruly Heroes is also designed to challenge speedrunners and achievers. In the Challenge Update (included in the PS4 version at launch) we implemented two new difficulty modes, optimized the Emerald rank and added the Diamond rank (only for hard mode). One tip: warm up your fingers.
Capture the unseen
One of the biggest jobs on Unruly Heroes was the art. We wanted to create a fantasy universe that would totally immerse players, and our artists are really picky about details and overall quality. But in some parts of the game, players will only spend a few seconds on a screen, which is a bit of pity. So, we developed a photo mode to let players capture places and characters they like or their most stunning kung fu moves (even funny mishaps). If you're an aspiring photographer this could be just as fun as playing the game.
We hope PS4 players will have a lot of fun playing our game and travelling to the West later this month.