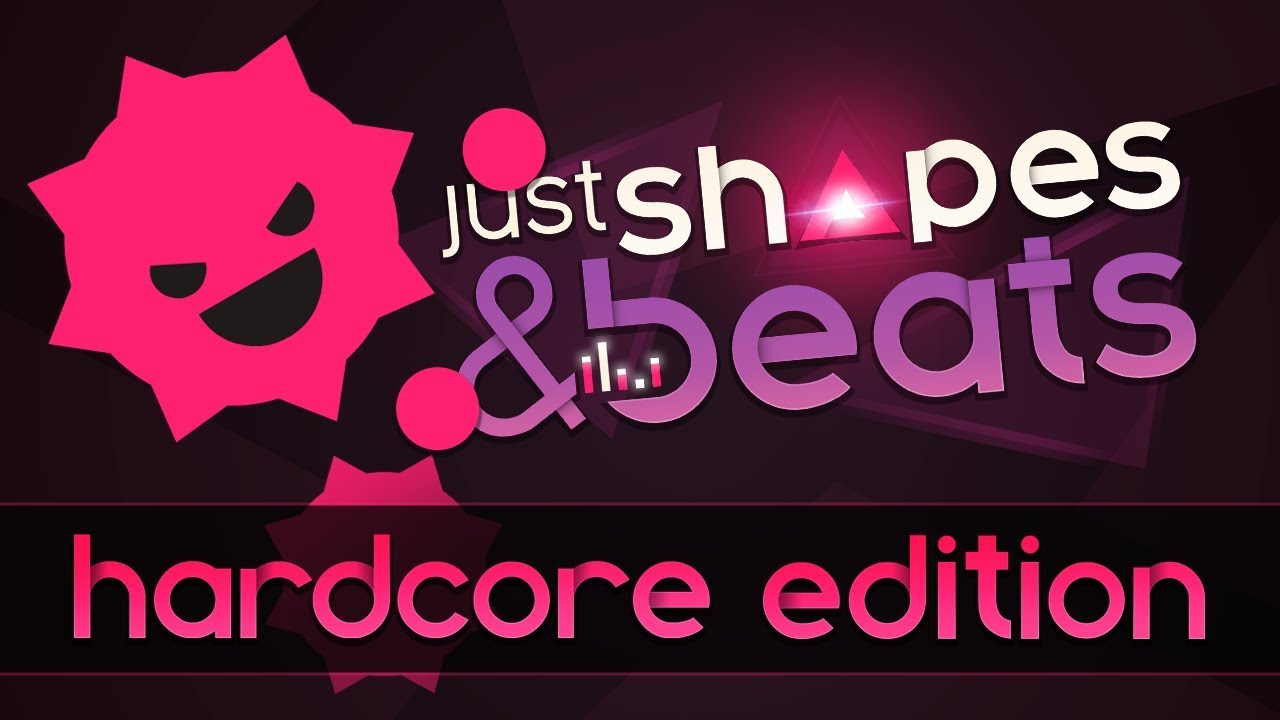 Incidentally, Just Shapes & Beats: Hardcore Edition debuts on PS4 May 10 as well.
Hey dudes, I'm Mike from Berzerk and I'm super stoked to let ya'll know that Just Shapes & Beats is finally coming to PS4 on May 10, so that's like, in four days? Five if you count today? ANYWAY, m u c h e x c i t e !
IT IS WHAT IT SAYS IT IS
Just Shapes & Beats is a game about shapes, and about beats.
What.
You thought I was going to tell you it's some kind of narrative driven experience, a coming of age story revolving around a young underprivileged teen overcoming incredible odds in the face of insurmountable adversity? A game that makes you think about the meaning of life and our place in the universe?
No. It's a game about shapes, and about beats.
THAT SOUNDS BORING
Remember when you were a wee child, wandering the woods, a stick was a game, a rock was a game, a stick and a rock was a super advanced game. Did you lose your inner child at some point? That sounds terrible, you should play more games.
WAIT, DID YOU JUST COMPARE YOUR GAME TO A ROCK
Maybe I did, disembodied voice in my head, maybe I did, but you know what rocks? Music. We have gallons of that in our game. We got the top indie chiptune/EDM musicians we could find and created the entire game around their sick beats.
OK, NOW THAT SOUNDS INTERESTING, WHY DIDN'T YOU OPEN WITH THAT
I don't know dude, my brain works weird, sometimes it just does its own thing, I'm still figuring this out.
CAN YOU JUST ELABORATE ON THE GAME INSTEAD OF BEING ALL INTROSPECTIVE AND STUFF
Right, I was doing something here. Yeah man, the entire thing was woven around making a game that looks like it sounds, remember those MP3 vizualizers from the 90s? Well like that, but playable.
It all started with Danimal Cannon & Zef's Chronos, Lachhh, the game designer, bought his CD out of impulse during a concert, then started seeing shapes. The next summer he went to a game jam on his own lonely self and decided to make that weird fever daydream he had in game form. Being a coder and being unable to draw to save his life, he made that beat game with only shapes that would do its darnedest to put the music on the forefront. Right from the get-go you have the track and artist in huge letters, and that's setting the tone: this is an homage to the music, as opposed to using the music as background.
NICE BACKSTORY BRO, BUT SERIOUSLY WE'RE LIKE 200 WORDS IN, WHAT IS JUST SHAPES & BEATS
Just Shapes & Beats is a musical bullet-hell-ish? It's weird to explain… you play a shape, you dodge beats, which are also shapes, you can play with up to three friends, who are also shapes. It's not a bullet hell in the pure sense of the term since it's a lot more based on dodging and surviving than attacking. It's more like a dodge 'em up I guess?
…CAN YOU JUST SHOW ME
Sure thing buddy.
OKAY I'M HOOKED WHAT ELSE IS THERE
The game is not just shapes & beats, there's also a story mode, which serves as an introduction to all the game has to offer, like dipping your toe in the water. Sorry for saying there was no story, I pulled a sneaky on you.
Once you are done with the 20 something tracks (no spoilers) of the story, or if you don't really care for it and just want to play tracks, you can head into the challenge runs, a very arcade-y mode where you play gauntlets of three random tracks, you can play those alone, with friends, or with friends you haven't met yet on the internet. Did I mention there's online co-op multiplayer? Well, there is, and it's awesome.
HOW HARD IS IT
Don't worry my dude, if you find the game to be a bit too much of a challenge for you, or your terrible-at-video-games friends, you can always enable the Casual mode while playing the story, that will give you… I mean your friends… a bit more of a fighting chance against the musical barrage. And if that wasn't enough, we also have a Party mode that has no difficulty at all, if you just want to enjoy the music in the background.
I MEANT HOW HARD CAN IT GET, DO I LOOK LIKE A DANG CASUAL TO YOU M8?
Of course, my good sir, you'll be happy to know that the PS4 release also introduces HARDCORE MODE. We made our designer watch videos of things that anger him, like people cutting in line at the coffee shop because they know the staff, and dog owners not cleaning up behind their animal, and then let him loose in the wild. Every stage has been redesigned in some form or another to give you a whole new experience that will make even seasoned Souls-like players weep, longing for their mother's warm embrace.
OK THAT MIGHT BE GOING A BIT OVERBOARD, YOU OK BUDDY?
Sorry, dunno what happened there. I went to a very dark place thinking about people who don't pick up after their dogs.
*looks at wrist* I THINK WE'RE OUT OF TIME, ANY PARTING WORDS?
Who made you the boss here? Did you just say *looks at wrist* out loud? That's not how any of this works.
But yes, you might be right. I'd like to invite everyone still reading this to give our game a go. It's a lot more fun than reading whatever this was, I swear. One could even say that it's a game you should definitely try to beat.
…GO WAIT FOR US IN THE CAR…
JUST SHAPES & BEATS: HARDCORE EDITION COMES FIRST TO PS4 ON MAY 10 FOR THE LOW LOW PRICE OF $19.99 USD
ALSO, HEADLINE WASN'T CLICKBAIT, THERE'S ALSO A THEME
DON'T MISS IT, OR DO; ONE CANNOT ALWAYS GET WHAT ONE DESIRES