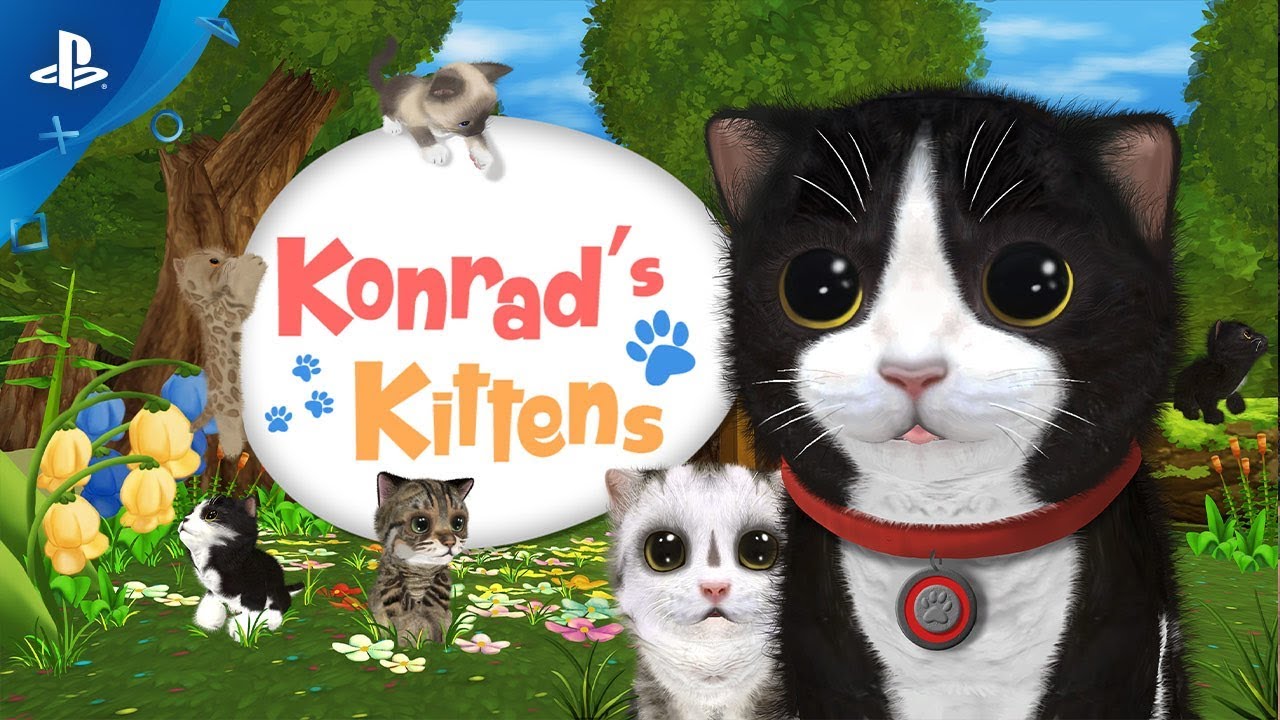 PS VR cat simulator "Konrad's Kittens" update releases tomorrow with many tiny kittens.
One year ago, Konrad the Kitten was released and made people smile with its innovative approach to a virtual reality Tamagotchi. In the game, you need to take care of a little cat named Konrad by making him play, eat, clean himself or snooze, among many other things. A unique experience is the (optional) "Plushy-Mode": When switching the game into "Plushy-Mode," the game asks you to attach your PS Move Controller to the back of a plush toy. Doing so makes your fluffy friend come alive as Konrad in the virtual world. Holding Konrad actually in your hands creates a deep level of immersion.
Since the release last year, we received a lot of feedback from our fans, who told us what they enjoyed and what we could improve. While working on requested enhancements, we released five minor updates in 2018, such as fun seasonal events. But besides these smaller patches, we were working on a big one:
"Konrad's Kittens"
This new update changes one of the fundamental design aspects of the game: The Tamagotchi-style energy bar. Originally the game was designed to have you look after your cat each day for about 20 minutes and have a nice time with your virtual pet. After the cat runs out of energy, the game stopped and asked you to come back the next day. Not everyone loved this feature, so we finally removed it and replaced it with something adorable:
Now, when your energy runs out, it becomes night in Konrad's world. During the night, little kittens wake up and need the help of Konrad. You need to make sure Konrad cares for these kittens and cleans, feeds and plays with them. Some might even get lost in the world and need to be found and brought back home by Konrad. When all those tiny buggers are happy, the night ends, Konrad's energy is restored and a new day begins.
By leveling up Konrad, you unlock up to nine different little kittens step by step. Each kitten is unique and has its preferences, for example how often it wants to eat or play.
Now Available: Snowy Valley
Besides the new day & night game mechanic, a new world was added as well: Snowy Valley acts as a counterpart to the already existing Sunny Beach. The new region is full of details and brings new interactive objects for Konrad like a Snowboard and a Snowman. It also adds a fun new minigame: a snowball fight.
Next to the prominent features, we also improved a lot of minor things that were requested by our fans: Konrad feels more alive now. We added a quick-start mode that lets you get into the game quicker. Also, the TV can play real videos now. Then we added a stop button to the fortune wheel. And, unlocking new items and areas is faster now.
Finally, there are plenty of minor improvements, for example, to stability, performance and existing animations.
To celebrate the launch of the big update, we created a new bundle for the same price as the original game, which contains five cute kitten avatars. It will be available tomorrow at PS Store. We invite you to have a closer look at one of the cutest things you can experience in VR and say hello to Konrad's Kittens!