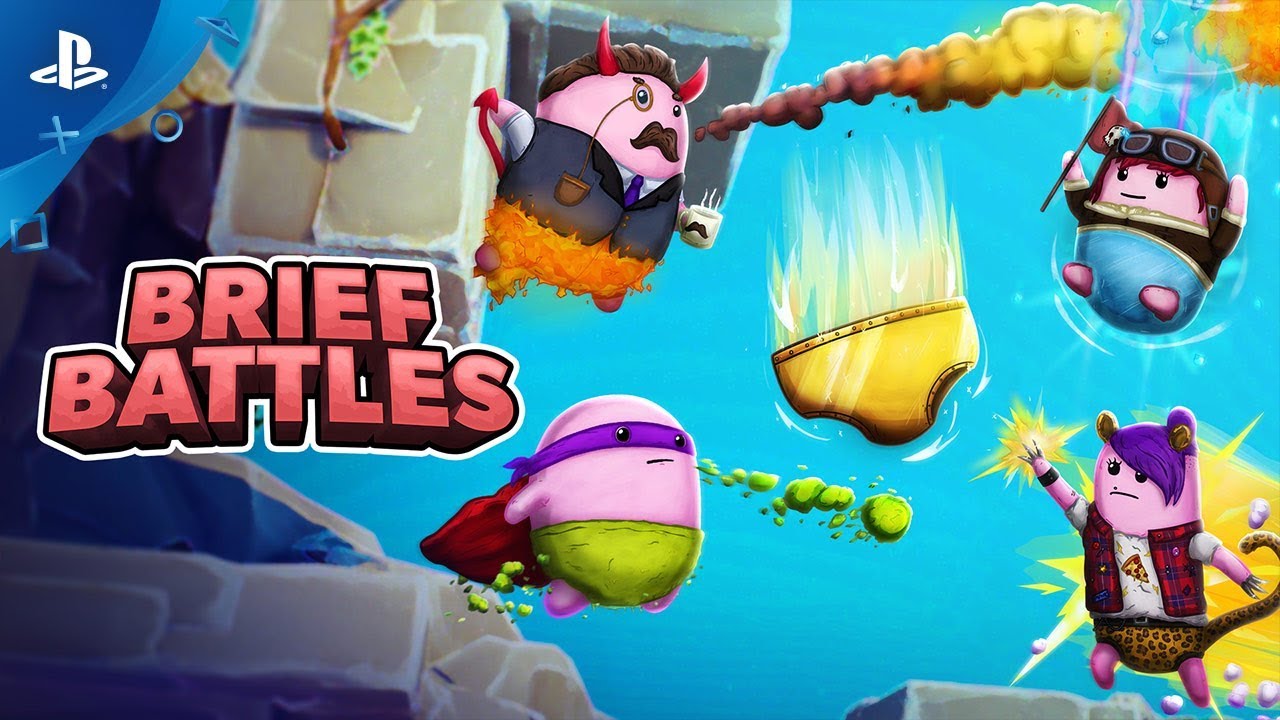 Fight your friends with superpowered undies in Juicy Cupcake's upcoming underwear-fuelled party game.
Have you noticed a lack of party games that allow you to fight friend or foe using underpants as your arsenal? We did too. Luckily, I can finally announce that Brief Battles, our cheeky underwear-fuelled party game, will be available on PS4 on May 7.
Check out our new trailer to see what it's all about and read on as I bare all about the undies, Underwearriors, and game modes in Brief Battles.
In Brief Battles you can play as one of six adorable, plump, wobbly Underwearriors. Despite their often stout and jiggly physique, these characters are spry climbers with astounding agility, using sticky nub-hands to utilise any safe surface to navigate hazardous arenas.
All Underwearriors start out underpant-less with equal abilities and a hefty pant-pound at their disposal. You'll pick up neat powers from the underpants you collect in game. Battle your friends and foes by equipping Buns of Steel, Toxic Tighty-whities, Flaming Hot Pants, and more!
Each pair of underpants has unique pros and cons when facing off against other players. You'll grab random undies from presents spawning around the arena and keep these undies until you've been popped or pick up another pair – both of which happen frequently!
Presents often pop up in your path during battle. In the heat of the moment, you might be going after another player with your Buns of Steel before suddenly picking up Underpants of Protection, and your strategy immediately changes.
My favorite part of Brief Battles would have to be playing local multiplayer modes. I'm usually either focused and competitive in Knockout, or laughing and shouting at the screen in Hold the Gold: Bare Buns, as myself and three friends run around pantless, trying to nab a hefty pair of golden undies.
There's a full lineup of competitive battle and underwear-themed party modes available on launch.
Prefer to play solo or work together with a friend? Train up and test your skills in solo challenges to unlock Underwearrior skins and Trophies, or battle cute beasties with a friend to take back arenas from hordes of foes and bosses in Butt-em-up Battles.
Hardcore trophy hunters can push their skills to the limit to reach the hardest challenge goals, while accessibility options open the game up to everyone.
We've packed Brief Battles with 50 unique and sometimes treacherous arenas, with interactive elements and distinct hazards to keep every play session interesting.
We've had a heap of fun bringing this cheeky underwear-laden adventure to life and we can't wait to share it with fellow party game fans.
Get ready to embrace the power of the butt when Brief Battles releases on May 7, with English, French, Italian, German and Spanish support on launch.
I look forward to any questions or thoughts in the comments below! May your butt reign supreme.