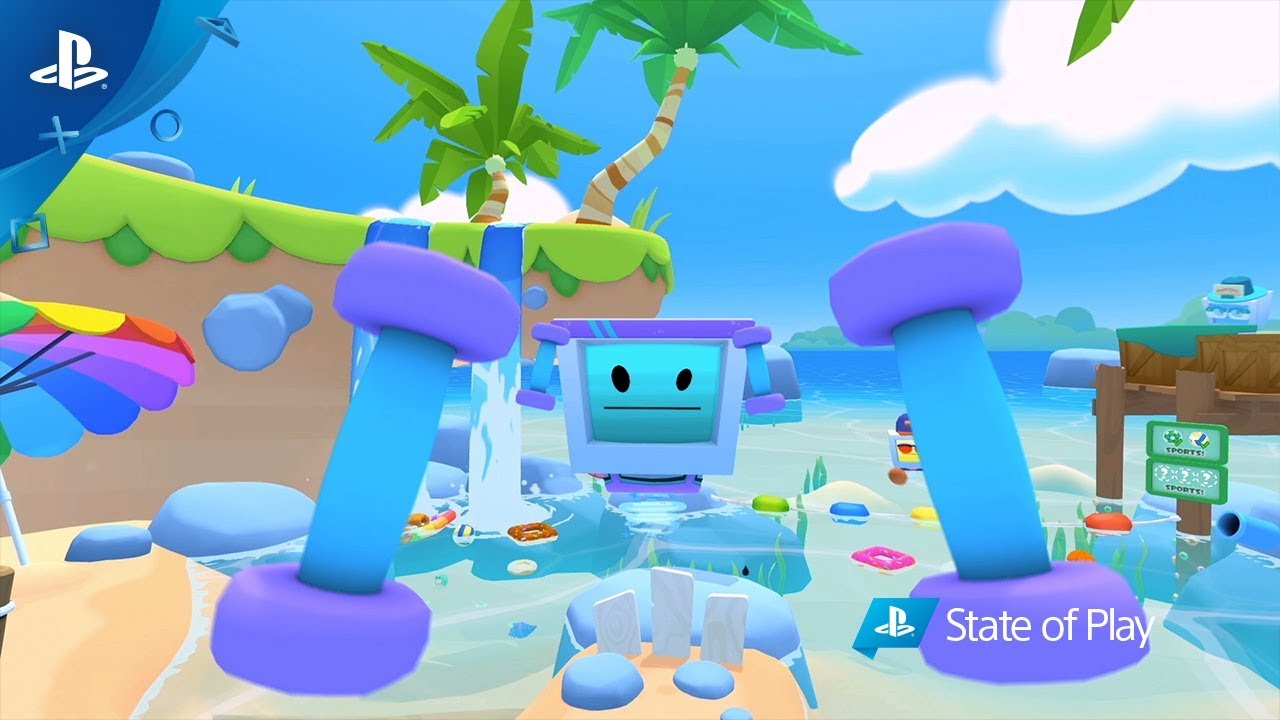 Five Nights at Freddy's, No Man's Sky, and a whole lot more — PS VR owners have a lot to get excited about.
Today's State of Play broadcast revealed release dates for a bunch of soon-to-be-released PlayStation VR games. We didn't have time to air all of the PS VR updates, though, so read on to see what's next for PS VR! We're also very excited to reveal that we have officially sold-through more than 4.2 million PS VR systems worldwide as of March 3, 2019. We'd like to thank our fans for the amazing support for helping us achieve the milestone. Now without further ado, on to all the great games coming to PS VR.
Skyworld
Developer: Vertigo Games
Release timing: March 26, 2019
Claim command over the VR battlefield! Put the power of a full army – even dragons – at your fingertips in Skyworld, the award-winning RTS/TBS wargame for VR from the creators of Arizona Sunshine.
Developed from the ground up for VR, Skyworld puts you at the helm of a kingdom at war. Build and command your forces right in the VR world, conquer all Skyworlds in a royal campaign, and wage war against friends in online multiplayer.
Falcon Age
Developer: Outerloop Games
Release timing: April 9, 2019
Have you ever wondered what it would be like to have a falcon pet to go on adventures with you? How about a falcon that you can fist bump while wearing a bowler hat, as well as hunt, and help you battle robot colonizers while giving you unconditional love?
In Falcon Age, a first-person, single-player action adventure you can do all of that plus a whole lot more. You play the role of Ara, a young falcon hunter fighting for the resistance to reclaim her home land and her cultural legacy. You bond with a baby falcon at the beginning of your journey and with her help, you both escape a colonizer prison. Falcon Age can be played in both PS VR or non-VR version on PS4 with either a DualShock4 or two PS Move controllers.
Ghost Giant
Developer: Zoink Games
Release timing: April 16, 2019
Become the protector of the lonely little boy Louis and build his trust by helping him overcome big – or even gigantic – obstacles in this heartwarming tale. Coming to PlayStation VR April 16!
Table of Tales
Developer: Tin Man Games
Release timing: April 16, 2019
Table of Tales is an enchanting roleplaying adventure inspired by the nostalgia of classic tabletop games. If you've ever sat at a table with a fresh character sheet in one hand and a handful of dice in the other, then you'll love what Table of Tales has to offer. Take control of a party of Scoundrels and lead them through the myriad dangers and wonders of the Crown Islands!
The table acts like a living pop-up book, shifting to accommodate new chapters of your adventure. Complete with a fully-voiced dungeon master companion, Table of Tales is a riveting single-player fantasy packed with strategy, intrigue, nostalgia and a ton of story. It also features a multiplayer 'Heroes versus Villains' mode. One player dons the VR headset as the Villain while up to three other Heroes pass-and-play using a DualShock controller, fighting for dominance in a turn-based battle to the death.
Jupiter & Mars
Developer: Tigertron
Release timing: April 22, 2019
Visit landmarks as you've never imagined them before, while exploring the world as not one, but two bottlenose dolphins—Jupiter and Mars—who have been enlisted by a global network of ancient whales known as the Elders to infiltrate abandoned, man-made bases, and shut down the remnants of this still-functioning technology that plagues the oceans. Rescue sea life trapped in plastics and oil spills, and meet fantastic underwater creatures along the way.
Dive deeper than ever before by obtaining power-ups that enable exploration in the mysterious oceans depths in either traditional gaming style or via PS VR, where you'll see things in ways a standard television can't convey, like an Elder passing overhead, or neon-lit underwater caves filled with jellyfish and other sea life.
Everybody's Golf VR
Developer: Clap Hanz, Japan Studio
Release timing: May 21, 2019 (US, EU)
Everybody's Golf VR marks the VR debut for the much-loved franchise, letting players step into the shoes and score hot shots across the course.
For the first time ever in the series, players will be able to see the uneven terrain, read wind direction, and experience the nature of the golf course all with their own eyes – a 360 degree VR experience made possible by PlayStation VR.
Blood & Truth
Developer: London Studios
Release timing: May 28, 2019
Blood & Truth pushes you through a rollercoaster ride of a story line, set against iconic London locations. You'll be dual-wielding automatic pistols while leaping from exploding buildings, exchanging gunfire from the back of an armored vehicle, battling through hordes of enemies on daring rescue missions, and chasing down targets through the grimy back-streets of London.
We've also implemented an on-body inventory giving you easy access to your guns, ammo and tools. This means you can glance down to your hips to see a pair of revolvers, then look to your shoulders to see a combat shotgun and an assault rifle. Changing weapons is as simple and intuitive as reaching to the holster and grabbing it.
Trover Saves the Universe
Developer: Squanch Games
Release timing: May 31, 2019
From the co-creator of Rick and Morty comes Trover Saves the Universe. Your dogs have been dognapped by a beaked lunatic named Glorkon who stuffed them into his eye holes and is using their life essence to destroy the universe. You're partnered with Trover, a little purple eye-hole monster who isn't a huge fan of working or being put in the position of having to save the universe. Only you and Trover can save everything in this bizarre comedy adventure created by Justin Roiland!
Mini-Mech Mayhem
Developer: FuturLab
Release timing: June 18, 2019
Mini-Mech Mayhem is a deeply funny table-top VR battle game for up to four players online. Team up with your lil' Mech buddy to plan a flawless strategy, then marvel at just how wrong you were!
Not to worry: play some power cards to get your team back on track, or dare to trust in your instincts and crafty skills, and pull off a stunning win!
Vacation Simulator
Developer: Owlchemy Labs
Release timing: June 18, 2019
Rediscover the true meaning of 'time off'! Experience the vibrant world of Vacation Simulator and make real memories of a simulated vacation in the next quirky VR adventure from Owlchemy Labs.
All of Vacation Island's activity-rich destinations are filled with a colorful cast of Bots and endless interactions to approximate recreation. On Vacation Beach, splash in the silicon sea and bask in simulated sunlight, all without getting sand in your… hands! In Vacation Forest, get lost connecting with your roots, nodes, and branches, then get actually lost on a hike! On Vacation Mountain, elevate your ice-sculpting skills and reach peak cozy knitting mittens for a snowhuman!
Reallocate your bandwidth and get ready to splash, s'more, snowball, and selfie your way to optimal relaxation on June 18th!
Five Nights At Freddy's VR: Help Wanted
Developer: Steel Wool
Release timing: Spring 2019
Five Nights at Freddy's VR: Help Wanted is a collection classic and original mini-games set in the Five Nights at Freddy's universe. Use either DualShock 4 or two PS Move controllers to interact with door and light controls in the offices, pick up objects in the repair games, press buttons on the video switcher, solve puzzles, or activate your flashlight.
Iconic locations have been recreated in full 3D and optimized for virtual reality. Survive the night in the Freddy Fazbear's Pizza security office. Hide from Springtrap in Fazbear's Fright. Repair vents in the depths of Circus Baby's Entertainment and Rental. For the truly brave, face your worst nightmares in the child's bedroom.
While Five Nights at Freddy's VR: Help Wanted is a single player game, there's nothing better than taking turns laughing at the terrified reactions of your friends and family.
Golem
Developer: Highwire
Release timing: Spring 2019
In Golem, you enter a mysterious storybook world and take the role of Twine, an adventurous kid who has been seriously injured in an accident. Even though you are unable to leave your bed during your recovery, you never stop dreaming of exploring the outside world. That is, until you discover that you have the ability to create and control stone creatures called golems, seeing through their eyes and controlling their actions.
At first, you can only build small doll-sized golems and send them skittering around the floor of your room, but as your powers grow you will construct enormous stone giants and use them to explore an ancient, abandoned city near your home. Hone your skills to defeat the hostile golems of the Silent Watch, uncover hidden treasures and powerful artifacts, and investigate the secret connection between the city and your family's mysterious past.
Luna
Developer: Funomena
Release timing: Spring 2019
Indie developer Funomena's award winning title Luna is coming to PS4 with a new guided voiceover narration enhancing the same magical story. Luna is a storybook fairytale brought to life, telling a parable of why the moon changes shape, after a small red bird swallows up the final sliver in the sky. You will help guide Bird on its journey to restore the moon, by solving meditative puzzles and gardening worlds back to life.
Untangle scrambled constellations to find celestial plant and animal spirits that can inhabit customized terrariums. Discover hidden creatures and a reactive musical soundscape by playing with the environment. Listen so that you can heal the animals and their homes with Bird's power of song.
Luna was created by a diverse team of veteran developers who have previously worked on Journey, Flower, and The Sims. It is designed for and fully playable in PS VR with PS Move controllers, but can also be enjoyed in 2D with a DualShock 4 controller.
No Man's Sky Beyond
Developer: Hello Games
Release timing: Summer 2019
Grab the joystick and thruster to fly your starship over an unexplored alien planet as you peer out of the cockpit at the view below. Reach into your backpack to grab your multitool, touch it to switch to terrain manipulation, and carve out intricate shapes with unprecedented control. Play in multiplayer and casually wave to your non-VR friends or fist bump your PS VR peers.
No Man's Sky VR is not a separate mode, but the entire game brought to life in virtual reality. Anything possible in No Man's Sky, NEXT or any other update is ready and waiting as an immersive and enriched VR experience.
No Man's Sky VR, like all the parts of Beyond, will be free to existing players.
---
State of Play: All the Announcements
---