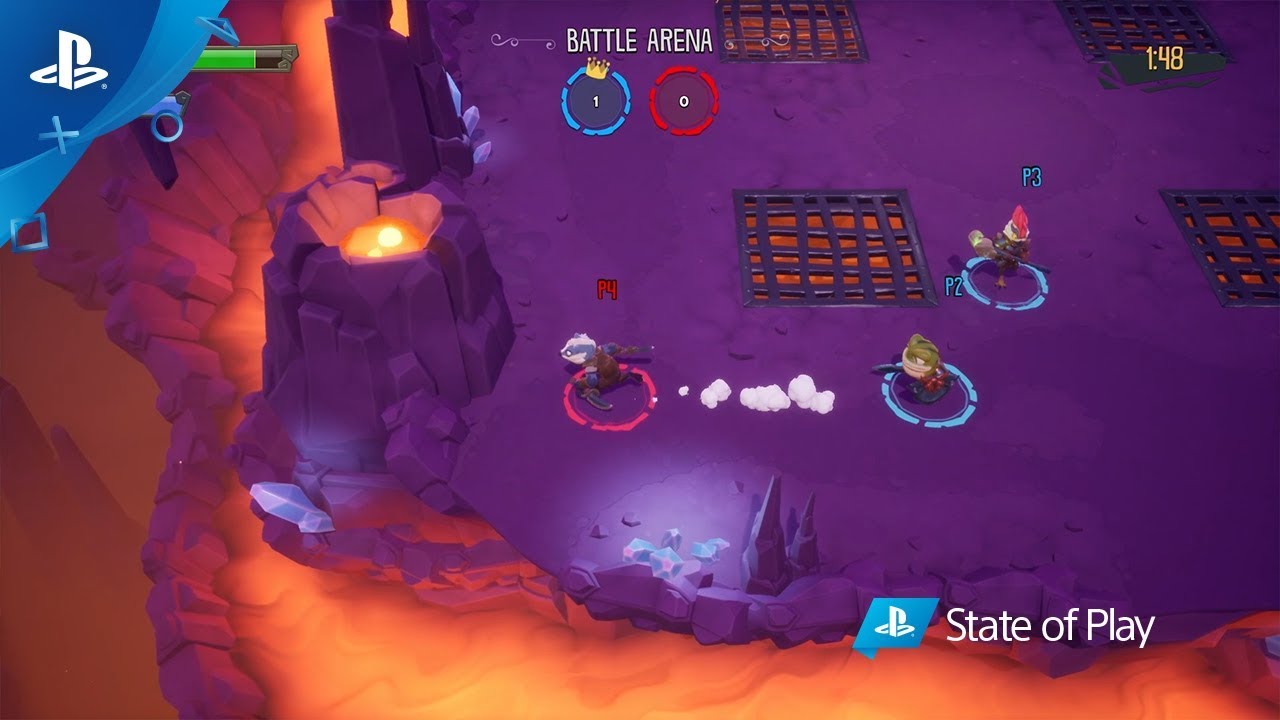 Revealed during State of Play, this fast-paced multiplayer game merges dungeon crawling and arena brawling.
UPDATE (March 29, 2019): An earlier version of this story stated that a PlayStation Plus membership would not be required to play ReadySet Heroes online. PlayStation Plus membership will be required to play online multiplayer. As such, we have removed that sentence from the story.
---
Hello, PlayStation Nation! You just saw us on today's episode of State of Play, where we unveiled ReadySet Heroes, our new PlayStation 4 game! But we have a lot more to share with you – like our first official trailer!
But first, let us introduce ourselves… We're Robot Entertainment, the studio behind the Orcs Must Die! series. We've been hard at work creating our new PlayStation console timed exclusive: ReadySet Heroes.
By tapping into the classic couch multiplayer, we have created a high energy, pick-up and play adventure that blends single player and team play into one 10-minute zero-to-hero experience.
The dungeons you'll crawl in the world of ReadySet Heroes were created long ago, when the world was overtaken by chaos and a desperate plea was made to the gods to create order.
The gods fashioned a magical realm filled with trials designed to turn aspiring warriors into mighty heroes. Under the protection of these heroes, the kingdoms grew and flourished, but the forces of evil can never truly be defeated, and so the trials remain!
This is where your adventure begins, as an aspiring warrior, you start with nothing but a wooden sword and a promise to defeat enemy mobs, solve puzzles and navigate deadly traps. Do it quickly, as the other team is progressing through their own dungeon.
Scavenge for stronger armor, more powerful weapons and spells to gain new abilities to beat the fiercest of foes (or friends).
You'll journey from castles full of gold to constantly erupting volcanic caves and graveyards haunted by fallen heroes. Your ultimate goal… race other players to the bottom of the dungeon to defeat the boss at the end of the crawl.
Then you or you and a teammate will battle against other friends or foes in challenges from racing snails to an all-out arena battle to determine the true champions.
ReadySet Heroes was created to be a short session game, meant to bring all ages together. This game can be played with up to four players in free-for-all or two-player team matches, online and in four-player split screen. To play online with others, a PlayStation Plus membership is required. To see more, enjoy our trailer above.
---
State of Play: All the Announcements
---