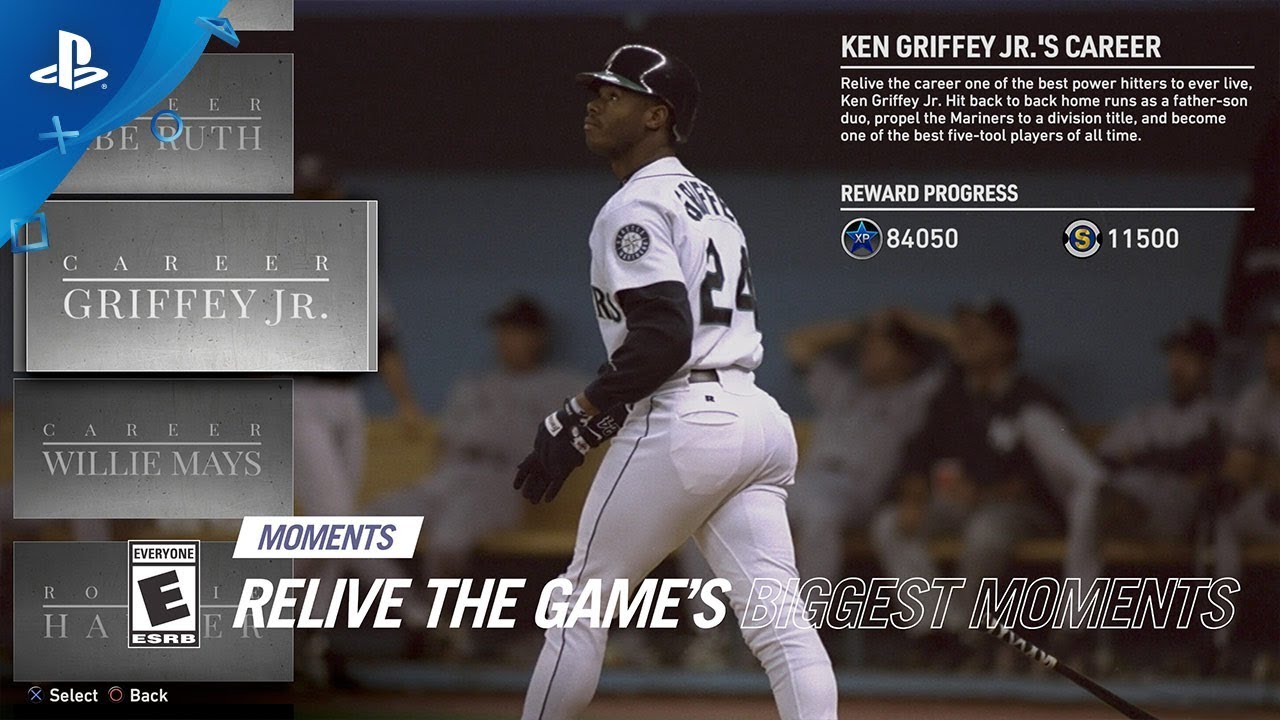 Step into the cleats of iconic players -- or play against them -- in these memorable situations from baseball history.
Have you ever wanted to experience what it would be like to be at bat in a historical baseball moment? Have you ever wondered what would happen if your favorite player clashed with a legendary Hall-of-Famer? If you were holding the bat in a critical situation with the season on the line, would things have gone differently? Step into the cleats of Babe Ruth and call your shot. Can you hit father-son back-to-back home runs as Ken Griffey Jr. and Sr.? Can you set the Major League strikeout record as Nolan Ryan? Answer these questions through the new online Moments feature and earn your way to exclusive rewards in MLB The Show 19.
Storylines
In Storyline Moments, journey through the past and present with a mix of player-lock and team gameplay.
Fantasy
In Fantasy moments, you can answer Baseball's biggest questions.
What if Ken Griffey Jr. faced off against Chris Sale?
What if Zach Britton pitched in the 2016 Wild Card Game?
What if Willie Mays, Ted Williams, and Christian Yelich played in the same outfield?
But be careful what you wish for — not only will you get to play as these Legend teams and scenarios, you'll face off against them.
Diamond Dynasty Integration
Moments will be fully integrated as you progress throughout DD in MLB The Show 19. You'll take a squad of your favorite players into Moments and compete against legends and modern day superstars. There are so many different types of DD moments that we're excited to explore with fans. We're committed to keeping Moments fresh throughout the year and adapting content based on the aspects people enjoy most. Get prepared to build squads based on certain criteria, come through in clutch Moments, and earn new players to add to your collection.
With Moments, gone are the days of having to unlock a player before you get to play with him.
Live Content and Moments
We'll be launching MLB The Show 19 with lots of Moments for you to play but our Live Content team will be constantly updating the mode.
Watch out for new Challenges, Historical Moments, and even Moments from the 2019 season as they happen.
Be sure to check out Thursday's Twitch live stream for more information on one of the brand-new features: Moments.
This is an especially exciting year for us here at PlayStation. We're thrilled to welcome a new class of Legends to the team, including some all-time greats, and even more excited to show you what else we have in store in MLB The Show 19! In the meantime, please make sure to watch The Show Nation, our Twitter, Facebook, and Instagram accounts between now and March 26 for the latest updates.