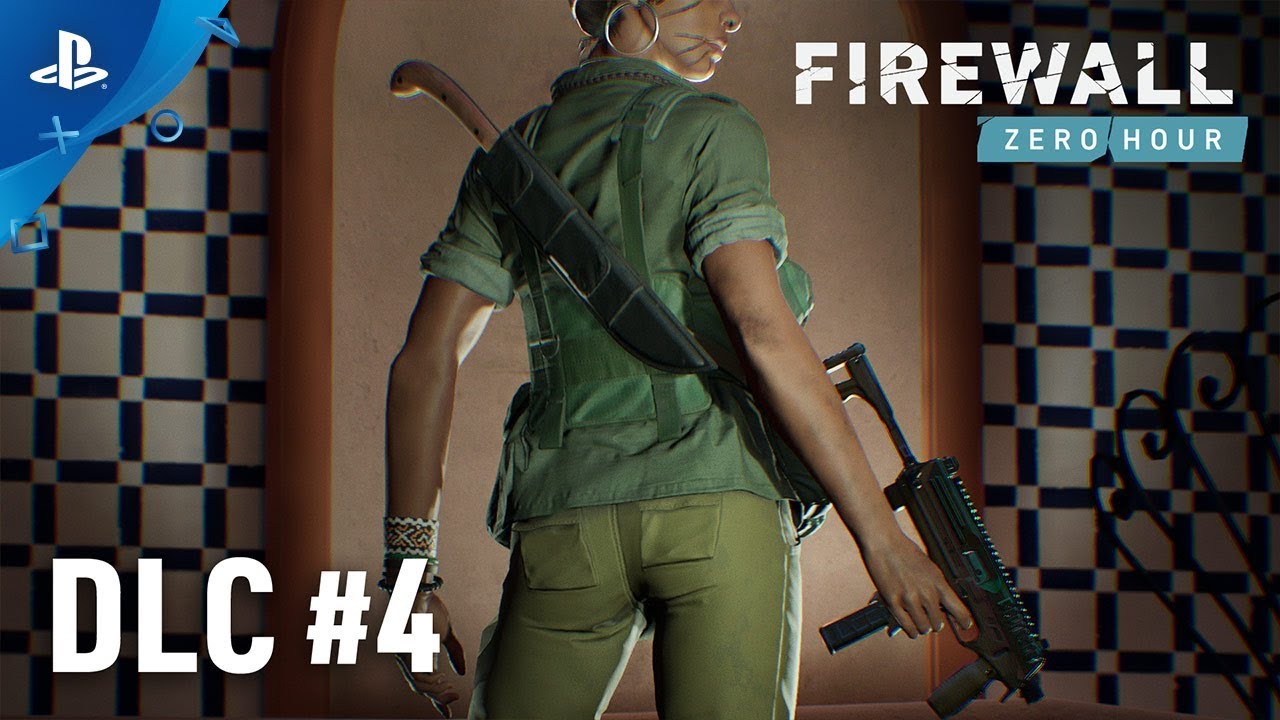 PS VR exclusive Firewall Zero Hour gets a new DLC pack, featuring new Contractors, weapons, trinkets, face paints, and more.
Hey guys! It's Shabs here, Game Director from First Contact Entertainment — developer behind Firewall Zero Hour*, the team-based multiplayer shooter exclusive to PS VR. This new year is off to a great start for Firewall Zero Hour, with a PAX South trip to showcase the game, a PS Plus Free Trial, a Flash Sale, and so many new PS VR fans discovering the game! Since game launch in August 2018, the team here at First Contact Entertainment has continued to be heads down working on new in-game content drops for you, our ever-growing Firewall Zero Hour community.
We are excited to announce that Firewall Zero Hour DLC #4 will be available for purchase on the PS store tomorrow! Firewall Zero Hour DLC #4 features two brand new Contractors** — Jag and Node — and their unique respective skills, Ambush and Afterlife.
New Contractor: Jag
Jag's Ambush skill allows you to bring three mines into battle. Now, players who equip this skill have the opportunity to get even deadlier on the Defending squad, placing more mines in more locations — tripping up even more Attackers. The Ambush skill can be equipped to any Contractor once you've reached level 31 and for 25,000 Crypto.
New Contractor: Node
Node's Afterlife skill gives you the ability to detonate your planted C4 from the support feed. This is a real game-changer for Defenders who placed C4 during the match, but died before they got to detonate it. Now, after death, you can watch from the support feed and detonate your C4 on an unsuspecting enemy right at the perfect time! The Afterlife skill can be equipped to any Contractor once you've reached level 43 and for 35,000 Crypto.
New Weapons
Within DLC #4, we've also added three new weapons that can be unlocked at the following levels and Crypto expenditures:
The 9MM Stinger (SMG) (Unlocked at Level 24 / Crypto 24,000)
The JA-300 (AR) (Unlocked at Level 42 / Crypto 42,000)
The H5 Hornet (AR) (Unlocked at Level 50 / Crypto 42,000)
Lil' Diaz Trinket (free for all active PS Plus members)
Ready to add more customization to your weapons? Don't forget to pick up your free Lil' Diaz Trinket*** which is free in the PS store for all active PS Plus members! As one of our most popular Contractors, and this mini version of Diaz will class up any weapon you equip. You have until March 14 to grab it before it's gone forever.
New Face Paints, Camos and Trinkets
Also included in DLC #4, we have a number of new face paints, clothing camos, weapon camos, and trinkets hitting the PS store! Check them out below:
New Face Paints:
New Clothing and Weapon Camo patterns:
Geometric
Lava
Circuit
Splinter
New Trinkets – Available as a pack:
Lil' Nala
Lil' Okoro
Lil' Skip
Lil' Diaz
We look forward to hearing your feedback on DLC #4! As always, we've been listening closely to our community since launch, and have continued to implement fine tuning to the game along the way. Some recent improvements including re-balancing the Grenade Launcher, XP earning amounts, skill unlock levels, as well as implementing a Crypto penalty on players who quit a Public Match before the Match has concluded. We are always keeping our ears open and appreciate the continued feedback coming in! Within today's DLC #4 update, we have a number of bug fixes and improvements going live:
New set of laptop locations in the Shoothouse map
Improved knife hit detection
Fine tuning of matchmaking
Firewall Zero Hour's 2019 is off to a big start, and we're excited to keep supporting the game long-term–planning more new content come. We can't wait to see your reaction to tomorrow's update. Our team always has a ton of fun playing with you all in public matches. Let's squad up and game on, Contractors!
– Shabs
*An internet connection is required for all modes of Firewall Zero Hour, including Single Player Training Mode. An active PS Plus membership is required for Multiplayer Training and Multiplayer Contract modes.
**Available for purchase at PS store
***Lil' Diaz Trinket available only for active PS Plus members