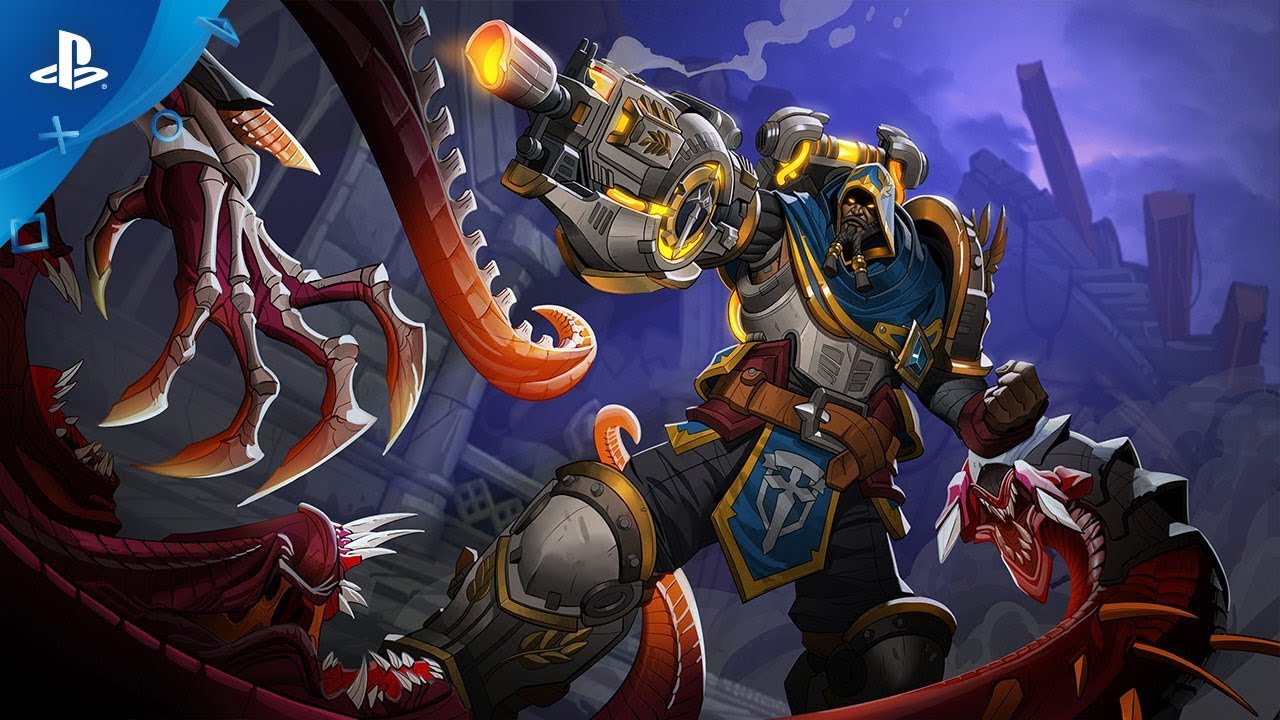 Master time itself and fight to change the course of history with the newest Champion to join the ranks of Paladins.
The wait is over. It is my pleasure to unveil the newest Paladins Champion right here, exclusively at PlayStation.Blog.
Evil Mojo Games has been building up to this Champion reveal for months, as part of Paladins' ongoing lore campaign. We've hinted at his existence as the Paladins arrived in the Shattered Desert and found portals radiating with otherworldly power. The Paladins community has been theorycrafting all week, trying to decipher teasers. And I'm thrilled to be the first to tell you about him.
Atlas, Man out of Time, will be the next Frontline Champion in Paladins.
There is no light in the future, only an all-consuming Darkness. The Realm is lost.
Atlas was born into this dark future as the son of a legendary Judge. Each day he fought to survive, and each night he found solace in stories of the Realm that was. These stories gave Realmkind hope, but their final stand against the Darkness failed tragically. All hope was lost… but one.
Atlas studied old books of Crystal magic and mastered the control of time. He researched old tales of what started all this, of how the world had fallen. And then (as you saw in the video) Atlas stepped into the past, determined to save the Realm — and stop the Darkness — by changing the course of history.
When you play as Atlas, you'll feel his incredible control of time in every ability. He can summon a wall that slows time for enemy bullets and arrows. He can rewind time for himself… and for opponents. And with his ultimate, Atlas can even banish his foes from the space-time continuum.
And I haven't even begun to talk about Atlas's incredible gun arm. It's a perfect piece of future-fantasy technology, a truly unique weapon with four different firing modes depending on how long you charge each shot. Adapt to any combat situation as you unleash a precise single shot, or a close-range burst of energy.
You'll be able to play Atlas in our March update, "Future's End." But if Atlas has you excited about Paladins, there's no better time to start playing.
We're offering a free bundle for PlayStation Plus Members for a limited time! With the
, you'll wield guns and magic with eight free Champions. Choose from a deadly assassin, a cursed lawman, a self-important knight, and more. You'll also unlock Voice Packs for your eight free Champions, plus 10 skins and bonus cosmetic content including a Mount!
Atlas isn't the only new content coming in "Future's End." This massive update is our biggest yet.
We'll be launching an all-new Battle Pass in Future's End: An 8-bit, retro gaming-themed Battle Byte Battle Pass! The pixelated effects on these skins are absolutely stunning, and really capture the nostalgia of our shared gaming history.
And, of course, we'll conclude the End Times event that started in our February update. This event includes a special game mode where you can battle in the Shattered Desert and experience the power of the portals that brought Atlas back in time.
This event also includes a ton of incredible Omega skins, depicting an alternate high-tech future. My favorite has to be the all-new Omega Imani, featuring an incredible mecha-dragon. This is Imani's first Epic skin in Paladins, and it's a great one.
There are so many more great things coming to Paladins. Not just in Future's End, but throughout an incredible year to come. But if I told you about them all now, I'd ruin all the fun. Join us in the Realm for a year you won't want to miss.