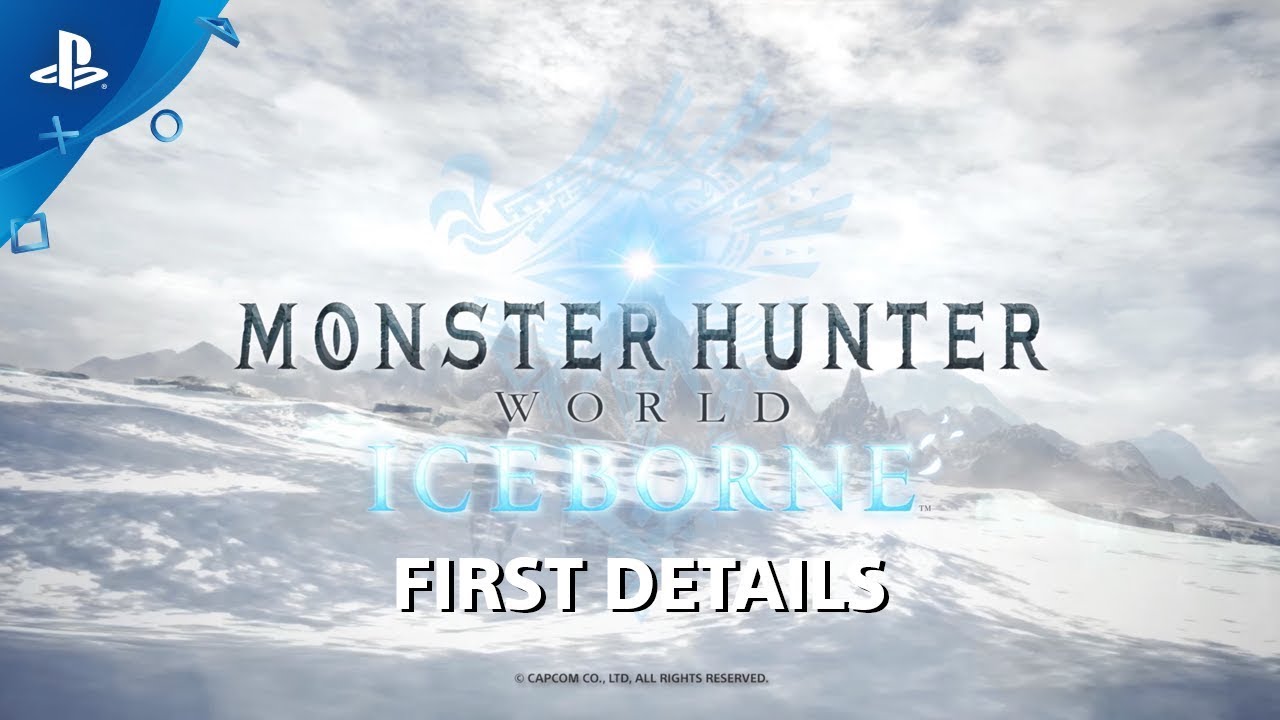 Producer Ryozo Tsujimoto shares what's next for Monster Hunter World.
Greetings, fellow Hunters! Hot on the heels of yesterday's announcement of Monster Hunter World: Iceborne, we sat down with producer Ryozo Tsujimoto from Capcom to learn what's new in Iceborne, including new threats, new locations, and more. Watch the video above to get first details, or read on if you're more of the written-word type.
Either way, enjoy the interview and start sharpening that Great Sword! Or Charge Blade. Or Insect Glaive. Or Hammer. Or…
PlayStation.Blog: Monster Hunter World: Iceborne was just announced and is slated for Autumn 2019. What has been the team's high-level goal when creating this new expansion?
Ryozo Tsujimoto: The concept behind it is to provide a massive expansion to the world already established in the Monster Hunter: World base game, and give users an even broader and deeper experience. It features its own distinct story that takes place after that of the base game. It offers new gameplay elements which can be utilized in the base Monster Hunter: World game as well. There's also lots more we'll be able to share in the near future.
There's still plenty of time to prepare for this new content by playing Monster Hunter: World. And for those who haven't yet played Monster Hunter: World, there is currently a limited Trial Version (running from December 11- 17) available for you to check out right now. You can carry over the save data from that Trial Version to the base game, so I hope you try the game.
PSB: Did fan and community feedback influence any aspects of Iceborne's development?
RT: In creating this big expansion that we're calling Iceborne, we've taken into account a lot of the feedback from the community. In addition to more content, we're also adding lots of quality of life improvements to make the gameplay even more comfortable and enjoyable, so we think users are going to really enjoy what's to come.
PSB: How does the size of Iceborne compare to that of the Monster Hunter: World base game? What new content can you confirm at this stage of development?
RT: We are introducing a new quest rank, and while the content in Iceborne isn't quite as big as the already huge Monster Hunter: World game, the expansion is sizeable and is really going to build upon the existing world. Fans familiar with the concept of the expansions that we've done in the past should have some idea of the scope and that we'll work to make it as voluminous as possible.
I'm sure the fans must be wondering about what new monsters they might go up against in Iceborne. Of course, there will be some brand-new monsters you've never seen before making their first appearance. Also, if you look very closely at the trailer we've released, at the very end you might just get a hint at some of your old favorites returning this time around.
The Monster Hunter World Appreciation Fest kicks off in January, celebrating one year since the game's initial launch.
PSB: On that note, how does the team create a new monster? Has that process evolved at all since the release of Monster Hunter: World?
RT: When the team goes about creating a new monster, they look at it from a back-and-forth gameplay point of view — the sorts of actions that the monster will perform, or what the user needs to do to combat those actions. We start with that, but obviously as there are more and more monsters in the games, we need to get more creative in thinking about new monsters and new actions that haven't existed in that combination before. That's where the challenge exists. Each one has to stand on its own gameplay-wise, so we put a lot energy into that thought.
PSB: We know that Iceborne is deep in production, but it's not exactly right around the corner. Are there any other updates or enhancements coming to Monster Hunter: World to keep people playing?
RT: In the run up to the release of Iceborne there is plenty for Monster Hunter: World players to look forward to. First of all, Arch Tempered Kulve Taroth is coming on December 20. You can try hunting the same way as before, or you can go deeper and experience its true power for even better rewards. We also have a special in-game festival in January 2019, called The Appreciation Fest, to celebrate the first anniversary of the console game's launch.
In addition to all of that, you've probably noticed our other teaser trailer for our collaboration with The Witcher 3: Wild Hunt, which features Geralt arriving in the New World. The quest for this collaboration is really unique because it mixes Monster Hunter: World gameplay along with the RPG elements of The Witcher 3: Wild Hunt to create a really fresh experience we think is going to appeal to fans of both series. You'll see that coming early in 2019. We couldn't have done it, of course, without the close collaboration of CD Projekt Red. We're still working with them right now on the content and I think you're really going to enjoy it.
Finally, in the spring of 2019 you will see Nergigante, one of the monsters that holds a key role in the Monster Hunter: World storyline, returning as an Arch Tempered monster. That quest is going to mark the end of the new event quests for the base game. After that, up until the launch of the Iceborne content, we will be re-releasing previous quests for you to catch up. You're going to want to play the base game in the run up to Iceborne, so that you're ready.
PSB: Is there anything else you'd like to add for the Monster Hunter fans reading this story?
RT: To all you Hunters out there, please allow me to thank you so much for playing Monster Hunter: World. We really appreciate the support. I'll be able to tell you more about Iceborne as development continues and I should be able to share some great things in the spring timeframe. Until then, if anyone out there has not yet experienced Monster Hunter: World, but you think this seems like an interesting game, I encourage you to check out the limited free Trial Version that's running until December 17. As a reminder, you can carry over your save data into the full game, so give it a shot!
That's all from me for now, but thanks for all your continued support of Monster Hunter: World and Iceborne and until next time, happy hunting!