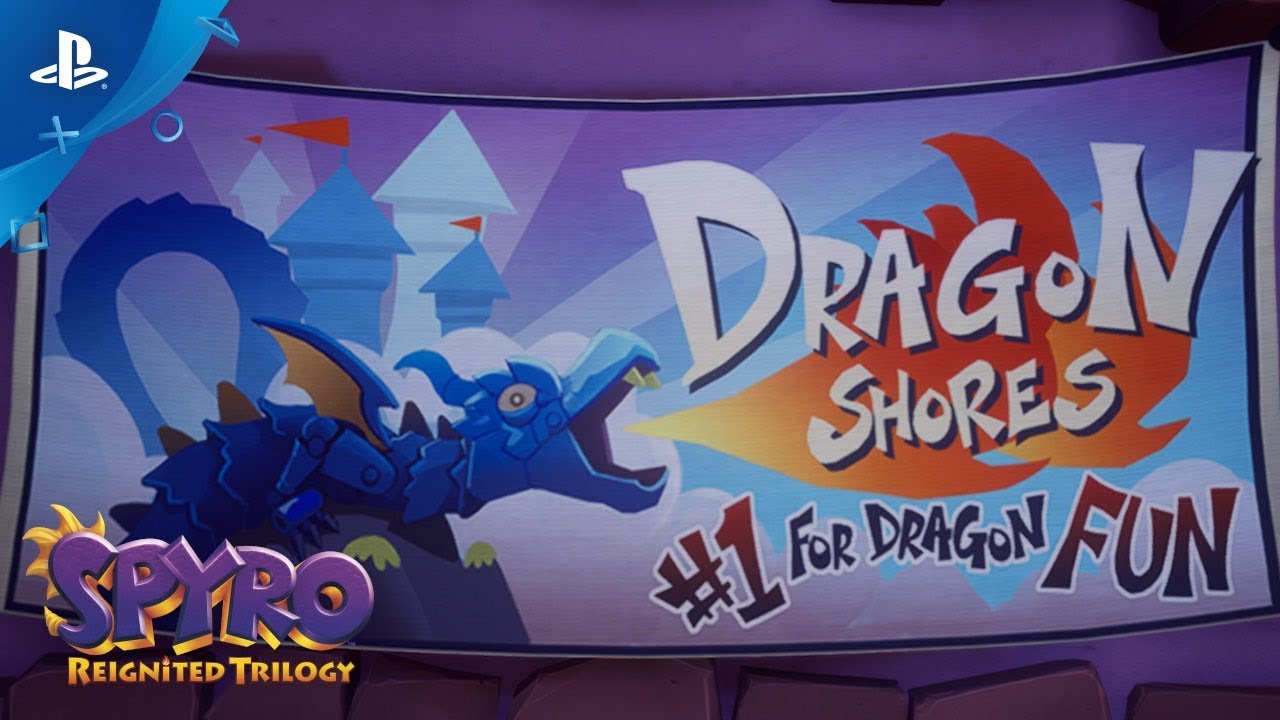 How Toys For Bob recreated one of their favorite levels from the Spyro Reignited Trilogy.
Hello again Spyro fans! We are less than 24 hours away from the launch of the Spyro Reignited Trilogy, and we are brimming with excitement here at Toys For Bob. With such a great response to our last blog post, we wanted to follow it up with an inside look at the making of one of our favorite realms in the trilogy, Dragon Shores. A couple members on our team who worked closely on this level, Josh Nadelberg (Art Director) and Ray West (Lead Level Designer), share their experience with bringing back the best theme park in all the Dragon Realms.
Josh: The art team had a blast revisiting Dragon Shores for Spyro Reignited Trilogy. As the final "bonus" level in Spyro 2: Ripto's Rage, we wanted to make sure that Dragon Shores lived up to its reputation as the premier vacation spot in the Dragon Realms. As was our intention with each of the 100+ levels in the trilogy, we wanted to stay faithful to the layout and themes from the original, while enhancing the storytelling and mood with the additional detail we were able to add to the world. In this case, we had a literal Fun Park to play with, and we didn't pull any punches. For example, to spice things up we designed a giant mechanical dragon to encircle the park and a huge nest of golden dragon eggs perched above the square.
Ray: Thinking through the level design, for a project like Spyro Reignited Trilogy it was very important to determine which are the crucial elements that need to be spot-on for parity versus altering it to give the player an updated experience. The original game's level art and placement/pathing information were invaluable to the design team because it takes away a lot of the challenge with level reconstruction and we could instead focus on building the mechanics/minigames. Dragon Shores was one of those levels where we experimented with making significant changes but all in all it was much more satisfying to experience the original attractions and let the fantastic artwork make them shine.
Josh: From an art standpoint, we began production of every level by having concept artists paint over screenshots that we captured of the original game geometry. This approach ensured that our artistic decisions mapped one-to-one with the levels and don't interfere with gameplay. The concept art guided the environment and lighting artists as they translated the work into 3D, but there's always room for creativity at every step along the way. Our first pass at Dragon Shores had a more restrained color palette, just like the original, with cream colored stone walls and archways. We didn't feel like we were evoking the playful energy of a theme park quite yet, so we tried giving the whole place a bit of a paintjob to cheer things up and it made a huge difference. We also added colorful flags and banners throughout to liven things up, and even hung some Spyro Reignited Trilogy posters at the entrance to the theater. To make the Tunnel of Love feel more like a theme park attraction, we built a giant heart and signage to dress up the entrance, and added vibrant red carpets to help to guide the player to each of the different attractions.
Ray: Speaking of the Tunnel of Love, it almost had a gigantic cast of characters from all three games in it, but in the end we opted to just stick with the OG list (and because I'd already made FAR too many last-minute surprise animation requests to our animators). We did add a new character into the Dunk Tank, though; he's the Boat Gnorc from Spyro 1's Wild Flight level. I initially put him in as a placeholder while the Spyro 2 assets were still under construction, but it was so satisfying to dunk him that I made sure he stayed in there for the final game.
Josh: Dunk tank, Tunnel of Love, the rollercoaster — this level really exemplifies the fun and sort of off-the-wall spirit of the Spyro games. Having the opportunity to bring new life to these legendary games has been an amazing opportunity, and we can't wait for people to have the experience of helping Spyro make his way to Dragon Shores again after all these years. We are excited to share a little tease of the level here with you now. It's also a reminder that as you're working your way through Avalar over the coming weeks, don't forget those gems and orbs!