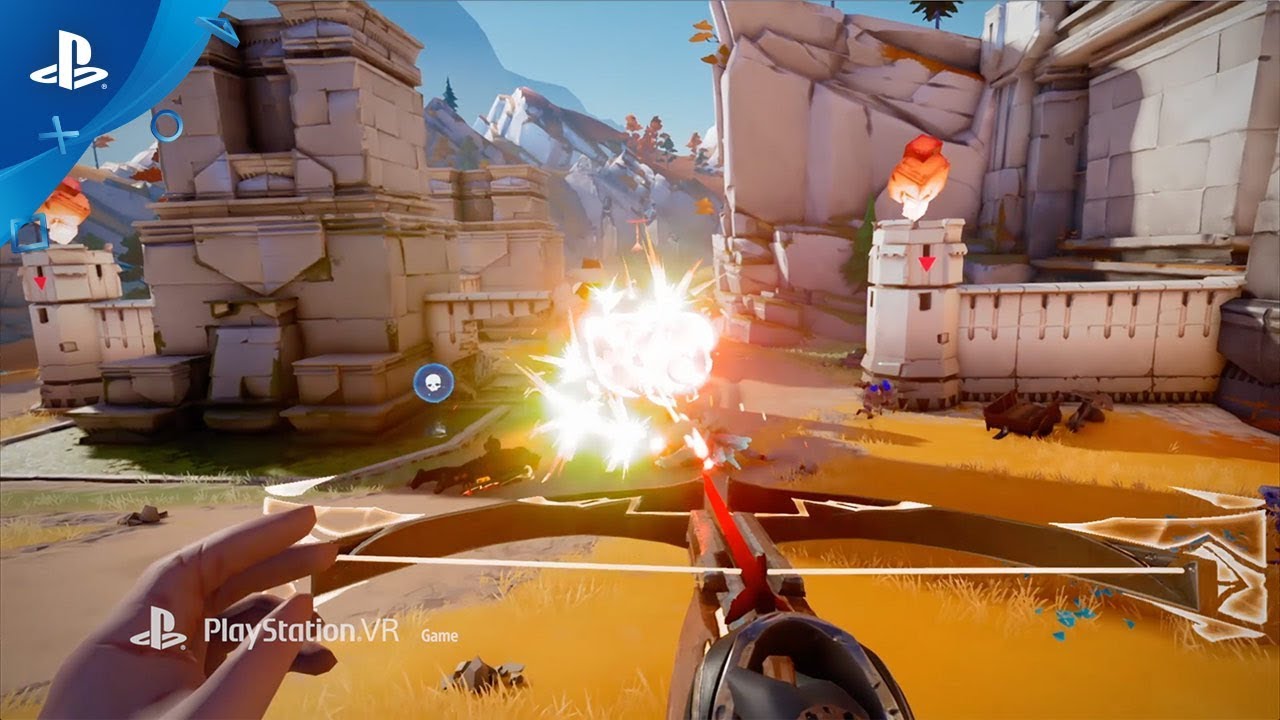 First official gameplay footage and details of the five starting Titans.
Hey everyone! We couldn't be more excited to be launching the Megalith beta tomorrow for PlayStation VR. Creating this game has been a real adventure for us, and we can't wait to share that adventure with you.
We started Disruptive Games with one simple overriding goal: make great online games. Our first step was to assemble an amazing team. That done, we have spent the last two years working extremely hard on our first game, Megalith. The good thing is that a big part of our "work" has been playing Megalith almost every day! We have spent countless hours discussing, debating, and even arguing over the details to ensure Megalith is fun, beautiful, and highly competitive. But something has been missing…you! So, for the next couple of months all of you will be able to play with us for free in our open beta. Also, to thank early adopters we are offering a ton of rewards for pre-ordering the game.
Now to the details…
During the open beta you will have access to two of the five Titans at any time. The ones you get change every week, and not every player will have the same rotation of Titans; so there will be plenty of variety when you play. But if you pre-order the game, you'll immediately be able to choose from any of the five titans anytime you want during the beta. And you get all the bonuses listed below, too!
Pre-order Megalith to receive the following:
Immediately: Unlock all Titans available during the Beta.
Bonus: Avatar pack including the starting five Titans.
Bonus: One DLC Titan granted when the game releases.
Exclusive: Epic skins for each of the starting five Titans when the game releases.
How to play
In Megalith, choose from one of five starting Titans and work in teams of two to take on other Titans in battle. The Titans each wield unique powers and abilities derived from their origin. These abilities can be used alone, but become even more effective when coordinated with an ally.
Each team must protect their side while attempting to lead their minions into enemy territory and breach their defenses. Titans will need to destroy enemy walls and towers in order to make their bases vulnerable to attack. Powerful siege minions can be summoned to aid in the path to
Victory.
The Titan Roster
Here are the five starting Titans and their abilities:
Tundra: Frost Blast (Primary), Ice Shield, Ice Shackles, Permafrost, Ice Age (Ultimate)
Cipher: Bounce Launcher (Primary), Boomerang, Tether Pull, Rupture, Tracker Orbs (Ultimate)
Taur: Swipe (Primary), Charge, Acid Spit, Rage Mode, Stoneblock (Ultimate)
Aurora: Ethereal Burst (Primary),Chain Lightning, Ion Shell, Tempest, Wrath Of Heaven (Ultimate)
Hunter: Crossbow (Primary), Arrow Volley, Explosive Arrow, Talisman, Solar Beam (Ultimate)
More details about their abilities can be found in the images below:
We can't wait to finally play Megalith with you! Don't forget we are continuing to improve the game during the beta, so please join us in making the game even better. See you in battle!