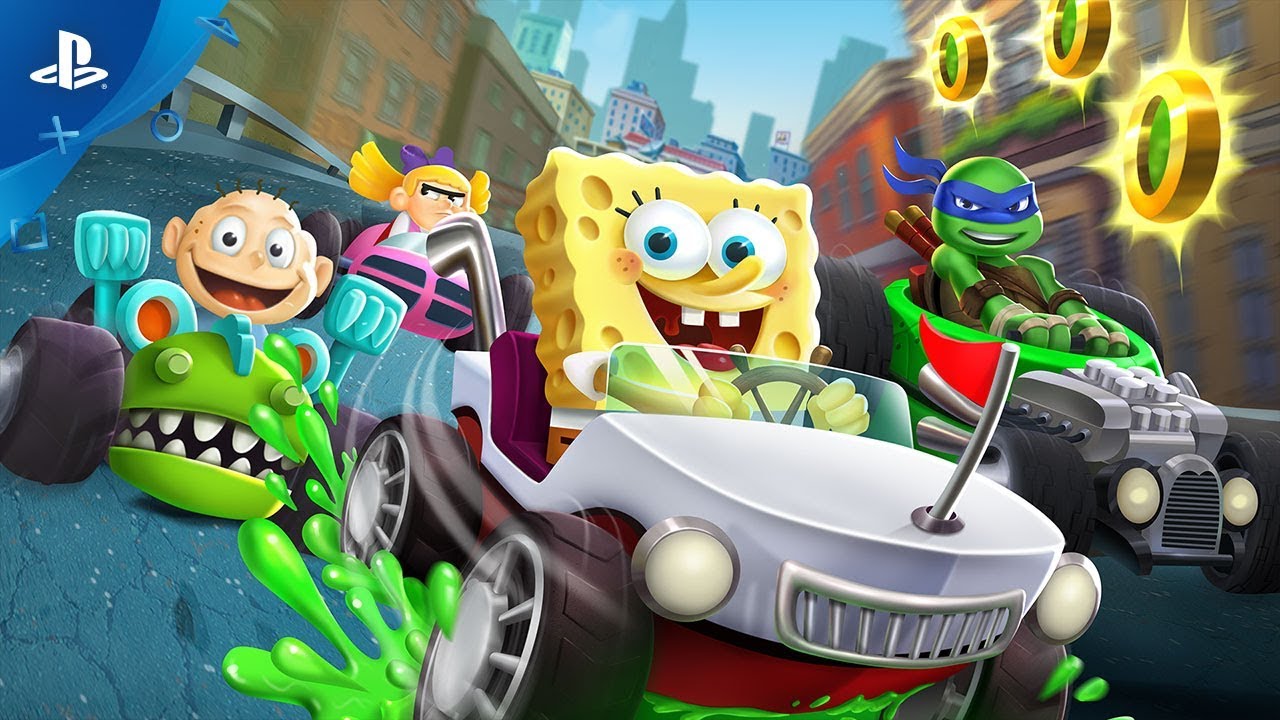 This kid-friendly kart racer includes familiar Nickelodeon characters, creative tracks, and plenty of that signature green slime.
Nickelodeon Kart Racers is a kart racer featuring characters and slime-filled tracks from iconic Nickelodeon shows such as SpongeBob SquarePants, Hey Arnold!, Teenage Mutant Ninja Turtles (and more) that's meant to be accessible for younger kids while also remaining a challenge for nostalgic, older players. It's a classic kart racer, but has quite a few innovative features that have been fun to work on and are even more fun to play.
Though our team had not worked with these characters before in a game, our whole team knows and loves them. Our group ranges from 22 to 45 years old, so we all have fond memories of the same iconic characters.
Did You Know?
Double Dare introduced the first messy Slime-y physical challenges to kids and families in 1986!
This game is a mixed-universe game and that kind of game needs something to glue the different IPs together (pun intended)! A great symbol of Nickelodeon's irreverent humor and crazy antics is the iconic green slime. I remember seeing someone slimed for the first time, during the Nickelodeon Kids Choice Awards. Watching celebrities get unexpectedly slimed is one of the most exciting parts of the show and how can that not be a great game mechanic?
Nickelodeon shows have featured slime for over 30 years and it has never lost its popularity and appeal. My eight-year-old daughter was watching slime-making videos on the internet before we started on this game. It jumped out at us as a way that the game could scream Nickelodeon, have a super fun device for game mechanics and attract a younger audience that loves slime.
Did You Know?
In 1990, Nickelodeon Studios opened in Orlando, Florida. Visitors are greeted by a Slime Geyser that erupts with Slime every 15 minutes.
Bright green slime is a great visual and it shows up throughout the tracks, making them interesting and varied, while still being intuitive. Slime fills your kart's turbo meter, which can activate a speed boost so getting slimed can really determine who wins the race. The karts can even sail like a jet ski on top of slime pools! That creates a change in mechanics and visually looks awesome. Slime pickups and triggers give players secondary objectives and, of course, in true Nickelodeon fashion, you can't stand on the winners' podium without your racer getting covered in slime! The Vector Unit game engine supports water racing, so we saw that as a great opportunity to introduce a different racing experience. Your kart will transform into a jet ski and it's easy to get turbo charged when sailing on slime. Plus, the areas are wide open, so you can go really fast.
Did You Know?
In 2010 Katy Perry received one of the most epic Slime-ings in history while presenting at the Kids Choice Awards. The pressure of the blast was so high; it knocked her off her feet.
The important thing that kids have quickly figured out in play-testing is that slime helps the player; in their feedback, they've given the slime more importance than any other feature. They enjoy how it looks, behaves and is used in the game which makes us feel great because that's what we have strived for.
We were super worried that slime would be a big challenge to technically embody so we used Nickelodeon's special slime recipe to make a few gallons of slime for real, which was a lot of fun. Kids are no fools and they know the difference between slime and green water, so we had to study every element of the goo to truly capture the slime in-game.
Our FX and graphics programmers spent a crazy amount of time perfecting the virtual slime. There are over ten different kinds of slime art, including wavy slime pools, puddles, pipes, spray, splashes and more. Most are done with a mix of procedural particles, shaders and textures, sprites and UV maps. The extra effort was worth it; we're really proud of the result.